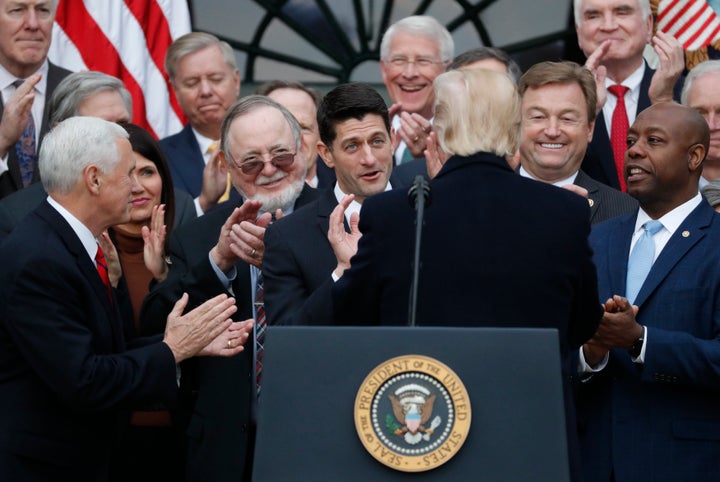 Opinions of the Republican tax plan appear to have stalled out, new polling suggests, leaving the law neither an obvious millstone nor an unambiguous asset for the GOP heading into the 2018 midterms.

As before, opinions remain strongly politicized: Just 7 percent of voters who backed Hillary Clinton in last year's election favor the tax bill, while only 6 percent of President Donald Trump's voters oppose it.
About one-quarter of Americans say they've seen an increase in their paycheck as a result of the law, but just 4 percent that they consider the increase to be a substantial one. Experts have said a far greater share would benefit from the new law's lower income tax rates, though the amounts may be so small that they're obscured by changes in pay or health insurance costs. By now, most people should have seen the changes reflected in their paychecks.
Nearly two-thirds of households will directly benefit from the individual income tax cuts this year, according to a new analysis the independent Tax Policy Center released this week. Only 27 percent of households in the bottom fifth of the income distribution will see an increase in after-tax income, while nearly all the taxpayers in the 95th to 99th percentiles will get a cut, reaping a larger benefit from the law than other income groups.
Republicans have portrayed the law as a windfall for working people, citing announcements from hundreds of companies that as many as 4 million workers would receive bonuses as a result of the law. (That's about 2.4 percent of the U.S. labor force.)
The law's core provision cut corporate taxes, which Republicans said would eventually boost wages by allowing firms to make capital investments that would increase worker productivity. In addition to worker bonuses, firms have also announced a wave of stock buybacks, which inflate share prices and tend to benefit executives.
Several other surveys released in the latter half of March also suggest that the law's popularity has either dipped or stagnated. Economist/YouGov polling, which put net support for the law as high as +4 percent in February, last pegged it at -6. Quinnipiac's surveys, which have put the bill's backing between -8 and -14 since February, currently show it at a -9. And a recent CNBC poll also found that relatively few workers were reporting a positive effect on their paychecks.
Americans, regardless of their opinions of the plan, remain more likely to say they are influenced by the law's consequences for the country, rather than its effects on them personally, according to the HuffPost/YouGov survey. Of those who favor the law, 77 percent credit their support to a belief that its passage will benefit the country, while just one-quarter cite its benefit to them (respondents could choose both or neither options). Of those who oppose the law, 83 percent say it's because of its effect on the country, and just 29 percent that it's because of the law's effect on them.
The share of Americans who report having recently seen stories about other workers receiving benefits ― 51 percent ― remains similar to the 55 percent who said that last month. But after a flurry of announcements at the beginning of the year, news about bonuses has seemingly dissipated. A news database search for stories in major newspapers that mentioned "tax reform" and "bonuses" turned up 169 articles in January, 82 in February and just 29 so far in March.
Use the widget below to further explore the results of the HuffPost/YouGov survey, using the menu at the top to select survey questions and the buttons at the bottom to filter the data by subgroups:
The HuffPost/YouGov poll consisted of 1,000 completed interviews conducted March 22-25 among U.S. adults, using a sample selected from YouGov's opt-in online panel to match the demographics and other characteristics of the adult U.S. population.
HuffPost has teamed up with YouGov to conduct daily opinion polls. You can learn more about this project and take part in YouGov's nationally representative opinion polling. More details on the polls' methodology are available here.
Most surveys report a margin of error that represents some, but not all, potential survey errors. YouGov's reports include a model-based margin of error, which rests on a specific set of statistical assumptions about the selected sample rather than the standard methodology for random probability sampling. If these assumptions are wrong, the model-based margin of error may also be inaccurate. Click here for a more detailed explanation of the model-based margin of error.
Popular in the Community