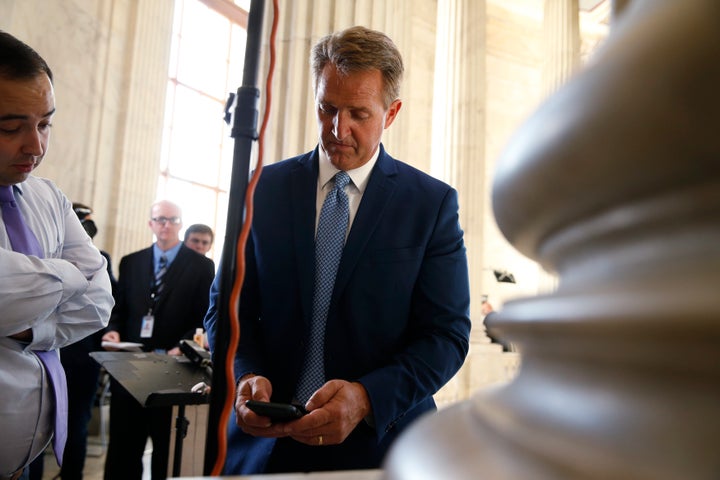 Several Republican legislators who've announced they won't stand for re-election have been emboldened to take on Donald Trump. Sen. Bob Corker (R-Tenn.) publicly slammed Trump as "utterly untruthful" and the White House as an "adult day care center" after announcing he wouldn't run again. Since declaring he wouldn't stand for re-election, Sen. Jeff Flake (R-Ariz.) called on his fellow lawmakers to "not be complicit and silent," and "never regard as normal the regular and casual undermining of our democratic norms and ideals."
That reticence may amount to an ability to read the political tea leaves.
According to the poll, 60 percent of Republicans and independents who lean toward supporting the Republican Party say it's bad for the party when GOP members of Congress openly criticize Trump when they disagree with him. A 55 percent majority, meanwhile, say it's a good thing for the GOP that some Republicans critical of Trump aren't running for re-election.
Voters who supported Trump in last year's election are even more unified, with 65 percent saying it's a bad thing for the party for Republicans to take on Trump, and an equal number saying it's good for the GOP to have Trump critics retiring.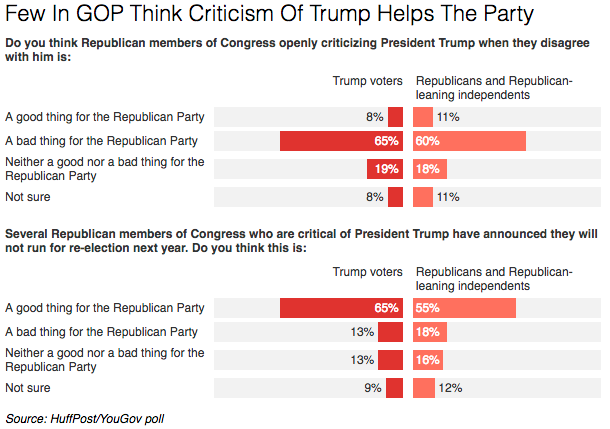 Many, however, see no conflict in supporting both the president and his party, according to the HuffPost/YouGov poll.
Most Republicans and Republican leaners ― 56 percent ― say they consider themselves supporters of both Trump and the GOP, with 18 percent saying they support only Trump and 16 percent saying they support only the GOP.
Trump voters' responses are notably distinct. While more than half say they support both Trump and the GOP, 28 percent say they support only Trump, and just 6 percent only the GOP.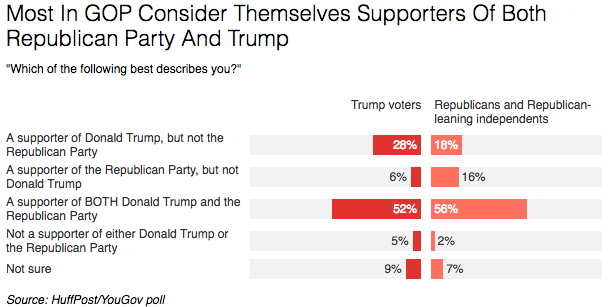 The infighting in Washington hasn't gone unnoticed by the electorate. Just less than half of Trump voters believe that most or all Republicans in Congress generally support the president ― up from the 42 percent who said so in September, but down from 58 percent in July.
Just 41 percent of Republicans and Republican-leaners now say they're satisfied with or enthusiastic about the politicians from their party who currently hold elected office, significantly below the 62 percent of Democrats and Democratic-leaning independents who say the same about their party.
Use the widget below to further explore the results of the HuffPost/YouGov survey, using the menu at the top to select survey questions and the buttons at the bottom to filter the data by subgroups:
The HuffPost/YouGov poll consisted of 1,000 completed interviews conducted Oct. 24-25 among U.S. adults, using a sample selected from YouGov's opt-in online panel to match the demographics and other characteristics of the adult U.S. population.
HuffPost has teamed up with YouGov to conduct daily opinion polls. You can learn more about this project and take part in YouGov's nationally representative opinion polling. More details on the polls' methodology are available here.
Most surveys report a margin of error that represents some, but not all, potential survey errors. YouGov's reports include a model-based margin of error, which rests on a specific set of statistical assumptions about the selected sample rather than the standard methodology for random probability sampling. If these assumptions are wrong, the model-based margin of error may also be inaccurate. Click here for a more detailed explanation of the model-based margin of error.
Calling all HuffPost superfans!
Sign up for membership to become a founding member and help shape HuffPost's next chapter