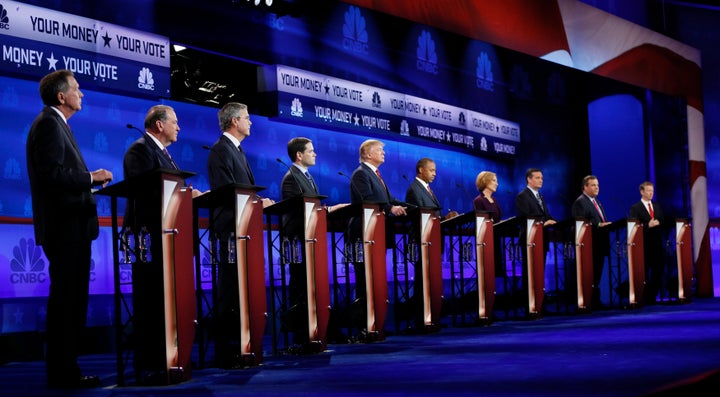 Seventeen candidates ran for the Republican presidential nomination this year. A majority of GOP voters now say that they wish they'd picked one of the 16 who weren't Donald Trump, according to a new HuffPost/YouGov survey.
The public as a whole is less than impressed with either party's nominee. Just 20 percent of all voters say that Trump was Republicans' best choice, while 30 percent think Hillary Clinton was Democrats' best option.
Dissatisfaction with Trump, however, extends within his own party. Republican and Republican-leaning voters say by a 19-point margin, 54 percent to 35 percent, that Donald Trump wasn't the best option in this year's pool of candidates. In a June HuffPost/YouGov poll, those voters were evenly split, with 44 percent saying Trump was the best choice and another 44 percent that the party could have done better.
Meanwhile, a majority of Democratic and Democratic-leaning voters are still satisfied with their nominee. Fifty-three percent say Clinton was their party's best option, with 37 percent saying she was not. In June, the split was 56 percent to 32 percent.

Despite Republicans' unhappiness, they're no closer than ever to coalescing around an alternative. Asked who they'd like to see win their primary if they could start the process over, a 29 percent plurality of Republican and Republican-leaning voters picked Trump, with his nearest rival, Sen. Ted Cruz (R-Texas), trailing at 15 percent. Both numbers are identical to the results in June. Fourteen percent named Sen. Marco Rubio (R-Fla.). The remaining candidates were selected by fewer than 10 percent.
Democrats still say that they'd prefer Clinton in a do-over, although many wish Vermont Sen. Bernie Sanders had won the nomination instead. Forty-seven percent of Democratic and Democratic-leaning voters say that they'd most like to have seen Clinton chosen, while 42 percent name Sanders, 3 percent opt for former Maryland Gov. Martin O'Malley, and 6 percent not sure. In June, a similar 50 percent chose Clinton, but just 29 percent picked Sanders, with 5 percent naming another candidate and 15 percent undecided.
The HuffPost/YouGov poll consisted of 1,000 completed interviews conducted Aug. 24 and Aug. 25 among U.S. adults, using a sample selected from YouGov's opt-in online panel to match the demographics and other characteristics of the adult U.S. population.
The Huffington Post has teamed up with YouGov to conduct daily opinion polls.You can learn more about this project and take part in YouGov's nationally representative opinion polling. Data from all HuffPost/YouGov polls can be found here. More details on the polls' methodology are available here.
Most surveys report a margin of error that represents some, but not all, potential survey errors. YouGov's reports include a model-based margin of error, which rests on a specific set of statistical assumptions about the selected sample, rather than the standard methodology for random probability sampling. If these assumptions are wrong, the model-based margin of error may also be inaccurate. Click here for a more detailed explanation of the model-based margin of error.
Popular in the Community