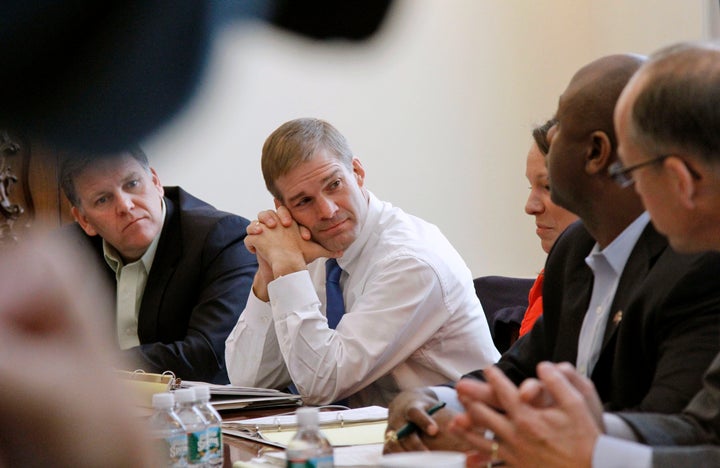 WASHINGTON -- Republicans won the House in November partially based on a mandate to defund Planned Parenthood, Ohio Rep. Jim Jordan, head of the conservative Republican Study Committee, claimed on Friday.
"We don't want to shut down the government, we want to do what the American people sent us to do: achieve real savings for the taxpayers, and not have our tax dollars go toward abortions," Jordan said on a conference call with reporters.
Democrats say the funding fight hinges on whether a long-term spending deal will include a measure blocking Planned Parenthood from receiving federal dollars. Republicans say the central issue is the level of cuts.
But Jordan said a policy rider to prevent those funds from reaching the organization is one of the central tenets of the House GOP effort.
"We've been clear about this from the start," said the Ohio Republican. "We are doing everything we can to achieve savings and protect and defend American family values."
Senate Democrats and Planned Parenthood have pushed back against claims that the organization uses its funding to provide abortions, which is illegal under the Hyde Amendment. Sen. Dianne Feinstein (D-Calif.) said Republicans were attempting to mislead the American people.
"This is really a crafty move on their part," she said at a press conference earlier on Friday. "They know that federal funding for abortions is illegal, but what they're going to do is take down the whole infrastructure, regardless of if the money is raised privately."
Sending any federal money to Planned Parenthood helps the organization to perform abortions, said Jordan, joined with Marjorie Dannenfelser, president of the anti-abortion group Susan B. Anthony List.
Dannenfelser said Planned Parenthood devotes significant resources to abortions and receives most of its private funding based on support for abortion rights. She echoed Jordan, saying taxpayers overwhelmingly support the measure to block funds from Planned Parenthood.
"The last election showed a lot of things, and one of them was that Americans don't want their money used for abortions," said Dannenfelser.
When asked about women's health, Jordan said there was nothing in the measure that blocked other organizations from providing pap smears, cancer screenings, STD tests and other non-abortion services, which Planned Parenthood says make up 97 percent of its work.
"It doesn't cut any money for women's health, it just says Planned Parenthood won't get any," Jordan explained.
Calling all HuffPost superfans!
Sign up for membership to become a founding member and help shape HuffPost's next chapter