WASHINGTON -- Senate Democrats filibustered anti-human trafficking legislation on Tuesday because of an anti-abortion provision Republicans slipped into it.
The Senate voted 55 to 43 to move the bill forward, falling short of the 60 votes needed to clear a procedural hurdle. Democratic Sens. Heidi Heitkamp (N.D.), Bob Casey (Pa.), Joe Manchin (W.Va.) and Joe Donnelly (Ind.) voted with Republicans to try to advance it.
Without the abortion language, the Justice for Victims of Trafficking Act had near-universal support. The bill, which creates a fund to help victims by using fees charged to traffickers, has several Democratic co-sponsors and sailed through the Senate Judiciary Committee last month. But Democrats discovered last week that Republicans tucked Hyde Amendment language into it, which restricts federal funding for abortion and other health care services. They have since vowed to hold up the bill until the provision is removed.
Ahead of the vote, Republicans tried to shame Democrats into voting for it.
"If Democrats actually vote to filibuster help for oppressed victims of modern slavery ... I can't imagine the American people will forget it," said Senate Majority Leader Mitch McConnell (R-Ky.).
"I know there are some Democrats who care deeply about the victims of human trafficking. Unfortunately, not everybody does, otherwise we wouldn't be having this obstruction," said Sen. John Cornyn (R-Texas), the bill's author. "I hope they will examine their conscience."
But Sen. Patrick Leahy (D-Vt.) said it's not helpful to ascribe motives to people's votes, particular because some Republicans, including Cornyn, have little room to speak.
"Even though my friend from Texas voted against the Violence Against Women Act, I'm never going to say he's for violence against women," said Leahy. "We need to turn away from this divisive debate and find a bipartisan approach to serve the needs of survivors."
He added, "I support the rest of this bill. Take this [anti-abortion] provision out."
Just minutes after the vote, the National Republican Senatorial Committee announced it is launching an attack campaign against Senate Minority Leader Harry Reid (D-Nev.) and Sen. Michael Bennet (D-Colo.) over their votes to block the bill. The NRSC will being a series of robo-calls to independent women voters around Colorado and Nevada urging them to call their senators and tell him to "stop playing political games" with trafficking victims.
Reid and Bennet are up for re-election in 2016.
The Hyde Amendment is routinely attached to annual appropriations bills. Cornyn's bill, however, is an authorization bill for five years, meaning that the abortion restrictions would be in place for a much longer period, and without congressional review. The bill also expands Hyde Amendment restrictions beyond taxpayer dollars to include revenue from traffickers' fees.
"We're not talking about taxpayer money," Leahy said Tuesday. "We're talking about money collected from the very offenders who have already controlled too much of the lives of these women and girls. These survivors deserve more options, not fewer."
The snarl over the trafficking bill has also held up the confirmation of Loretta Lynch, President Barack Obama's U.S. attorney general nominee. McConnell said Sunday he won't move forward on her nomination until Cornyn's bill is done.
Republicans have accused Democrats of playing partisan politics and doing the bidding of "left-wing lobbyists," in the words of McConnell, pointing out that Hyde Amendment language has been in the bill all along and senators should have read the legislation.
Democrats say that when Cornyn introduced the bill, he did not make clear all of the ways in which it differed from the earlier version. Rather, they say, Cornyn pitched it as a reintroduction of legislation from the previous Congress, which did not have the abortion rider.
The Huffington Post obtained a January email exchange between Democratic and Republican Judiciary Committee staffers regarding the bill's reintroduction and its changes from the last Congress. The Republican staffer lists seven changes, but the abortion language was not included.
"They added the new language quietly, hoping nobody would notice, then we'd all march down there," Sen. Barbara Boxer (D-Calif.) said last week. "I put my name on this bill, by the way, because my staff trusted the Republican staff when they said there wasn't any change in abortion language. How awful it was for my staff that they said to me, 'Senator, we feel terrible, we took their word.' And I got my name off this bill."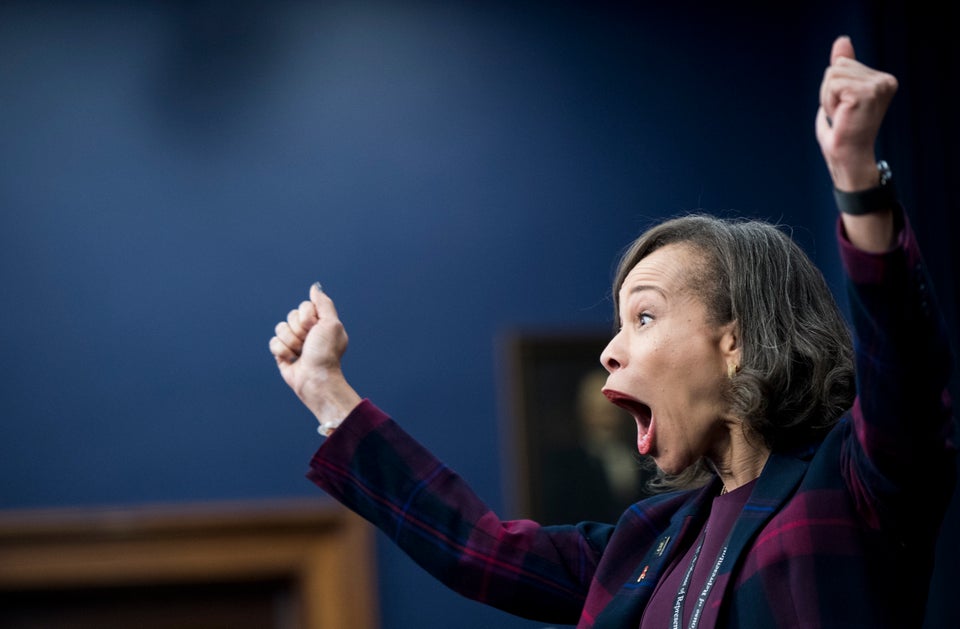 Scenes From 114th Congress And Capitol Hill
Popular in the Community