WASHINGTON ― House Republicans jammed through a measure on Tuesday overturning the Obama administration's rules that would have banned telecom and cable companies from sharing customers' personal information, including web browsing history, without their consent.
The House resolution passed 215-205, mostly on party lines. Its companion passed the Senate last week on a 50-48 vote. If President Donald Trump signs the measure into law, internet service providers will win a regulatory victory. But advocates say consumers can kiss network privacy goodbye.
"ISPs will be able to sell your personal information to the highest bidder ... and they won't have any real obligation to keep your personal information secure, either," Gigi Sohn, who previously served as counselor to former Federal Communications Commission Chairman Tom Wheeler, said Monday.
The FCC adopted rules last October that required companies like Comcast and Verizon to get their customers' explicit permission before they could share "sensitive" data like Social Security numbers, or information pertaining to children or health. Under the rules — which are not yet in effect — companies also had to tell customers and law enforcement if a potentially harmful data breach occurred. (Verizon is the parent company of The Huffington Post.)
In a heated floor debate on Tuesday, House Republicans sought to paint the rules as an example of government overreach. "These broadband privacy rules are unnecessary," said Rep. Marsha Blackburn (R-Tenn.), who introduced the resolution.
But House Democrats warned that Republicans were scrapping common-sense privacy regulations — and predicted a dim future without them. Rep. Michael Capuano (D-Mass.) pointed to a patent application from an ISP for a cable box that would detect whether people were cuddling on the couch through a thermal camera, then show them TV commercials for a romantic getaway or contraceptives. "That's what this bill will allow, and you can't turn it off," he said, calling it "terrible."
The measure uses the Congressional Review Act, which allows lawmakers to undo any regulation within 60 days of its finalization, while also barring agencies from writing a "substantially" similar rule after the original one has been overturned. That means the FCC could be banned from regulating ISP privacy issues in the future, said David Segal, executive director of Demand Progress, a grassroots group.
Trump ran a populist campaign, but his vision for the FCC, a government agency that is supposed to protect consumers from predatory telecom and cable companies, is shaping up to be the opposite, consumer advocates say. The current FCC chairman, Ajit Pai, also opposed Obama's privacy rules when he was the agency commissioner under the prior administration.
Internet service providers say it's not fair they have to be subject to regulations that tech giants like Facebook and Google, which the Federal Trade Commission oversees, don't have to follow. In response, Republicans have advocated for a privacy framework modeled on the FTC's approach. But according to Sohn, the FTC rules come into play after harm occurs ― while the FCC's regulations have the power to protect consumers before they are harmed.
Advocates, as well as Democrats, say that it doesn't make sense to regulate an ISP, which has access to everything a person does online, like Google, which only sees some of a person's internet traffic. As a consumer, "if I don't like the practices of Google, I can go to Bing; if I don't like the practices of Bing, I can go to Firefox," Wheeler told HuffPost on Monday. "But if I don't like the practice of my network provider, I'm out of luck."
"Consumers have entered into a business relationship with ISPs that ISPs are now seeking to change ... [but] it's not their information, it's the consumers' information," he said.
Overturning the rules is a win for the 21st Century Privacy Coalition, a group led by former Federal Trade Commission Chairman Jon Leibowitz. The coalition is backed by telecom companies and has spent millions of dollars on lobbying in the past few years.
"I can't tell you [the House-approved bill] is not repealing privacy regulations," Leibowitz told HuffPost on Monday. But, he said, "in a very partisan Washington, where often the only choices are binary, the FCC passed a very flawed regulation."
He argued that if the bill is enacted, the FCC can still continue to protect privacy. To do that, it could write another rule ― "if that rule takes a different approach."
When asked whether he thought a repeal would improve privacy for consumers, he said only that the Obama administration's rule would "increase costs to consumers and reduce choices, and reduce competition for privacy."
But consumer advocates aren't buying it. "It's special interest lobbying as usual," said Jeff Chester, executive director of the Center for Digital Democracy.
"These companies are just trying to exploit consumers' data towards ends of private profit," said Segal of Demand Progress.
As of Monday, the Congressional Progressive Caucus said it was opposed to the measure and would be pushing for legislators to vote against it. The office of Rep. Mark Pocan (D-Wis.), first vice chair of that caucus, also noted that they had received a fair amount of calls and emails in favor of the Obama administration rule.
"Considering how much access providers already have to highly sensitive data, it is absolutely unacceptable for them to monetize personal information," Pocan said.
But that wasn't enough to stop most House Republicans from approving the resolution. House Minority Leader Nancy Pelosi (D-Calif.) on Tuesday asked ISPs to weigh in on the measure. "This is about profit," she told her House colleagues in the House. "From America's most intimate, personal information."
This article has been updated with additional comment from Sohn and with comment from Pelosi.
Support HuffPost
The Stakes Have Never Been Higher
Before You Go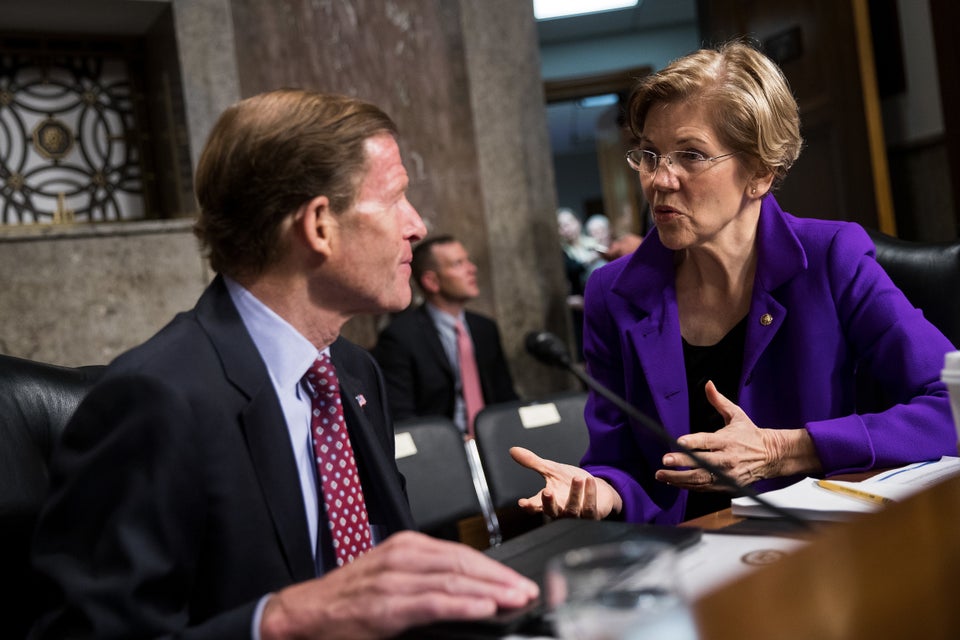 2017 Scenes From Congress & Capitol Hill
Popular in the Community