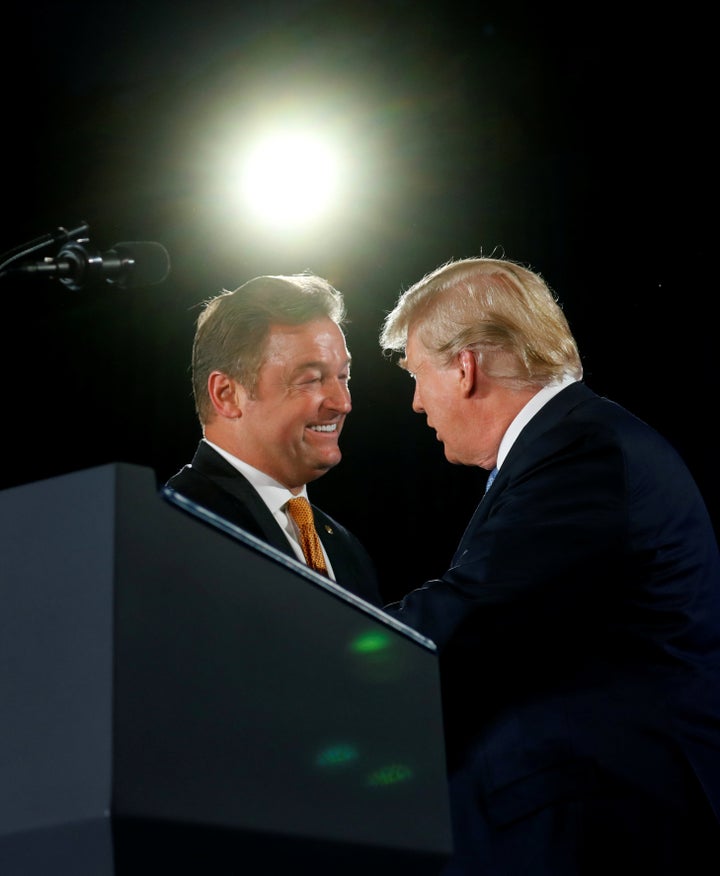 President Donald Trump and Nevada GOP Sen. Dean Heller's down-and-up relationship culminated Saturday with the president spending a full day boosting the re-election bid of the nation's most vulnerable senator, the latest display of how Republican Senate candidates are relying on an unpopular president to boost their political fortunes. 
Trump hosted a $50,000-per-couple fundraiser for Heller's re-election bid, then spoke at the Nevada GOP convention, before the pair jumped off to a roundtable to discuss the Republican tax overhaul. 
"Come on up here, Dean," Trump said at the convention, before embracing Heller, whom he later praised as a "great senator."
"He's been with me all the way ― once we got elected," Trump said. "I must tell you. A little bit shaky at the beginning, but that was a lot of people running. But once we got in there, he's been rock-solid."
Heller and Trump have been through a lot together.
In 2015, offended by Trump's comments calling Mexican immigrants "rapists," Heller gave donations he had received from the billionaire businessman away to charity. Heller refused to say if he would vote for his party's presidential nominee. Trump joked about defeating Heller in a primary after the senator helped sink an early version of his party's plans to repeal Obamacare. Heller warmed up to Trump, admitted he voted for him, and then Trump convinced Heller's primary challenger to run for the House instead.  
Saturday's bonhomie represents not just a reversal in Heller's treatment of Trump, but also in the traditional approach vulnerable senators take to presidents of their own party during a midterm election year. 
It's reflective of a larger strategy by Senate Republicans to keep the president close to their candidates, despite his low approval ratings. They're betting Trump's ability to motivate Republican base voters, combined with the heavy red tint of the Senate map — Democrats are defending seats in 10 states Trump won, while Heller is the only Republican up for re-election in a state won by Democratic presidential nominee Hillary Clinton — can help them keep control of the upper chamber in November. 
"We know that Democrats in every state are going to turn out at a very high level," said Josh Holmes, a partner at Cavalry LLC and a top political lieutenant to Senate Majority Leader Mitch McConnell. "That's not a mystery. What is a mystery is whether Republicans are going to show up. And no one fires up the Republican base like President Trump." 
The Democratic Party's chances of winning the Senate are low, but a Heller victory in Nevada would essentially reduce them to nil. Democrats have chosen Rep. Jacky Rosen, a freshman congresswoman with a background as a computer programmer and a synagogue president, to challenge him. Political forecasters typically list Heller as the most vulnerable senator up for re-election in 2018, and limited public polling indicates the race will be tight. 
"Dean's looking out for his own political self-interest. It's why he can't be trusted," she told HuffPost in a phone interview. "On every single issue that's important for Nevada, he's caved and flipped to the president and Mitch McConnell for money, for ads, for donations."
In the case of Heller, who declined an interview request, the strategy of embracing Trump is striking, not only because of his rocky relationship with the president, but because of the president's consistent unpopularity in the state. But, Republican strategists say, the approach is informed by the experience of Democrats in 2014 and what happened to GOP Rep. Joe Heck in his Senate bid in Nevada in 2016.
In 2014, Democratic Senators running for re-election in swing states — even those won by President Barack Obama — kept their distance from the president and avoided campaigning with him. While Heller is trying to capitalize on a Trump visit to fire up the Republican base, in the last midterm, then-North Carolina Sen. Kay Hagan (D) used a visit from Obama to confront him on his handling of veterans' issues. For the most part, it didn't save the Democrats  — they lost nine Senate seats that election cycle.
Holmes and other GOP strategists view that as a fatal mistake, arguing it did little to win over swing voters and depressed the Democratic base in key states.
"Trying to distance yourself from your party's leader in a midterm year is ultimately going to be unsuccessful," he said. "If you spent all your time trying to pretend you're not a member of the party that you're a member of, what does that tell people?"
The most immediate example of the dangers of distancing oneself from Trump comes in the form of former Rep. Joe Heck, an Army veteran and doctor who Republicans hoped could claim the seat belonging to retiring Democratic Sen. Harry Reid in 2016. 
After the release of the Access Hollywood tape in October 2016, which showed Trump bragging about sexual assault, Heck declared he couldn't vote for Trump, saying he could "no longer look past the behavior and comments of Donald Trump." Heck made the decision against the advice of his advisers, according to a Republican with knowledge of the discussion, and the results were immediate. 
Heck, who had been leading by a small margin in his internal polling up until that point, was suddenly trailing Democrat Catherine Cortez Masto. Voters began returning their Heck yard signs to GOP headquarters around the state, and one of the state's Republican National Committee members withdrew her endorsement of Heck.
He eventually lost to Cortez Masto by a little more than 2 percentage points, with many Republicans blaming the outcome on Heck's decision to ditch the president. 
There are limits to how closely Heller will tie himself to Trump. His brief remarks at the convention focused almost exclusively on the GOP tax law, which he and other Republicans hope to credit for a booming economy. (Public polling indicates voters are divided on whether the tax bill is helping them.)
"I wrote it, I fought for it, and the president signed it," Heller said. 
Rosen, who spent Saturday at the state Democratic convention campaigning with Sen. Elizabeth Warren of Massachusetts — Trump said "Wacky Jacky" was campaigning with "Pocahontas" — hopes to keep the campaign conversation focused on health care and immigration. She said Heller's flip on health care, where he went from standing with Republican Gov. Brian Sandoval against an Obamacare repeal to co-sponsoring a version of the repeal legislation, was "the biggest cave of all."
"I think Dean can't stand on his policies," she said. "This is a tale of two Dean Hellers."
Heller has also been pressuring Rosen to take a stance on impeaching Trump, especially since Democratic megadonor Tom Steyer brought his "Need to Impeach" tour to Reno earlier this month. Rosen said she doesn't support impeachment yet, but does "support allowing [special counsel Robert Mueller] to complete his investigation unimpeded, until its natural conclusion."
If Trump has his way, the strategy won't change any time soon.
"You have an outstanding man in Dean Heller," Trump said. "I'll be back a lot."