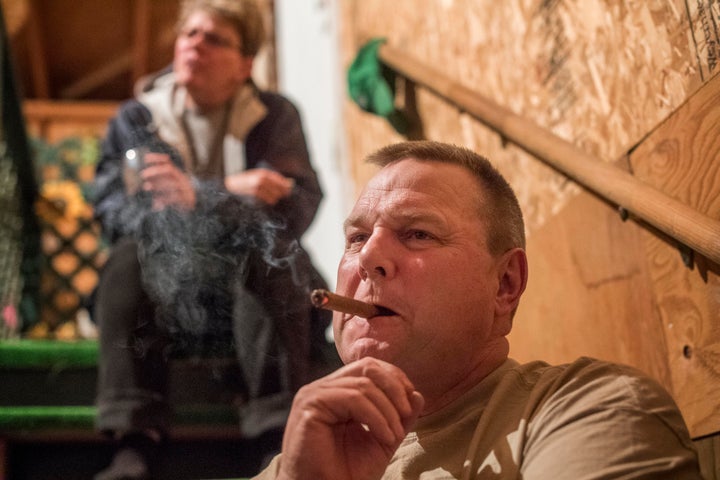 Republicans know President Donald Trump has made defeating Montana Democratic Sen. Jon Tester one of his top goals for the 2018 midterms. On Tuesday, the state's GOP voters will decide on who will take up that task. 
Tester, a self-assured farmer, has consistently opposed the president's nominees even as he runs for re-election in a state Trump won by 20 percentage points. He put himself squarely in Trump's sights with the leading role he played earlier this year in derailing the president's nomination of White House doctor Ronny Jackson to be veterans' affairs secretary. 
Trump has declared Tester "should lose," and four Republicans are vying to end his Senate career after two terms. 
State Auditor Matt Rosendale is the frontrunner, with backing from a slew of big national names ― the economic conservatives at the Club for Growth have spent heavily on his behalf, and he boasts endorsements from GOP Sens. Ted Cruz of Texas and Mike Lee of Utah.
But some local Republicans back either former judge Russ Fagg, whose supporters include former governor and Republican National Committee chairman Marc Racicot and former Rep. Denny Rehberg, who lost to Tester in 2012. And businessman and veteran Troy Downing has the backing of Lola Zinke, the wife of Interior Secretary Ryan Zinke. 
The once-quiet race has exploded with negativity in recent weeks. The Club for Growth has attacked both Fagg and Downing with digital ads, hitting Fagg's record as a judge and Downing's business record. Fagg has slammed Rosendale for his opposition to the death penalty, and a mysterious outside group that won't have to reveal its donors until after the election is blasting "Maryland Matt," who was born in Baltimore, as a carpetbagger.
If Rosendale prevails in the primary, expect the Tester campaign to pick up this line of attack and run with it. The Montana Democratic Party has already slammed Rosendale as a "phony rancher." Democratic Gov. Steve Bullock successfully used a similar line of attack against now-Rep. Greg Gianforte in their 2016 race, dubbing him "Jersey Gianforte." Rosendale, though, has pointed to Gianforte's win in a closely watched 2017 special House race as evidence he can brush aside the attacks. 
2020 Contenders Back Iowa Candidate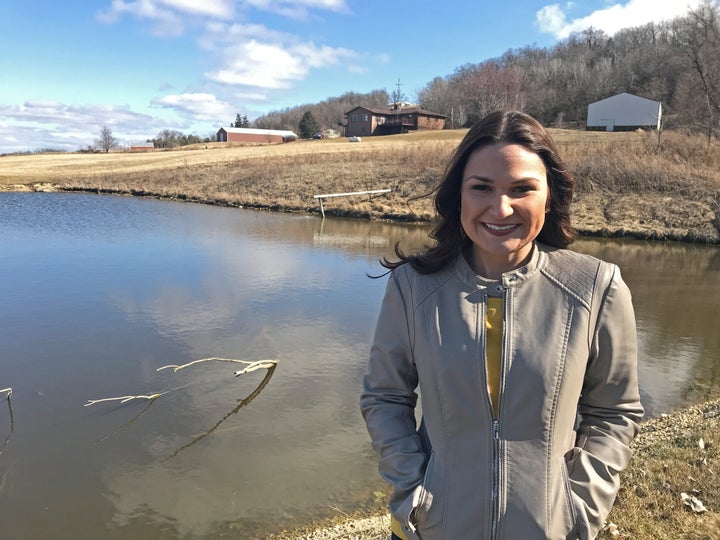 So far, the highest-profile contenders for the 2020 Democratic presidential nomination have largely avoided a major presence in the early primary states of Iowa and New Hampshire. But both former Vice President Joe Biden and New York Sen. Kirsten Gillibrand waded into a contested Iowa primary this weekend, backing Democrat Abby Finkenauer in the 1st Congressional District, which covers the state's northeast section.
"I've had the chance to know Abby for the past 11 years, way back from the days she was organizing volunteers in Iowa in 2007," Biden said of Finkenauer in a statement, referencing her work for his 2008 presidential bid. "During her time as a state representative the last four years, she has stood up with courage and passion for working families across the state, and I can't wait to see her work for a better tomorrow for our country."
Finkenauer is the favorite against businessman and former congressional aide Thomas Heckroth. Democrats believe they have a chance to knock off GOP Rep. Rod Blum, who won a shocking victory in 2014 and hung on in 2016 as the district went from backing President Barack Obama with 56 percent of the vote in 2012 to picking Trump by a 3-point margin over Democratic nominee Hillary Clinton four years later. 
A Warren Protege In A Republican Bastion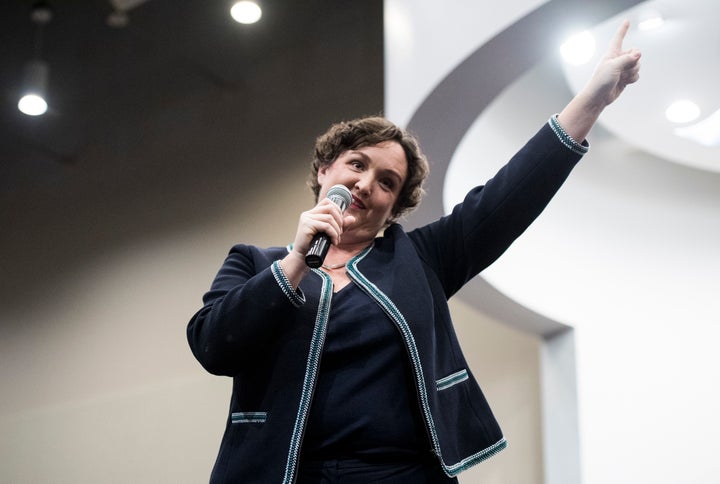 California's 45th Congressional District has seen a less wacky race than some of its neighboring seats in Southern California, and there's no chance of a Democratic lock-out here. But the race is worth watching to see if Katie Porter, a former law student and protege of Massachusetts Sen. Elizabeth Warren, can earn the right to face GOP Rep. Mimi Walters in November. 
Porter is one of four Democrats in the race, but her chief rival is Dave Min, a former congressional aide who has the endorsement of the state's Democratic Party. The Progressive Change Campaign Committee is running digital ads attacking Min for opposing "Medicare for All" and for taking money from a political action committee affiliated with the New Democrats, a centrist group of congressional Democrats. 
If Porter does win, the general election will serve as a test of how well a Warren-style populist can do in a wealthy enclave ― the 45th has the 13th highest median income of any district in the country. The district, centered around the city of Irvine, was a center of Southern California Republicanism until Clinton flipped it in 2016. The race is likely to be a toss-up, regardless of which Democrat wins a chance to challenge Walters. 
Can Kristi Noem Break The House GOP's Losing Streak?
House Republicans haven't done well in competitive primaries for higher office this election cycle. Businessman Mike Braun romped over Reps. Luke Messer and Todd Rokita in the Indiana Senate primary. Attorney General Patrick Morrisey (with some assistance from Democrats) topped Rep. Evan Jenkins in the battle for West Virginia's GOP Senate nomination. And in Idaho Rep. Raul Labrador failed to secure the party's nomination for governor. 
South Dakota Rep. Kristi Noem hopes to break the pattern by defeating Attorney General Marty Jackley in the state's Republican gubernatorial primary. A recent poll found the two essentially tied. 
Jackley has been attacking Noem for her time in Washington ― the same poll found just 15 percent of GOP primary voters approved of how Washington works, compared to 71 percent who approved of state government. 
"South Dakotans deserve a governor they can be proud of, not a D.C. politician who breaks their promises and will say anything to get elected," a male narrator says in one of Jackley's ads.
Noem has fired back with her own ads featuring a sexual harassment victim alleging Jackley failed to help her when the South Dakota Department of Criminal Investigation retaliated after she reported her complaint.
"You can't be above the law just because you're the one who enforces it," the woman says in the ad. 
The winner of the race is likely to become governor in heavily Republican South Dakota. 
Can A Republican Who Broke With Trump Survive In Alabama?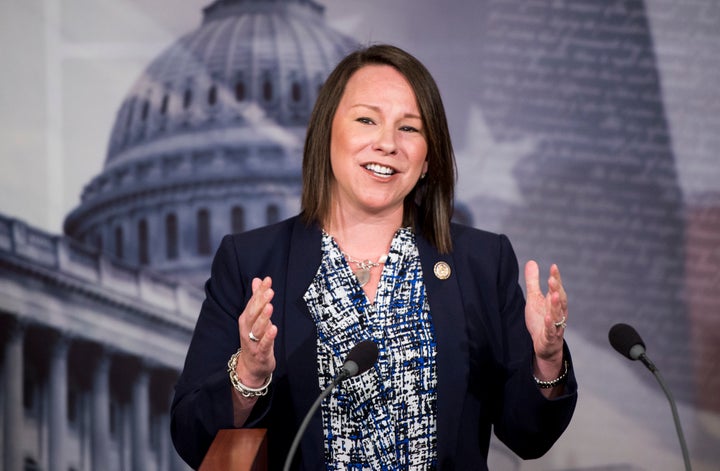 Alabama GOP Rep. Martha Roby wasn't alone among Republicans when she decided to drop her endorsement of then-nominee Trump in early October of 2016, after the disclosure of the Access Holllywood tape featuring him bragging about sexually assaulting women. But she then found herself in surprise political peril.
On Election Day, she won re-election with just shy of 49 percent of the vote, as her Democratic rival captured close to 41 percent and a write-in candidate siphoned off almost 11 percent. Clearly, some of her constituents in the 2nd Congressional District abandoned her for abandoning Trump.  
Roby has since made peace with the president, but three challengers hope to springboard off her initial defection and force her into a July runoff. The highest-profile is Bobby Bright, a former Montgomery mayor who held the seat from 2009 to 2011 as a Democrat and has since switched parties.
Another challenger, Rich Hobson, is a longtime aide to Roy Moore, whose Senate candidacy ended in disaster for Republicans last December after allegations surfaced that he had accosted teenage girls decades ago as a young man. 
Roby needs to win more than 50 percent of the vote to avoid a runoff in the district, which includes Montgomery and southeastern Alabama. 
REAL LIFE. REAL NEWS. REAL VOICES.
Help us tell more of the stories that matter from voices that too often remain unheard.