Women make up just 13 percent of the West Virginia Legislature. That's the third-lowest rate of women holding office nationwide, and if the state's GOP lawmakers have it their way, there will be one less group fighting to change that statistic.
Just two days into Women's History Month, West Virginia's House of Delegates voted 58-41 to pass House Bill 2646, which abolishes the state's Women's Commission, a small, nonpartisan group established in 1977 by the state Legislature to empower women, including providing guidance for running for office. If signed into law, the commission would be eliminated as of June 30, 2018.
Out of 134 state legislators, just 18 are women ― that's 13 percent, the state's lowest percentage of female lawmakers since 1984 and nearly 10 percent lower than the national average.
Advocates say the Women's Commission has played a crucial role in recruiting women to run for office and shaping some of the state's most progressive legislation on equal pay and domestic violence. But the bill's supporters ― all eight of whom are Republican women ― claim the commission duplicates services offered by other groups and that its $150,000 annual budget is needed to help fill in the state's nearly $500 million budget deficit.
Belinda Biafore, chair of the state's Democratic Party and former Women's Commission member, said the Republicans' move to terminate the commission for monetary reasons doesn't make sense, noting that funding for the agency totals roughly .025 percent of the state's anticipated budget gap.
"I know every penny counts, but the bang you get for your buck with this program ― it's just really unfortunate," Biafore told The Huffington Post. "I don't know what they gain by taking it away.… There is no explanation. There's no rhyme. There's no reason."
Margaret Chapman Pomponio has worked closely with the Women's Commission in her role as the executive director of West Virginia Free, a reproductive rights advocacy group. She said legislators calling for the commission's closure to save money were being "very disingenuous," adding that the agency runs on a "shoestring budget."
"This is a sad way to mark Women's History Month," Pomponio said. "If you wanted to take a cynical look at the motives behind this bill, is it that the Legislature doesn't want to deal with the reality that the status of women in West Virginia is relatively poor?"
The irony of eight women introducing a bill to eliminate a group dedicated to empowering other women did not go unnoticed by the commission's supporters.
"For the Republican majority to pinpoint all the female Republican legislators to introduce this bill and talk on behalf of it, it's just like it's another slap in the face," Biafore said. "And those women allowed it."
Despite women's dismal participation in the state Legislature, the bill's sponsors claim the commission isn't needed to promote the status of West Virginia women. Republican Kayla Kessinger is the lead sponsor of the bill and argues that the commission's initiatives are not only unnecessary but have a negative effect.
"To assert that women need a commission to run for office or to be successful undermines women and does nothing to empower us as a demographic in our nation and in our state," Kessinger said during a hearing on the bill.
Kessinger ― who has not responded to multiple requests for comment ― and other supporters of the bill claim the commission's services are duplicative of other agency's services, citing a 2006 state audit of the agency that called for its closure.
The auditor found that inadequate funding, not unnecessary services, prevented the commission from effectively executing its mission. The commission, which operates under the West Virginia Department of Health and Human Services, is currently made up almost entirely of volunteers, save for one part-time employee: the executive director, who also leads another state commission.
The Women's Commission is the only state agency mandated to bring women's concerns and issues to the attention of the executive and legislative branches of the state government, according to its website. The commission's supporters point to the group's initiatives to prepare women to run for office, like their Ready to Run training sessions and the Women's and Girls' Day at the Legislature, as necessary.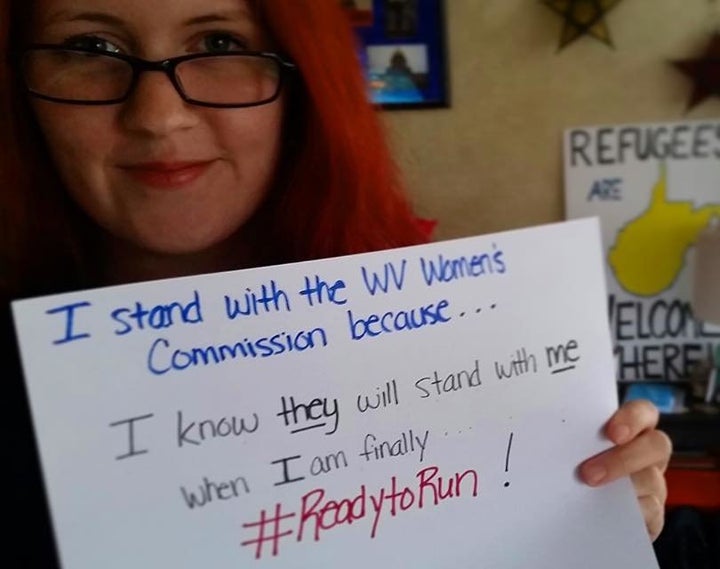 Nancy Foster, one of the eight Republican women sponsoring the bill, claims some private-sector organizations and universities conduct similar research, though she struggled to specifically name any. She previously attended one of the commission's candidate training workshops and argued she didn't find the training particularly useful, though Stacy North, chairwoman of the Women's Commission, said Foster gave the training "good marks."
"It's nothing personal, nothing against that gender ― I am that gender," Foster said.
Pomponio argued the bill's supporters are underestimating women's interest in politics and the energy that came out of the historic Women's March in January.
"Women are going to find out about what they have done to the Women's Commission and they hopefully will hold legislators accountable for not representing the interests of West Virginia women and families," Pomponio said. "West Virginia women are worth more than $150,000 a year."
The state Senate is set to vote on the bill before the legislative session ends in early April. It's unclear if Democratic Gov. Jim Justice would sign the bill if it reached his desk, though he called it "frivolous" during a town hall earlier this month.
"It's $150,000. I mean, that's money ― I get it," Justice said. "But at the same time, Jiminy Christmas ... all we're going to do is stir the pot again and then be right back at the same thing next year."
How will Trump's first 100 days impact you? Sign up for our weekly newsletter and get breaking updates on Trump's presidency by messaging us here.
Calling all HuffPost superfans!
Sign up for membership to become a founding member and help shape HuffPost's next chapter
BEFORE YOU GO
PHOTO GALLERY
Women's History Month Quote Cards