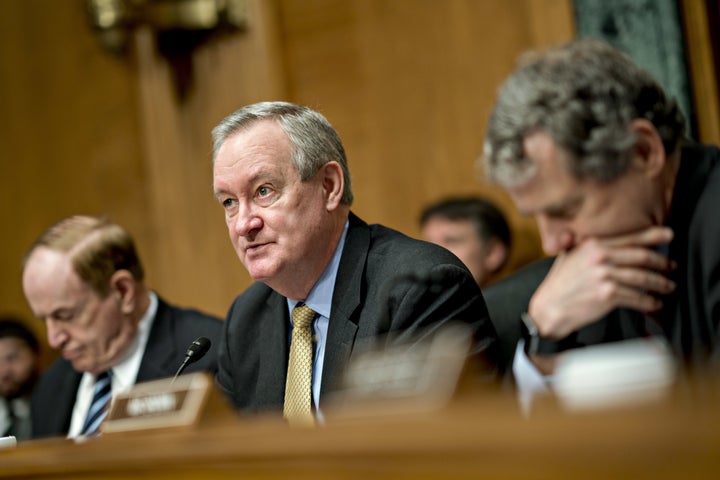 WASHINGTON ― While a piece of legislation wending its way through the U.S. Senate would do favors for banks big and small, the bill also has several little provisions benefiting consumers.
Republicans, however, are apparently watering down at least one of those provisions, according to Sen. Sherrod Brown (D-Ohio), the top Democrat on the Senate Banking Committee.
The original bill would have required credit monitoring companies like Equifax to offer free credit freezes to all consumers, and to exclude medical debt for one year from the credit reports of U.S. veterans. An amended version of the bill, introduced late Wednesday, would also give free credit monitoring to active-duty members of the military.
"A small gesture to the people that serve our country was too much for the Republicans and Equifax," Brown said on the Senate floor Thursday.
"In exchange for this token benefit, they demanded consumers and service members give up their right to take Equifax to court the next time the company's recklessness exposed sensitive financial data," Brown said.
Sen. Mike Crapo (R-Idaho), chairman of the Senate Banking Committee and lead author of the legislation, has touted the bill's "important consumer protections for veterans," as have many of the 17 members of the Democratic caucus who supported the bill in a procedural vote earlier this week.
Last year, Equifax admitted it had allowed cyber criminals to steal personal information relating to more than 143 million Americans whose credit histories the company had tracked. Consumer advocates harshly criticized the company for then offering a "free" credit monitoring service for victims of the breach ― while initially requiring anyone who signed up to waive their right to join a class action lawsuit against the company.
According to Brown's office, service members who benefit from the credit-monitoring provisions of the legislation would forfeit the right to sue if they had a later grievance against a credit monitoring company.
The main provisions of the bill would ease regulations on community banks, as well as on some of the biggest banks in the country. Crapo's office did not immediately respond to HuffPost's request for comment.
"It takes away from these service members the right to sue," Brown told HuffPost. "Everything about this bill is getting worse and worse."
Other consumer protections in the bill would require credit reporting companies to let people freeze their credit information for free, and would require the firms to set up a website for doing so.
"These are crumbs in an otherwise toxic bill," Bart Naylor, a financial policy expert with the consumer advocacy group Public Citizen, said in an interview.
Of the provision prohibiting charges for credit freezes, the CBO noted that "only about 0.3 percent of Americans with credit reports have frozen their credit, and a number of states already prohibit such charges."
Of the provision requiring firms to set up a website for requesting credit freezes, the CBO said that "credit reporting agencies already have websites allowing consumers to request security freezes."
Of the provision disallowing credit reporting agencies from reporting medical debt incurred by veterans for a year, the CBO said "credit reporting agencies already have a six month delay on reporting medical debt for all individuals."
Naylor said it's unfair that medical debt hurts anyone's credit score in the first place.
"We actually think while veterans do deserve special attention, this slight nod in their direction should apply to everyone," Naylor said. "Medical debt is certainly not a sign of profligate spending."
This story has been updated to include additional details about the amended version of the bill.
REAL LIFE. REAL NEWS. REAL VOICES.
Help us tell more of the stories that matter from voices that too often remain unheard.