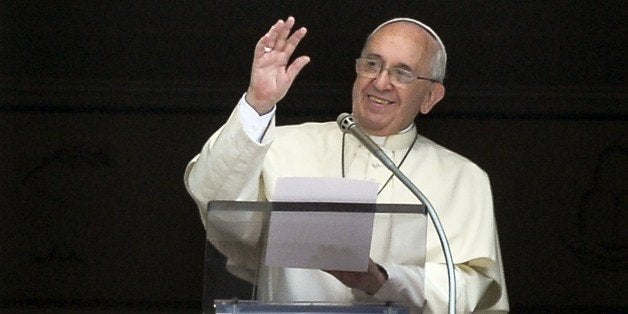 House of Representatives Speaker John Boehner (R-Ohio), a Catholic, warmly invited Pope Francis to address Congress in a statement made in March 2014. However, House Resolution 440, which recognizes the pope's "inspirational statements and actions" and congratulates him on his election, was referred to the House Foreign Affairs Committee in December 2013 and has been languishing there ever since.
Out of the 221 co-sponsors of the resolution, a mere 19 are GOP members. A Republican supporter of the bill told The Hill that the lack of enthusiasm could be due to the belief that the pope is "too liberal," a perception drawn largely from his criticism of unfettered capitalism and trickle-down economics as well as his calls for a more equal distribution of wealth.
The Republican source told The Hill that some GOP members think Pope Francis is "sounding like [President] Obama. [The pope] talks about equality — he actually used the term 'trickle-down economics,' which is politically charged."
With the clock ticking on the legislative calendar, the writers of the resolution, Reps. John Larson (D-Connecticut) and Pete King (R-New York), sent a letter to Boehner on Friday to ask him to put it to a vote.
"To my knowledge this would be an historic first. I ask that you take a look at a bipartisan resolution introduced by Representative Peter King and myself, acknowledging the first Pope from the Americas ... it is my sincere hope that you will consider this resolution for the suspension calendar for a vote," Larson wrote in the letter obtained by The Hill.
His tireless call for the protection of the most vulnerable among us—the ailing, the disadvantaged, the unemployed, the impoverished, the unborn—has awakened hearts on every continent.

His social teachings, rooted in 'the joy of the gospel,' have prompted careful reflection and vigorous dialogue among people of all ideologies and religious views in the United States and throughout a rapidly changing world, particularly among those who champion human dignity, freedom, and social justice.

These principles are among the fundamentals of the American Idea. And though our nation sometimes fails to live up to these principles, at our best we give them new life as we seek the common good. Many in the United States believe these principles are undermined by 'crony capitalism' and the ongoing centralization of political power in the institutions of our federal government, which threaten to disrupt the delicate balance between the twin virtues of subsidiarity and solidarity.
According to The Hill, the resolution's supporters see it as a more formal acknowledgment of Pope Francis that goes beyond the open invitation originally extended. "The Speaker's invited him to speak, it would give it more significance if there was an actual official resolution about it," said King.
REAL LIFE. REAL NEWS. REAL VOICES.
Help us tell more of the stories that matter from voices that too often remain unheard.
BEFORE YOU GO
PHOTO GALLERY
Pope Francis's Most Prophetic Statements