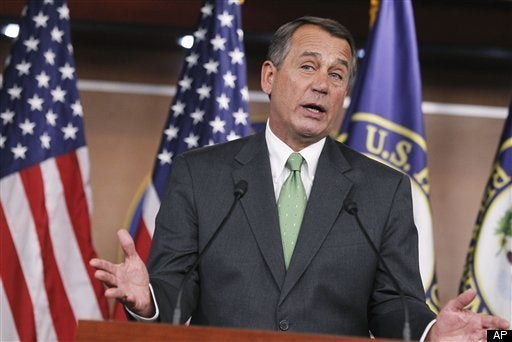 WASHINGTON -- House Republicans filed a bill Friday evening proposing $60 billion in spending cuts for current levels and hundreds of millions of dollars in funding reductions for education and programs that help families pay their rent. With government shutdown a looming threat--funding runs out on March 4--House Republicans said they would continue to push for deeper cuts to meet the promises laid out in their Pledge to America, even if it means passing a bill that will be defeated or limited by the Senate.
Senate Majority Leader Harry Reid (D-Nev.) has called threats of government shutdown "extreme" and said the Senate will not lie down and accept all of the House GOP's severe spending cuts. "You can lose a lot of weight by cutting off your arms and legs," he said on Thursday. "But no doctor would recommend it."
The continuing resolution introduced on Friday would drastically reduce funding for many government programs, including NASA and state and local law enforcement. The Department of Education would see a funding cut of about $4.9 billion under the bill, with nearly $1.4 billion coming from grants for state training and employment programs. The bill would also remove $715 million from funds for the Department of Housing and Urban Development's rental assistance program, which is already unable to help many of the 7.1 million low-income households found to be in a "worst-case" housing situation in a HUD report released on Friday.
Some of the cuts were directed at long-time targets of Republican ire, such as the Environmental Protection Agency, which would see a $60 million cut under the bill, $16 million of which will be eliminated from climate protection activities. The bill also would create a funding limitation that would prevent the EPA from prohibiting or restricting emissions. The health care law, another frequent Republican target, would be given reduced spending for community health centers, the National Health Service Corps, and the Maternal and Child Health Block Grant.
The bill also includes a few increases, most notably in defense. It would increase funding for the Department of Defense by $8.1 billion, and would give $312 million more for nuclear weapons infrastructure than 2010 funding.
With only a few weeks to pass a bill, House Republicans acknowledged on Friday that they may be forced to enact a short-term continuing resolution at current funding levels instead, allowing the two chambers more time to duke it out over the level of cuts. The two chambers must eventually agree on a resolution--or continue short-term continuing resolutions at the current level--to prevent government shutdown.
"Leadership does not want a government shutdown," Rep. Mike Simpson (R-Idaho), head of the Appropriations subcommittee on Interior and the Environment. "Could it ultimately end up there? Sure, it's possible. But most people realize it's going to take us some time to try to get a conference report."
At the same time, though, the House leadership faces a conservative faction that says they will not accept less than $100 billion in cuts, the figure promised in the GOP's Pledge to America in September. The House leadership faced a revolt this week when conservative freshmen rebelled over the original plan for the continuing resolution, which would have cut $74 billion from the never-enacted 2011 budget proposed by President Barack Obama. That proposal would have eliminated about $32 billion in spending. On Thursday, House Republicans announced they would instead introduce a continuing resolution that would cut $100 billion from Obama's never-enacted 2011 budget, amounting to about $60 billion in cuts from current levels.
Freshman Rep. Allen West (R-Fla.) said on Friday that he told leadership he would not vote for a continuing resolution that introduced less than $100 billion in cuts. "We've got to hold people accountable," he told reporters off of the House floor. "You've got to step out there and take these bold and aggressive moves."
Still, he said there would not be a government shutdown over the continuing resolution. "The government's not going to shut down, and I think one of the things we've got to look at is, the president is the CEO of this corporation called the United States of America," West told reporters on Friday afternoon.
Earlier in the afternoon, Democrats promised to fight to prevent cuts to education. "We cannot let the dreams and aspirations of the young people of this nation fall victim to the positions of the more extreme elements of this Republican caucus," Rep. Tim Bishop (D-N.Y.) said at a press conference.
Click here for a full list of proposed cuts.
Popular in the Community