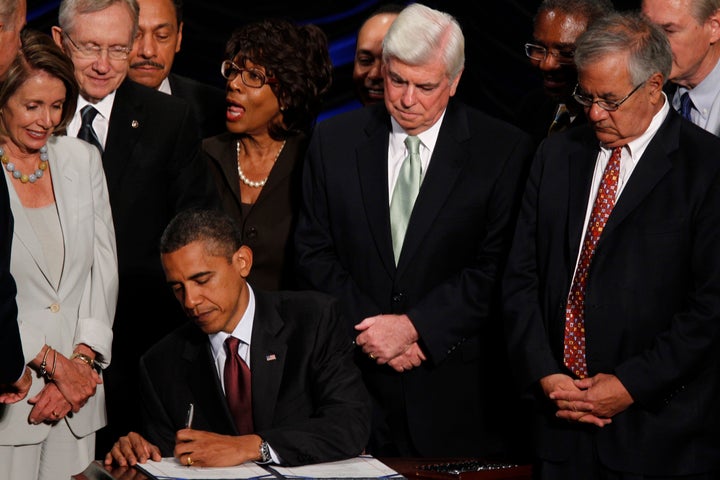 March 15, 2011 12:18:29 AM
WASHINGTON (Reuters) - Congressional Republicans on Wednesday will stage their first outright challenge to 2010's Dodd-Frank financial regulation reforms with a fistful of bills favoring private equity firms, derivatives end-users and corporate CEOs.
After months of trying to defund and defang Dodd-Frank at the administrative level, Republicans are finally unveiling draft legislation that would repeal or amend parts of the laws approved after the severe 2007-2009 financial crisis.
The bills face a long road ahead. Republicans may be able to obtain House passage, perhaps with Democratic support on some issues. But Senate action could be hard to come by and the Obama administration could veto any measure it opposes.
``It's the first direct assault,'' said a congressional aide. ''Up until now it's been about trying to deprive the agencies of what they need to implement Dodd-Frank.''
One of the bills to be introduced would exempt private equity firms from registering with the U.S. Securities and Exchange Commission, as required under Dodd-Frank.
The bills could represent the beginning of a long-awaited ''technical corrections'' measure, said two lobbyists who favor one of the bills.
Private equity firms typically pool capital from investors and pump it into leveraged buyouts, financial restructurings and corporate takeovers. They offer an alternative to public capital markets and allow the companies they back to operate beyond the reach of regulators.
Registration ``imposes a burden on them while doing nothing to make the financial system more stable and less risky,'' said a Republican staff memo obtained by Reuters that explains the bills and their background.
Dodd-Frank was approved in July by Democrats, with the strong support of President Barack Obama, over the opposition of all but a few Republicans. Regulators are working hard to implement hundreds of new regulations mandated by the laws.
Under Dodd-Frank, new oversight is imposed on the $600 trillion over-the-counter derivatives market, including credit default swaps like those that undermined bailed-out former insurance giant American International Group.
One of the Republican bills would amend Dodd-Frank in a way that would shield end-users of OTC derivatives from new central clearing requirements and the costs involved.
Another Republican bill would repeal a part of Dodd-Frank that requires public corporations to disclose the median pay of all their employees, the total pay of the chief executive officer and a ratio comparing the two numbers.
This so-called ``sticker shock'' provision promised to be embarrassing to CEOs whose pay often dwarfs that of lower-level workers by multiples unseen in other nations.
The GOP staff memo said complying with the provision would be too costly and time-consuming for companies.
A fourth bill would repeal a Dodd-Frank provision exposing credit rating agencies, such as Moodys Corp or Standard & Poor's, to legal liability in cases where their ratings were found to be inaccurate.
A final bill, not dealing with Dodd-Frank, would raise to $50 million from $5 million the limit under which small companies may access the public capital markets without having to undergo the full SEC registration process. (Editing by Gary Hill)
Popular in the Community