WASHINGTON -- House Republicans signaled they would rally around Speaker John Boehner's (R-Ohio) lawsuit against President Barack Obama, even though critics on the right dismiss the move as a political stunt.
Several Republican lawmakers on Tuesday said the president leaves them with no choice but to sue, citing executive actions to sidestep the gridlocked Congress on issues that include health care, immigration, foreign policy and energy.
Rep. Peter King (R-N.Y.) told The Huffington Post he believes the lawsuit is "a very reasonable step to take."
"We believe the president has been violating the law and going around the law," King said.
Rep. Adam Kinzinger (R-Ill.) said he's "reluctantly" backing the lawsuit, although it's "unfortunate" Republicans have been pushed this far.
"At some point, the president has to listen to the legislative branch and this may be a way to make that happen," Kinzinger told HuffPost. "I don't celebrate this. Any time that we have to go into the courts to settle a dispute shows that the system isn't quite working as it should at this moment, which is sad to see."
Support for a lawsuit comes as Boehner faces criticism from the left and the right for planning legislation, likely to get a vote this month, that would authorize the House general counsel to sue the Obama administration and "compel" the president to enforce existing laws.
The White House and Democrats have dismissed the lawsuit threat as a political theater to shore up Republican support ahead of November's midterm election. Oddly enough, they have been joined by some from the conservative commentariat, including Erick Erickson. The RedState.com editor penned a scathing critique of the lawsuit plan on Monday, in which he argued that Boehner should "man up" instead but did not call for impeachment.
"I realize John Boehner and the House Republicans may lack the testicular fortitude to fight President Obama, but I would kindly ask that he save the taxpayers further money on a political stunt solely designed to incite Republican voters who might otherwise stay home given the establishment's bungling of Mississippi and abandonment of their constitutionally derived powers," Erickson wrote.
"John Boehner's lawsuit is nothing more than political theater and a further Republican waste of taxpayer dollars," Erickson added. "If the Republican leaders in the House are too chicken to use their constitutional powers to rein in the President, they should just call it a day and go home."
Sarah Palin also derided the lawsuit on Tuesday and said it was time for Republicans to impeach the president instead. "You don't bring a lawsuit to a gunfight, and there's no room for lawyers on our front lines," the former GOP vice presidential nominee said on Fox News' "Hannity."
But most rank-and-file Republicans disagreed, pointing out that impeachment was not politically viable, or even appropriate.
"This is much more responsible," said King of the lawsuit, adding that he would "absolutely not" support impeachment. "And no true conservative should, because that destabilizes the government," he said.
Kinzinger said he hadn't read Erickson's latest column and typically doesn't read the conservative blogger's work.
Even some of the House GOP's most conservative members said they were reluctant to side with critics on the right.
"Impeachment is a political solution to a problematic and dysfunctional government," Rep. John Fleming (R-La.) said, noting he supports Boehner's lawsuit. "I'm not even saying I support [impeachment], but even if I did, the realistic situation here is half the Congress is controlled by the president himself and his party. It would be impossible, so why do that?"
Rep. Steve King (R-Iowa) told HuffPost he had not read Erickson's column, but said the power of the purse had not been effective. He also echoed Fleming's comments on impeachment and said he was "inclined" to support Boehner's approach.
"From a tactical standpoint, we don't have very many options," he said. "We have two constitutional tools to bring a president into line. One of them is the power of the purse, which as clearly demonstrated is not an effective tool. The other one is impeachment."
Steve King pointed to the example of former President Bill Clinton, who was impeached by a Republican-controlled House in 1998 on charges of perjury and obstruction of justice related to the Monica Lewinsky scandal, but acquitted by the Senate.
"If we couldn't get a verdict on the impeachment of Bill Clinton, why would we think we could get one in the United States Senate with Harry Reid as majority leader," Steve King said. "So that's off the table."
Rep. Walter Jones (R-N.C.) was one of the few who said he favored a debate over legislation that would impeach Obama rather than just sue him.
"I don't think this will go far in the federal courts," Jones said. "This has nothing to do with President Obama to me. What this has to do with, quite frankly, [is that] the House of Representatives for too long has allowed the president to bypass Congress."
"Most of the conservatives down in my area would like to see impeachment brought to the floor for debate," Jones added. "I would rather have the option of seeing a bill that deals with impeachment. I voted for Dennis Kucinich's resolution to impeach George W. Bush."
Boehner himself demurred when reporters asked him last month if his lawsuit was a prelude to impeachment proceedings in the House. "This is not about impeachment," he said. "This is about faithfully executing the laws of our country."
Rep. Rob Bishop (R-Utah) made a similar case, telling HuffPost the lawsuit is a result of "an overreach on the part of the executive branch." Impeachment, he said, had a number of problems.
"First of all, the last time the House impeached somebody, it made the president more popular," Bishop said, referring to the dramatic rise in Clinton's approval rating in the wake of his impeachment. "That should not be the goal -- [the president] becomes empathetic and a martyr.
"Second problem is if the Senate's not going to pass it, why waste your time," Bishop added. "The third one is Joe Biden would be president -- that's no big improvement."
CLARIFICATION: This article was updated after publication to clarify that Erick Erickson does not believe Obama should be impeached.
Before You Go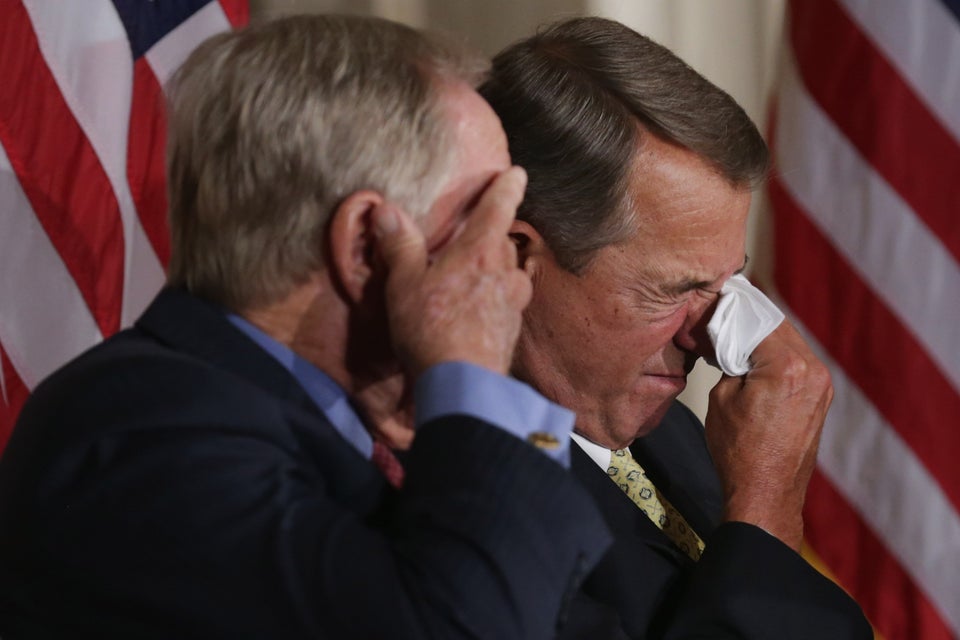 John Boehner Cries
Popular in the Community