WASHINGTON -- In recent days, as concern and anger have spiked over the flow of undocumented children along the nation's southern border, Republicans have put increasing blame on President Barack Obama.
The culprit, they argue, is a 2012 Obama administration directive that gives relief to so-called Dreamers, the undocumented young people who came to the U.S. years ago as children. Reflecting the mood of the conservative base, Sen. Ted Cruz (R-Texas) demanded this past week that any legislation to alleviate the current crisis must include a repeal of that 2012 Deferred Action for Childhood Arrivals policy.
But as lawmakers point the critical finger at DACA, they also invite a spotlight on their own immigration platforms. And the exposure has the potential to create some political discomfort.
Several of the president's most prominent detractors have also worked on legislation that would give legal status -- not just temporary reprieve -- to those same undocumented immigrants. Sen. Marco Rubio (R-Fla.) and Rep. Bob Goodlatte (R-Va.) both considered, but never introduced, bills to allow undocumented young people who came to the U.S. as children to stay. And yet, while both were critical of DACA from the start, recently they have begun amplifying their complaints, saying it has encouraged some of the more than 57,000 unaccompanied minors who crossed the border illegally this fiscal year.
"This dynamic we're seeing now, this massive surge in unaccompanied minors and others crossing the border that is directly related to the decision by the president in 2012 to defer action for those under a certain age that are in this country, in essence, to put in place the Dream Act through executive order," Rubio said on Sean Hannity's radio show last Wednesday. "And since he did that, you have seen this dramatic surge."
Left unsaid during the Hannity interview was Rubio's own history with Dreamers. The Florida Republican worked on legislation before Obama's announcement of DACA that would have given legal status to undocumented young people who came to the U.S. as children -- essentially his own version of the Dream Act -- but never released it. He also helped to draft a comprehensive reform bill that included a similar provision last year.
Rubio's office insisted that there is no inconsistency with him now arguing that DACA facilitated the current border crisis. Alex Conant, a spokesman for Rubio, told HuffPost that the senator's legislative efforts tried to strike a balance that would prevent encouraging more unauthorized immigration. He noted that the Senate bill, which Rubio helped to draft, included requirements for border security and other immigration enforcement, along with legal status for undocumented immigrants.
For Republicans who support immigration reform, the current controversy over what to do with unaccompanied minors may not have caused a legislative shift, but it has caused a rhetorical one. Like Rubio, several House Republicans who spent the past year trying to find a legislative compromise between border security and some form of legalization are now emphasizing the former and decrying the latter. DACA, in their growing estimation, gave children the impression that if they make it to the U.S., they can remain here -- even though the directive does not apply to those who streamed across the country's southern border in the past few years.
He, too, has called for an end to DACA and says it helped drive an increase in unaccompanied minors immigrating illegally. Pressed on the matter, an aide to the House Judiciary Committee, which Goodlatte chairs, said the congressman has said repeatedly that immigration reform must start with enforcement. The aide said in an email that enforcement must be up and running to prevent an influx of unauthorized immigration.
Other members who voiced support for legal status for Dreamers -- if not going as far as working on their own legislation -- have recently criticized the DACA policy and blame it for the current crisis.
Last month, Rep. Darrell Issa (R-Calif.) penned a letter demanding that Obama end DACA, directly pinning the blame for the current border crisis on that 2012 policy.
Thirty-two fellow Republicans signed on, some of whom had voiced support previously for allowing undocumented immigrants to gain legal status. Issa himself said in February 2013 that Republicans would not want to give legal status with no opportunity for citizenship. Rep. Tim Griffin (R-Ark.), who also signed the letter, said last year that he supported a pathway to citizenship.
Reps. Blake Farenthold (R-Texas) and John Campbell (R-Calif.) also signed Issa's letter. Both have expressed some level of support for legalization in the past. Campbell said last year that he supports a path to citizenship, as long as there is a distinction between undocumented immigrants and their children who were brought to the U.S. at a young age. Farenthold told constituents last year that he sympathized with Dreamers.
"I believe that the kids are innocent victims in this. We spent money educating them. Many of them don't speak a word of Spanish and we're thinking of deporting them. That doesn't make sense," he said.
Before You Go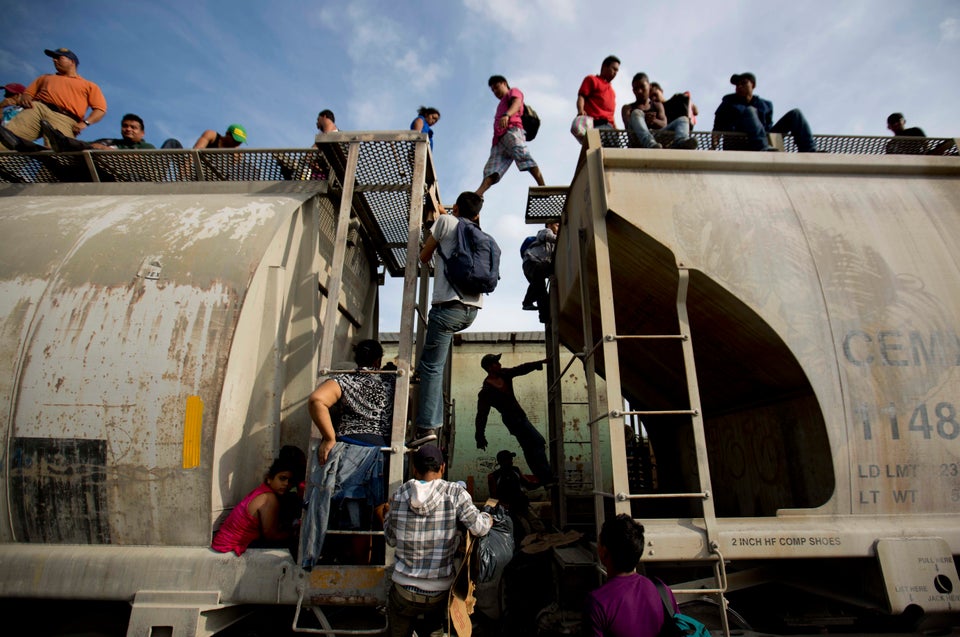 Why Latin Americans Really Come To The U.S.
Popular in the Community