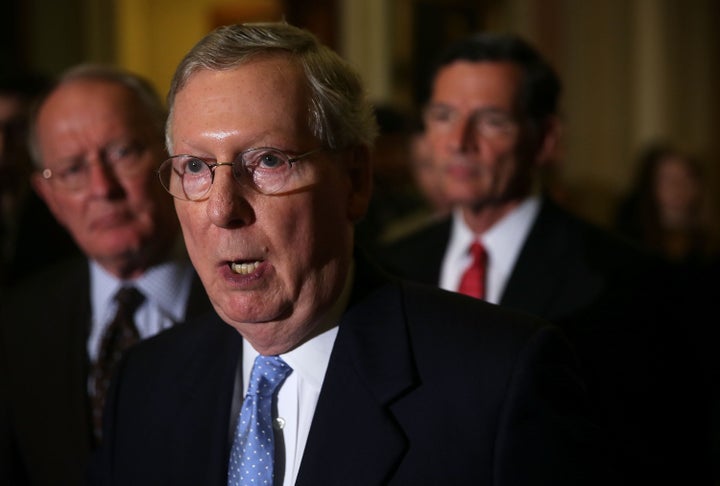 WASHINGTON -- Congressional Republicans are trying yet again to use the appropriations process to roll back campaign finance regulations. This time the target is the limit on coordinated spending between candidates and political parties -- that is, money that a party spends to support a candidate in consultation with that candidate.
On Thursday, Sen. Tom Udall (D-N.M.) attempted to strip the coordination rider in committee, but the effort failed on a 16-14 party-line vote, with all Republicans opposed to removing the rider.
"The American people are sick and tired of big money in politics. It is a major reason that public approval of Congress is so low," Udall said in a statement. "They do not see us working for the vast majority of people, but instead see big money exerting most of the power. People will be shocked to learn that the Senate is trying to eliminate the few rules that are left."
"We should shine a light on the flood of money from the ultra-wealthy flowing into our system of government," he continued. "Unfortunately, today's bill would only remove one of the few dams left trying to control that flood."
Under current campaign finance law, political parties are allowed to spend a limited amount of money on campaign-related activities like advertising and get-out-the-vote efforts with the consultation of the candidate's campaign. Those limits range from $96,000 for a House candidate as of this year to $21 million for a presidential nominee as of 2012.
Campaign finance reformers including Democracy 21, Public Citizen, Common Cause, Campaign Legal Center and the Brennan Center for Justice sent a letter Thursday to senators on the Appropriations Committee calling for them to remove the campaign finance rider from the spending bill.
"Senate Majority Leader Mitch McConnell has blocked for years efforts in the Senate to repair the nation's campaign finance laws," the letter read. "Now, Senator McConnell wants to enact his own campaign finance provision that would further undermine the campaign finance laws."
McConnell, a Republican from Kentucky, has long been the most vocal opponent of campaign finance regulation in Congress. His ascension to Senate majority leader was viewed as a bad portent for campaign finance rules.
It's possible, then, that the appropriations rider gutting coordination limits between candidates and parties is a sign of things to come.
Popular in the Community