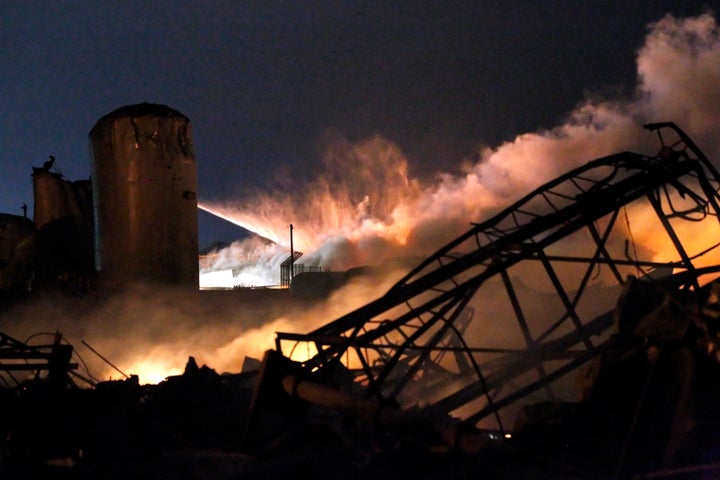 WASHINGTON ― Republicans in Congress are moving to repeal safety regulations issued by the Obama administration in the wake of the deadly 2013 explosion at a fertilizer plant in West, Texas.
The House GOP is expected to take up a bill soon that would prevent the Environmental Protection Agency from moving forward with its new chemical safety regulations this year as planned. A companion bill has already been introduced in the Senate.
If approved by Congress and signed by President Donald Trump, the legislation would forbid the EPA from ever issuing similar rules again.
"I wish I could say I am shocked that Republicans attempting to undo this progress are prioritizing profits over workplace safety," said Rep. Don Beyer, a Virginia Democrat. "Sadly, this is reflective of the Trump Administration's efforts to put well-heeled private interests ahead of public safety."
The chemical safety rule is one of more than 30 regulations issued late in Barack Obama's presidency that Republicans have sought to quash using an arcane tool called the Congressional Review Act. That law enables Congress to pass "resolutions of disapproval" undoing significant federal rules before they take effect.
Such resolutions only require a simple majority to pass in the Senate, leaving the Democratic minority unable to filibuster them. The GOP-controlled Congress has sent more than a dozen repeals to Trump already, covering everything from pollution to gun control to workplace safety. The president has signed eight of them so far and is expected to eventually approve all of the ones that land on his desk. 
Until this year, the Congressional Review Act had only been used successfully once, in 2001. But with the GOP controlling both chambers of Congress as well as the White House, it has become the go-to tool for dismantling new regulations opposed by businesses and their lobbies.
The Obama administration began pursuing the chemical safety reforms in 2013 after the infamous Texas explosion killed 15 people, 12 of them first responders, and destroyed much of the surrounding community. In their official investigation on the incident, federal officials discovered safety lapses by the company and its insurers, as well as shortcomings in oversight by federal and state agencies.
The new regulation that Republicans want to scuttle was meant to address lapses by the EPA in its risk management program. Among other changes, the new regulations would require facilities covered by the law to study whether they could be using safer technologies to protect workers and the surrounding community. It would also require facilities that have had accidents to pay for safety audits performed by independent third parties.
In other words, companies would be expected to help fund some of the safety improvements.
Lobbies for the chemical and petroleum industries asked the Trump administration to temporarily stop the rules from going into effect. EPA head Scott Pruitt, who sued the agency repeatedly before being plucked to lead it, obliged. Now Congress may block the rule for good.
Jordan Barab, a former official at the Occupational Safety and Health Administration, wrote on his blog that businesses have tried to block the rule by citing the possibility that the explosion in West was sparked by arson, as opposed to a breakdown in corporate accountability. Barab said the arson issue is a red herring.
"They don't want to pay for the safeguards that are needed and they don't want any stinkin' government agencies telling them how to do their business," he wrote.
When the EPA rolled out its reforms, it noted that the disaster in West, Texas, was just one of many deadly chemical plant mishaps in recent years. According to the agency, over the past decade there have been more than 1,500 accidents, including 60 deaths, at facilities covered by the risk management program.
The Trump administration has not said explicitly what it will do with a repeal of the EPA rule if it's passed by Congress, but all the signals so far suggest Trump will sign it. The White House has launched a full-scale assault on federal regulations, including executive orders that make it harder for federal agencies to issue new rules. Trump has said he wants to repeal two regulations for every new one that goes into effect.
The new president has shown little love for chemical safety regulations in particular. In fact, his proposed budget would wipe out the U.S. Chemical Safety Board, which is responsible for investigating accidents and enforcing safety laws.
Sign up for the HuffPost Must Reads newsletter. Each Sunday, we will bring you the best original reporting, long form writing and breaking news from The Huffington Post and around the web, plus behind-the-scenes looks at how it's all made. Click here to sign up!
Calling all HuffPost superfans!
Sign up for membership to become a founding member and help shape HuffPost's next chapter