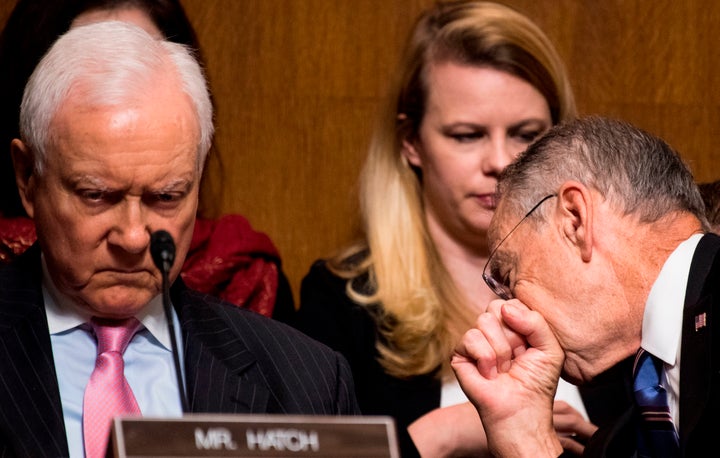 WASHINGTON ― During a break in Thursday's testimony from the woman who says Supreme Court nominee Brett Kavanaugh sexually assaulted her in high school, Republicans said they haven't heard anything that's made them rethink their support for President Donald Trump's court pick.
One of the Republicans on the Senate Judiciary Committee, Sen. Lindsey Graham (R-S.C.), said he thought it was suspicious that Kavanaugh's accuser, Christine Blasey Ford, had hired a lawyer and taken a lie detector test before she went public with her story two weeks ago.
And he didn't like that Blasey couldn't remember how she got to the party that night in 1982, where she alleges a teenage Kavanaugh pinned her down and covered her mouth so no one could hear her scream, where she heard the "uproarious laughter" that she said she'll never forget.
"She can't say how she got there and how she left," Graham told HuffPost during a brief pause in the hearing.
Kavanaugh has steadfastly denied Blasey's claims, as well as subsequent sexual misconduct allegations from two other women.
Sen. Orrin Hatch (R-Utah), a committee member, said Blasey's testimony hasn't shaken his support for Kavanaugh at all. He predicted the committee would proceed with voting Kavanaugh out of committee on Friday as planned.
Asked if he thinks Blasey's testimony is credible, Hatch said: "It's too early."
The Utah Republican initially responded to Ford's testimony by telling reporters that Ford was an "attractive witness" and that "she's pleasing." HuffPost asked Hatch why he said that about Blasey as the senator headed onto the Senate floor, but he kept walking.
Sen. Dianne Feinstein (D-Calif.), the ranking member on the committee, appeared stunned when she learned what Hatch said. Seconds ticked by before she responded, "That's … interesting."
Many Republicans, including chairman Chuck Grassley (R-Iowa), ignored reporters' questions or said they wouldn't comment until they heard from Kavanaugh, who is a currently a federal judge for the D.C. Circuit.
"This ought to come down to evidence. It ought to come down to facts. And I don't know if there's anything in terms of facts or evidence that have changed," Sen. John Thune (R-S.D.) said.
Sen. Richard Shelby (R-Ala.) said he thought Blasey looked "credible" and "calm." But the Alabama Republican, who as a then-Democrat voted to confirm Justice Clarence Thomas in 1991, said he wanted to hear from Kavanaugh before making a final decision.
"You're kind of sitting like the jury. You want to hear the whole story," Shelby said.
One of a handful of Democrats who hasn't announced a position on Kavanaugh, Sen. Jon Tester (D-Mont.), also said he needed to hear from the nominee. But when a reporter asked if Blasey sounded credible, Tester said yes.
Sen. Joe Manchin (D-W.V.) said he remained undecided.
"I haven't drawn any conclusion on anything yet because the bits and pieces I'm seeing, I'm not seeing in full."
Meanwhile, Sen. Joe Donnelly (D-Ind.), another vulnerable Democrat up for re-election this year, said he had found Blasey "very credible, very compelling, and very courageous."
This article has been updated with comments from Sen. Richard Shelby.
Popular in the Community