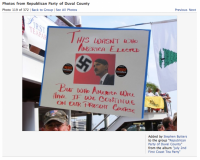 Oh it can be hard work being a Tea Party promoter. The Republican Party of Duval County, Florida wants you to know that just because they promoted a Tea Party event with e-mails that stated "Paid by Republican Party of Duval County"-- a disclaimer which is required by state law regarding political communications -- and featured Duval Republican Party Chairman Lenny Curry broadcasting live from the event on the party's weekly radio broadcast hosted by AM 1320, they are not responsible for:
a few individuals holding controversial signs who were present at the Tea Party and construed them to represent the views and beliefs of myself, elected officials present at the Tea Party, the DCREC, Tea Party organizers, and the thousand or so honest, hard-working people who were in attendance at the Tea Party.
numerous signs that were prominently displayed at the gathering, including two that featured Barack Obama in Nazi garb. One sign, in fact, had altered Obama's appearance to resemble Hitler. Other signs compared ACORN, the community organizing group accused of voter registration irregularities, with the SS-the Nazi organization responsible for enacting the Holocaust and the group responsible for most of the crimes against humanity committed by the Third Reich.
Photos from the group's event posted on Facebook by the Duval County Republican Party Social Media Coordinator Stephen Butters that featured the signs have been removed. Duval Republican Party Chairman Lenny Curry explained the Tea Party's position on these Tea Party attendees:
I believe Tea Party officials made the right choice in not bringing further attention to those few people in attendance holding inappropriate signs by forcing them to leave or to put their signs away. Refusing them entry into this event or calling them out for their ridiculous signs would have given them a larger platform than they deserve.

But posting their pictures on Facebook didn't? Curry adds that:
the philosopher Voltaire once said, 'I disapprove of what you say, but I will defend to my death your right to say it.' I believe in this principle and I support the actions of the Tea Party organizers for allowing Free Speech to prevail.

And the Duval Republican Party shows that support for free speech by celebrating it in photos.
Popular in the Community