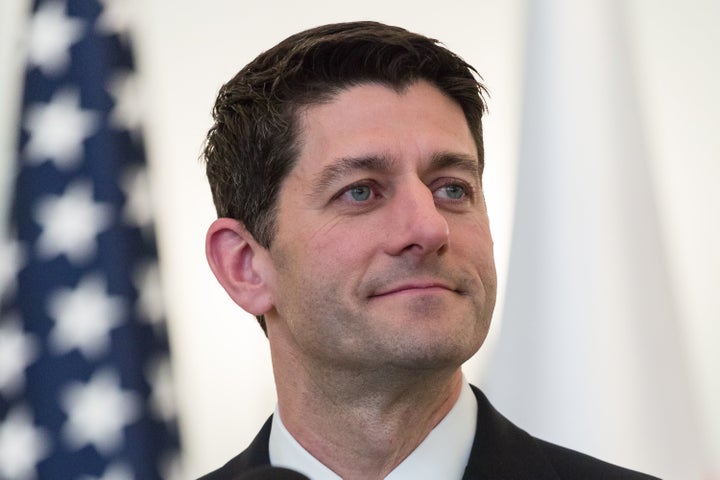 WASHINGTON ― House Republicans appear closer than ever to repealing and replacing the Affordable Care Act, after the House Freedom Caucus formally endorsed a revised version of the GOP health care bill and moderates looked to be largely going along with the changes.
It's still a real question whether Republicans have the votes. There were almost enough moderates publicly opposing the health care bill before an amendment worked out between co-chairman of the moderate Tuesday Group Tom MacArthur (R-N.J.) and Freedom Caucus Chairman Mark Meadows (R-N.C.) dragged the legislation even further to the right. But those changes, which would significantly undermine protections for people with pre-existing conditions, have won over a large swath of conservatives.
The Freedom Caucus announced Wednesday that at least 80 percent of its group of three dozen members supported the revised bill, meaning at most there are seven conservative holdouts from the caucus. At the same time, moderates don't seem to be significantly withdrawing their support of the bill, even as the legislation would now allow states to let insurers offer significantly higher rates for sick people.
Rep. Charlie Dent (R-Pa.), the chairman of the Tuesday Group, reported Wednesday that the amendment had not really changed many moderates' minds.
"My sense is that the members of our group who were opposed to the bill before remain opposed. Nothing's changed," Dent said.
Of course, the substance of the bill has dramatically changed. As Republicans acknowledge, the bill would now allow states to opt out of protections that ensure people with pre-existing conditions are charged the same as healthy people. And with further plans from Republicans to allow people to buy insurance plans across state lines, the Freedom Caucus believes it would only take a few ― even one ― state to opt out to fundamentally change the insurance market.
As former Freedom Caucus Chairman Jim Jordan (R-Ohio) said Wednesday, "If Kentucky does it, and someone lives in Cincinnati, there's a plan right there, they probably got the network set up, that looks pretty good, right?"
Republicans generally know the impact of this amendment would undermine their earlier promises, but they seem to be relying on the idea of high-risk pools to cover the sick. Many Republicans, however, acknowledge that people in those high-risk pools would be paying more and Republicans would be breaking their word.
"A lot of us have made very clear statements, many Republicans ― not just members of our Tuesday Group, but many Republicans ― have made statements that we want to protect people with pre-existing illnesses and conditions," Dent said. "We said that. And this amendment calls into question that protection, that guarantee."
If, as Dent suggested, the vote dynamic among moderates is the same, Republicans could be dangerously close to passing the health care bill even with those changes to it.
Leadership had anticipated an open revolt among moderates, even some rank-and-file Republicans, if the Freedom Caucus got its way and was able to undermine protections for people with pre-existing conditions. But that revolt hasn't happened yet ― at least not publicly.
Instead, moderates and other Republicans who have repeatedly promised to protect people with pre-existing conditions are being coy about their positions.
"I don't know. I'm not sure. We'll see," Rep. Adam Kinzinger (R-Ill.) told HuffPost when asked if it was now more difficult to support the legislation.
"I'm still looking at the bill," Rep. Jeff Denham (R-Calif.) answered.
"We'll see, won't we?" Rep. Patrick Meehan (R-Pa.) said.
Moderates may be trying to avoid publicly bashing the bill, while privately telling leadership there's no way they could support legislation that significantly raises costs on sick people. But the problem with that gambit is that other Republicans who may be uncomfortable with the new form of the bill are disinclined to speak out in opposition, making it ultimately tougher on the moderate holdouts when leadership gets close to a passing threshold.
Moderates who were publicly against the bill before don't seem to be changing their minds, but this doesn't seem to have pushed moderates who were undecided before against the bill now.
Rep. Carlos Curbelo (R-Fla.), who reported on Wednesday that he was on the fence before, said he was still on the fence now after the changes.
"I got to figure out exactly how it works before I form a good opinion on it," he said.
Rep. Mike Coffman (R-Colo.), who had previously supported the bill, did say he was undecided following a Wednesday afternoon meeting with the Tuesday Group.
But Barbara Comstock (R-Va.), who was previously against the bill, now said she was undecided. "I'll let you know when I make my decision," she said.
Again, some of this may be a tactic for moderates to avoid the wrath of Trump. With the vast majority of the Freedom Caucus publicly getting to yes, no member wants to become President Donald Trump's new punching bag. It's much safer to publicly sound wishy-washy and privately oppose the bill.
Dent suggested Wednesday that much of this current debate is about who gets the blame for the GOP's inability to repeal and replace Obamacare.
"Certainly, I've often felt that a lot of this has simply been an exercise in blame-shifting," Dent said. "Because we know that this bill, in its current form, with or without the amendment, will be gutted in the Senate. So this is simply a matter of blame-shifting and face-saving."
Calling all HuffPost superfans!
Sign up for membership to become a founding member and help shape HuffPost's next chapter