The U.S. Senate wanted to mark the solemn occasion, too, and sent a floral arrangement in honor of the justice's memory.
The wreath occupied a prime spot at the public event: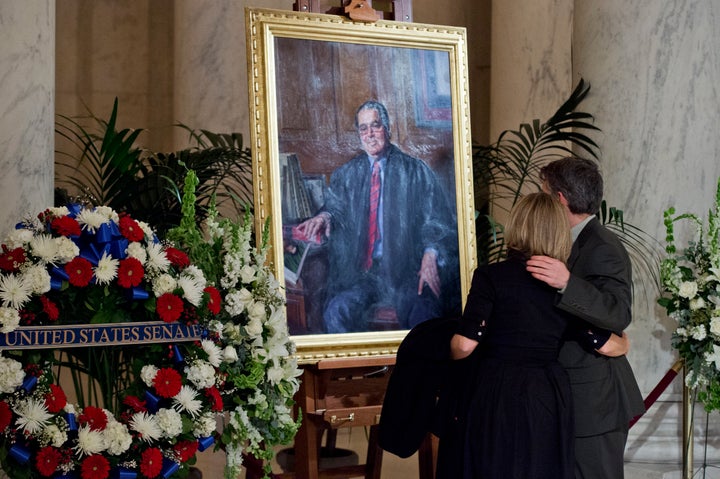 But also because the political gamesmanship twists the appointment process to the detriment of the Supreme Court itself. As The Huffington Post's Jen Bendery wrote this week, the entire federal judiciary is now hamstrung because of the obstructionism of Senate leadership.
That's the real damage here. The constitutional posturing by McConnell and Grassley -- and, to an extent, the president himself -- takes a backseat to the prospect of real-life paralysis that the Supreme Court now faces.
Scalia appreciated the judicial branch's insulation from the political ones -- which may explain his 20-year absence from the State of the Union address, which he once called "a childish spectacle."
A few years ago, Scalia said as much when he explained how he viewed his role vis-a-vis that of Washington lawmakers.
The issue there was the looming government shutdown. But Scalia's comment underscored how he valued judicial independence and the separation of powers -- constitutional principles that, for the most part, have allowed the Supreme Court to continue hearing cases and churning out decisions for years. It's far more productive and functional than Congress has been in a very long time.
But with only eight justices, that productivity is now in jeopardy. An understaffed Supreme Court means the future of constitutional law is at a standstill, and some of the nation's most contested, unresolved legal matters -- including the fate of affirmative action, abortion and immigration -- are in limbo.
"The Court proceeds with eight Justices," Scalia once wrote, "raising the possibility that, by reason of a tie vote, it will find itself unable to resolve the significant legal issue presented by the case."
Scalia was addressing the problem of Supreme Court recusals, but the principle underlying his words is the same: The court cannot operate with eight justices. And the state of the law for the entire country -- for judicial precedent, for finality, for guidance that other courts must follow -- suffers as a result.
So the flowers were a nice gesture of the Senate. But honoring Scalia's legacy will take far more than that. The stability of the Supreme Court and the rule of law depend on it.
Calling all HuffPost superfans!
Sign up for membership to become a founding member and help shape HuffPost's next chapter