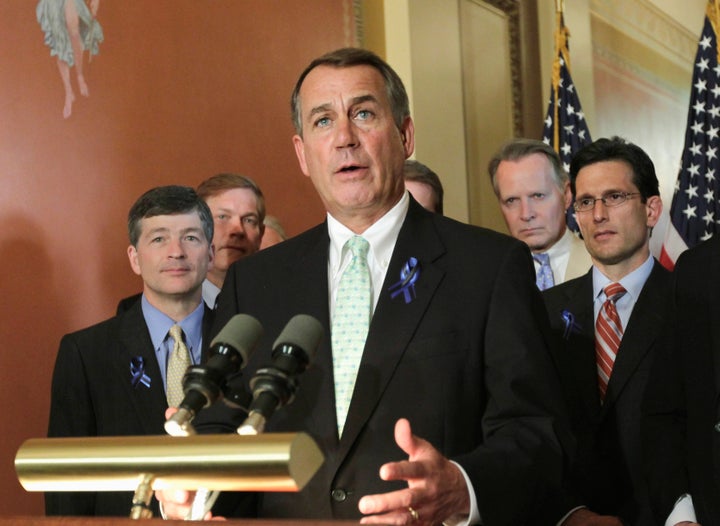 WASHINGTON -- With eight days until the country officially defaults on its debts, likely sparking a worldwide credit crisis, the House of Representatives is busy with legislation aimed at repealing environmental regulations and stymieing conservation efforts.
The Interior and Environmental Protection Agency spending bill for fiscal year 2012 contains policy riders added by panel Republicans to thwart White House-backed initiatives on everything from the EPA's regulation of greenhouse gas emissions to conservation efforts in the Grand Canyon. It would halt new regulations on mountaintop removal mining and prevent the Fish and Wildlife Service from listing new species under the Endangered Species Act.
Mike Simpson (R-Idaho), chairman of the House Appropriations Committee's Interior, said that one of the major underlying themes to this year's work is the sheer volume of regulatory actions being pursued by agencies in the absence of legislation and without clear congressional direction.
"My intense opposition to the EPA's efforts to control nearly every industry in this country is no secret," said Simpson in remarks on the House floor Monday. "The EPA's unrestrained effort to regulate greenhouse gases, and the pursuit of an overly aggressive regulatory agenda, are signs of an agency that has lost its bearing. Wherever I go, the biggest complaint I hear about the federal government is about how the EPA is creating economic uncertainty and killing jobs."
But members of the House of Representatives Sustainable Energy and Environment Coalition say that Congress should be focused on preventing a default crisis and on creating jobs, not crafting policy riders to rollback essential pollution controls and public health protections.
"This is a low mark for the 112th Congress that has already seen the GOP majority preserve giveaways to Big Oil and advance legislation to overturn common sense energy efficiency standards, slash clean energy innovation, and carve loopholes in important environmental statutes," said a statement released Monday by the 48-member coalition.
"H.R. 2584 would overturn 40 years of bipartisan progress protecting the clean air and water on which all Americans depend, and the lands and wildlife that Americans treasure. The American people reject the false choice between a prosperous economy and a sustainable environment, which we've proven can go hand in hand."
The bill would allocate $9.86 billion in funds to the Department of Interior, a $715 million, or seven percent, cut from current levels. It would allocate $7.1 billion in funds for the EPA, a $1.5 billion cut from current funding levels.
The White House has threatened to use veto power to block the bill, arguing in a statement released Thursday that it "undermines core government functions, investments key to economic growth and job creation." Beyond the White House veto threat, the spending bill faces an uphill climb in the Democrat-controlled Senate, as well as plenty of resistance from Democrats in the House.
Dozens of Democratic lawmakers took to the House floor Monday afternoon to strike the last word. Among those who protested the bill were Reps. Earl Blumenauer (D-Ore.), Lois Capps (D-Calif.), Jay Inslee (D-Wash.), Jan Schakowsky (D-Ill.), Gerry Connolly (D-Va.), Paul Tonko (D-N.Y.), Jared Polis (D-Colo.), Steve Israel (D-N.Y.), Barbara Lee (D-Calif.), Hank Johnson (D-Ga.), Niki Tsongas (D-Mass.), Lloyd Doggett (D-Texas), Jim McGovern (D-Mass.), George Miller (D-Calif.), Joe Courtney (D-Conn.), Doris Matsui (D-Calif.), Jim Langevin (D-R.I.), Jackie Speier (D-Calif.), Raul Grijalva (D-Ariz.), John Sarbanes (D-Md.), John Conyers (D-Mich.), Judy Chu (D-Calif.), David Cicilline (D-R.I.), Danny Davis (D-Ill.), Lynn Woolsey (D-Calif.), Sheila Jackson-Lee (D-Texas) and Bobby Rush (D-Ill.).
"This is the most anti-environmental House of Representatives in history," said Rep. Henry Waxman, ranking member on the House Energy and Commerce Committee. "The new Republican majority seems intent on restoring the robber baron era where there were no controls on pollution from power plants, oil refineries and factories ... A strong and vital EPA is in our national interest and the public interest. If we disarm EPA as this bill would do, there is no one to stand up to the big polluters."
Hear Waxman's full remarks on the House floor below.
Popular in the Community