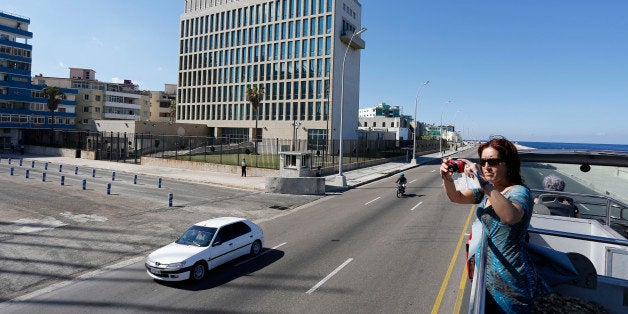 Some Republicans hope to use the power of the purse to thwart President Barack Obama's opening of diplomatic relations with Cuba. But experts say they'll have a tough time doing it.
"They're going to have a very hard time getting an ambassador confirmed out of the Senate as long as I'm here," Rubio said Wednesday, according to USA Today.
But the United States already has a building and a staff in Havana headed by a diplomat with ambassadorial rank. For all practical purposes, that amounts to having an embassy, now that high-level diplomatic exchanges have been authorized, according to Christopher Sabatini, policy director of the Americas Society.
Sabatini, who has spent the last few years analyzing U.S.-Cuba relations, referred to recent statements by some Republicans as a "tempest in a teapot."
"It makes for good political theater, but effectively it doesn't really matter," he told The Huffington Post. "The threat is largely symbolic. It isn't clear exactly what Congress can do to prohibit the creation of an embassy that in fact already exists."
The Obama administration used its executive authority last month to start the process of re-establishing formal diplomatic relations with Cuba for the first time since 1961. The move was hailed by those weary of Washington's Cold War-era policy of aggression toward Cuba. But it was criticized by some conservatives, and by some Cuban-Americans whose families suffered at the hands of the country's Communist government and migrated to the United States seeking refuge.
The U.S. and Cuba have maintained low-level diplomatic contact during the half-century of broken relations. In lieu of an embassy, the U.S. has a so-called "Interests Section" office in Havana, just as the Cuban government maintains an Interests Section in Washington. Because the two countries didn't maintain formal diplomatic relations until last month, neither of those missions has been headed by an ambassador in 54 years.
Some Senate Republicans have pledged to block the confirmation of an ambassador to Cuba, but that wouldn't do much to thwart diplomacy. The head of the U.S. Interests Section in Havana, Jeffrey DeLaurentis, already holds ambassadorial rank. All DeLaurentis lacks is the formal title, and the fact that he doesn't have it puts no significant restrictions on his diplomatic work.
The Cuban government isn't likely to view congressional Republicans' displeasure as much of a threat to the agreement reached with the Obama administration, according to Geoff Thale, a program director at the Washington Office on Latin America.
"They understand the political process here and the difference between the White House and Congress," Thale told HuffPost of Cuban government officials. "They want the relationship to move ahead."
Arturo López-Levy, a Cuban-born scholar who has studied the Raúl Castro government, said that Congress could theoretically block an advance in U.S.-Cuba diplomacy if it went so far as to defund the already established Interests Section. But no prominent Republicans have said they are considering such a move, and López-Levy said he didn't consider it politically feasible.
"Marco Rubio is fighting yesterday's battles," López-Levy told HuffPost. "If he wanted to stop the establishment of diplomatic relations, he should have showed the power to obstruct before Dec. 17. He's trying to hold the door after the horse already left the barn."
Rubio's office declined to comment for this article, pointing instead to the senator's past statements. Graham's office did not immediately respond to a request for comment.
Popular in the Community