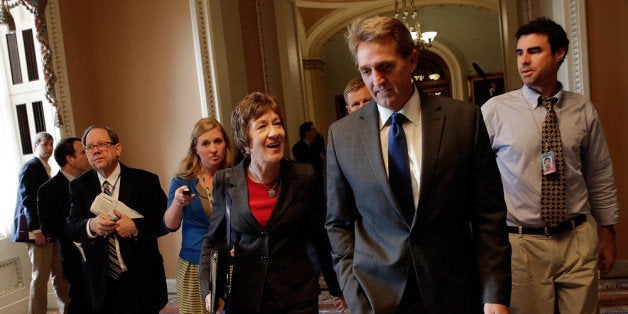 WASHINGTON -- The focus of the forthcoming debt ceiling standoff is squarely on House Republican leadership, which is still deciding what type of legislative concessions it will demand in exchange for a hike.
But the key to any resolution could lie with the Republicans in the Senate who have the capacity to force political brinkmanship or make the next few weeks relatively drama-free.
That's because any bill to lift the debt ceiling pushed by Senate Majority Leader Harry Reid (D-Nev.) will require 60 supportive members on at least one vote. Congressional aides in both chambers say there's no procedural way for Reid to skirt around a Republican filibuster, absent a full concession from those Republicans.
"There's no way to avoid at least one 60-vote hurdle," said a House GOP aide.
Reid has 54 additional Democrats with whom to work, which means that, at a minimum, he will need the support of five Republican members. And that raises the question: What, if anything, do those Republicans want?
Most Senate Republicans approached by The Huffington Post on Tuesday said they weren't yet prepared to answer that question, and they were still waiting for the House to coalesce around a plan. But several seemed wary of pursuing another showdown over raising the nation's borrowing cap and others were reluctant to rule out supporting a clean debt ceiling hike altogether.
"I think this episode will probably be somewhat different from episodes in the past," said Sen. Bob Corker (R-Tenn.), when asked if last fall's government shutdown bore any impact on how Republicans would approach the debt ceiling. "I think the House is trying to figure out a way they can pass a bill."
"To me, anything that you try to do relative to the debt ceiling ought to be about fiscal reforms, but I know the House is in a different place," he added.
Sen. Jeff Flake (R-Ariz.) also urged House Republicans to support a debt ceiling plan that would pursue additional deficit reduction, and cautioned against picking an unwinnable fight with Senate Democrats and the White House.
"My hope is that it's best to be germane," he said. "Let's have something that will help us lower the deficit and take care of the debt."
Sen. Orrin Hatch (R-Utah), meanwhile, was reticent to talk end games on the debt ceiling, but he pushed his party to use the opportunity to "try and get spending under control." Sen. Susan Collins (R-Maine) also said she believed lawmakers could do more to tackle deficit reduction during the debt ceiling negotiations. But Collins made it clear that breaching the debt limit was a non-option. "We cannot allow our country to default on its obligations," she said.
Senate Republicans' apparent lack of appetite for a fight complicates any potential plan that the House GOP pursues. Speaker John Boehner (R-Ohio) has remained coy about what concessions he will seek, and he told reporters Tuesday that no consensus had been reached on how to proceed.
"The goal here is to increase the debt ceiling. No one wants to default on our debt," he said. "But while we're doing something on this we ought to do something about either jobs or the economy [or] about the drivers of our debt."
But even as he hinted at adding a Republican priority onto a bill to raise the debt limit, Boehner reportedly told his members behind closed doors that there was "no sense picking a fight" they couldn't win. The Ohio Republican even warned his conference that if they failed to agree on a way forward, Senate Democrats might move first and attach an extension of unemployment benefits to a debt limit bill.
Among the ideas that have been discussed by House Republicans are a plan to attach language mandating the construction of the southern portion of the Keystone XL pipeline and one to reverse reductions in military pension payments. The proposal that has garnered the most support, however, would tie a a debt limit increase to a repeal of the Affordable Care Act's risk corridors provision. But that option was dealt a blow Tuesday, when the Congressional Budget Office estimated that repeal of that provision would actually increase the deficit by $8 billion over three years.
A House GOP leadership aide dismissed the CBO report, saying it "will have no impact" on the debt ceiling debate. "CBO is required to score the assumptions it is given, so – in this case – the score does not reflect the abuses of this program the administration has already announced," the aide said. In fact, the CBO did take into account administrative action on risk corridor payments, and still estimated about $8 billion in savings.
Whether he settles on going after the risk corridors or another item, any hopes Boehner has of winning concessions from the White House depend heavily on getting the Senate Republicans to back his demands. Under the most likely scenario, as outlined by congressional aides from both parties and chambers, the House would pass a debt ceiling hike with some demand attached. One key choice -- which an aide said has yet to be made -- is whether the House attaches the demand to a bill that raises the debt limit for one year or includes the demand in the bill's text. Reid would then move to either strip the provision out, defeat the measure altogether or simply ignore the legislation and pass a clean debt ceiling bill of his own. Either way, he'll need GOP votes.
"Senate Republicans have some leverage here because they could deny us the votes we need to get 60 if they are working in concert with their House guys," said a Senate Democratic aide. "On the other hand, if they want to nip this in the bud and prevent the House guys from turning this into another blow-up, then they can do that."
REAL LIFE. REAL NEWS. REAL VOICES.
Help us tell more of the stories that matter from voices that too often remain unheard.
BEFORE YOU GO
PHOTO GALLERY
Conservatives Pointing Fingers