WASHINGTON -- House Republicans on Thursday passed a bill to preserve defense spending in the event that Congress can't reach a budget deal this year and has to accept "sequestration," or $1.2 trillion in automatic cuts to defense and non-defense spending.
But many of the same Republicans who voted for the bill -- and gave passionate speeches about the need to protect defense funds -- also voted for the legislation last year that lined up the defense cuts.
By a vote of 223 to 196 on Thursday, the House passed the National Security and Job Protection Act mostly along party lines. The bill would require President Barack Obama to replace billions in planned Pentagon cuts before the sequester kicks in on Jan. 2, 2013. It also calls on Obama to come up with a plan for replacing the entire sequester.
Nobody likes the sequester, but it was never intended to take effect. Congress and the White House agreed to it during last summer's debt deal purely as a motivator for lawmakers to come up with a better idea for deficit reduction. The problem is that Congress hasn't been able to reach a deal, so now the sequester looms.
During Thursday's debate, several Republicans argued that nobody should oppose their bill to at least preserve defense dollars.
"Anyone who would want to vote now against trying to make sure ... that we are strong in the defense posture ... I would ask them how do they, when they go through the airport, look anyone in uniform in the eye and say they voted against a bill to ensure there wouldn't be defense cuts," said Rep. Scott Garrett (R-N.J.).
Of the 222 Republicans who voted for Thursday's bill, 166 had voted for the Budget Control Act in August 2011. That's the legislation that created the sequester that nobody wants anything to do with now.
Among those who voted for both bills: House Majority Leader Eric Cantor (Va.), House Majority Whip Kevin McCarthy (Calif.), House Republican Conference Chairman Jeb Hensarling (Texas) and House Republican Conference Vice Chair Cathy McMorris Rodgers (Wash.). Even Rep. Allen West (Fla.), the author of Thursday's bill, voted for the Budget Control Act.
Several Republicans on the House Armed Services Committee also voted for both bills, including Chairman Buck McKeon (Calif.), Roscoe Bartlett (Md.), Jeff Miller (Fla.), Frank LoBiondo (N.J.), John Kline (Minn.), Mike Rogers (Ala.), Bill Shuster (Pa.), Michael Conaway (Texas), Rob Wittman (Va.), Mike Coffman (Colo.), Tom Rooney (Fla.), Todd Platts (Pa.), Scott Rigell (Va.), Chris Gibson (N.Y.), Joe Heck (Nev.), Bobby Schilling (Ill.), Jon Runyan (N.J.), Tim Griffin (Ark.), Steve Palazzo (Miss.) and Todd Young (Ind.).
That hasn't stopped them from trashing sequestration.
"This legislation will require President Obama to live up to his obligation as Commander-in-Chief and submit his alternative plan to replace sequestration, while encouraging the United States Senate to do the same," McKeon said in a statement. "Let us also not forget that it was the President who put defense 'squarely on the table' last summer in the negotiations for the Budget Control Act."
"If the cuts in the sequester go forward, they will fundamentally weaken our current and long-term national security and our ability to meet the challenges we are facing," Cantor said on the House floor. "We are here today asking the president simply to come forward with a plan."
Of course, the House vote was just for show anyway. The White House has already threatened to veto the bill since it does nothing to address the sequester itself or the need for Congress to produce a broader budget deal. The bill also has no chance of moving in the Senate. But in the thick of election season, House Republicans are more than happy to go on record in support of protecting defense dollars.
Many in Congress agree that real progress on a budget deal won't happen until after the November elections.
Before You Go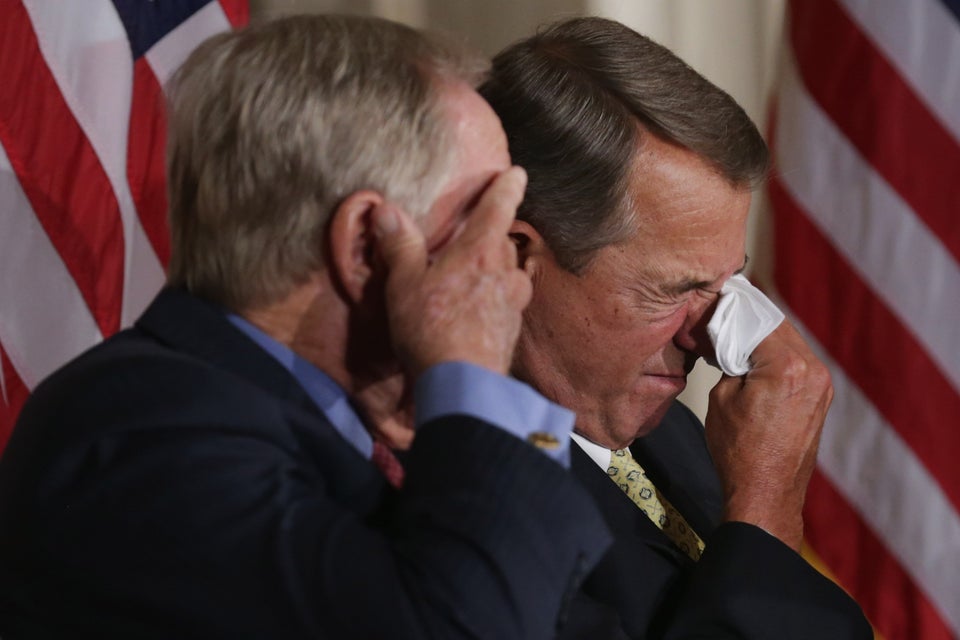 John Boehner Cries
Popular in the Community