A new Pew report highlights how partisanship is changing. Our new Senate forecast underscores how crucial some downballot races will be. And the evidence is mixed on whether half of Donald Trump's supporters have racist and Islamophobic views. This is HuffPollster for Tuesday, September 13, 2016.
REPUBLICANS AND DEMOCRATS ARE FURTHER APART THAN EVER - America's two major parties have evolved in very different ways over the past 24 years, according to a new report from Pew Research.
"On key characteristics – especially race and ethnicity and religious affiliation – the two parties look less alike today than at any point over the last quarter-century," the report's authors write.
Changing demographics of the nation have affected both parties, but in different ways. "The Democratic Party is becoming less white, less religious and better-educated at a faster rate than the country as a whole, while aging at a slower rate," the report notes. "Within the GOP the pattern is the reverse: Republican voters are becoming more diverse, better-educated and less religious at a slower rate than the country generally, while the age profile of the GOP is growing older more quickly than that of the country." [Pew]
Democrats have become increasingly racially diverse - Non-Hispanic whites now make up just 57 percent of the Democratic Party, down 19 points since 1992. Eighty-six percent of GOP voters are white, down a more modest 7 points over that time period.  
Republicans have gotten older - The U.S. population as a whole has aged "due to longer life expectancy, the graying of the large Baby Boom generation, and a decline in birth rates since the Baby Boom," the report notes. But while in 1992, the GOP was made up of younger voters than the Democratic Party was, that profile has reversed. Today, 58 percent of Republican voters, and just 48 percent of Democratic voters, are age 50 or older.
Education profiles have flipped - In 1992, Republican voters were 7 points likelier than Democratic voters to hold a college degree ― now, with GOP education levels remaining steady and Democrats' rapidly increasing, Democrats are 6 points likelier than Republicans to be college graduates.
While these changes aren't news to anyone who's been watching the election, one chart in the report highlights the stark changes both parties have undergone: 
Relatively little recent change in party ID - Despite all the demographic shifts, the overall balance between Republicans and Democrats has remained relatively stable over the past four years. Currently, 48 percent of Americans identify as or lean Democratic, the report finds, while 44 percent identify as or lean Republican ― identical to 2012, though narrower than Democrats' 51-39 lead in 2008, or their brief 51-41 advantage in 1992.
REPUBLICANS COULD KEEP THE SENATE MAJORITY - The Huffington Post Senate forecast model debuted its home page on Monday showing Republicans with a 60 percent probability of keeping the Senate majority. Democrats have only a 16 percent chance of taking the majority outright, and there's a 24 percent chance the chamber ends up tied at 50 seats per party. That's quite a bit different from the 78 percent chance the model gave Democrats of getting 50 or more seats in mid-August. The biggest differences since August are in Florida, Arizona, Nevada and Indiana. Florida is by far the biggest shift ― the state hadn't had its primaries yet in August, so we used its Cook Political Report rating of "tossup" for the forecast. Since the primaries set the candidates polling has indicated that Sen. Marco Rubio (R) is leading, and the model gives him a 99 percent chance of holding onto his seat. Also in August, Sen. John McCain (R-Ariz.) had some weak polling numbers, but has since rebounded and increased his chances of reelection. Nevada has moved slightly more into the Republican column in recent weeks too. And in Indiana, the August model used limited polling to show a Democratic advantage, but since the model runs best with more polls we decided to stick with the Cook Political Report "tossup" rating until more polls become available. These differences also make the HuffPost model more bullish on the Republicans' chances than other Senate forecast models, which give Democrats between 55 percent and 72 percent likelihood of retaking the majority. [HuffPost, Methodology]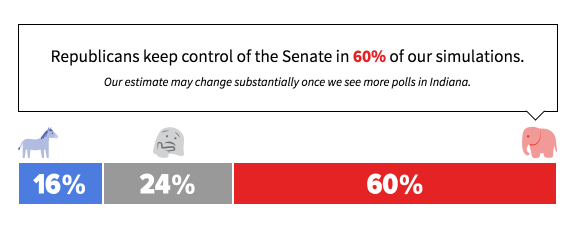 SOME VULNERABLE GOP SENATORS SEE FALLING RATINGS - Janie Velencia and Nick Bayer: "Sens. Pat Toomey (R-Pa.) and Mark Kirk (R-Ill.) are both at risk of losing their Senate seats in November. And they both have become less popular among voters in their respective states over recent months, according to a 50-state Morning Consult poll on Senate approval rankings released Tuesday. Toomey's net approval rating has dropped 11 points since April, when Morning Consult last surveyed on Senate approval….Kirk, who faces a tough election against Rep. Tammy Duckworth (D-Ill.), has seen a 9-point drop in net approval since April ― 35 percent of Illinois voters approve of the job he's doing, and 38 disapprove….Sens. Ron Johnson (R-Wis.) and Kelly Ayotte (R-N.H.) are also in vulnerable positions, but have each managed to maintain a relatively high net approval rating since April….Sens. John McCain (R-Ariz.) and Marco Rubio (R-Fla.), who are also up for re-election, rank among the senators with the lowest approval ratings in the country. But they both hold comfortable leads over their rivals." [HuffPost]
MOST AMERICANS THINK DONALD TRUMP IS BIASED - Greg Sargent (D): "The [Washington] Post poll, which found Clinton leading Trump by five points among likely voters nationwide, also found that 60 percent of Americans believe Trump 'is biased against women and minorities,' with 48 percent believing that strongly. According to the crosstabs, college educated whites believe this by 57-41, and college educated white women — a crucial demographic that the campaigns are fighting over — believe it by 61-39. What's more, majorities of college educated white men and non-college white women also believe this…. A recent Quinnipiac poll found that large majorities of American voters overall and college educated whites in particular think 'the way Trump talks appeals to bigotry." [WashPost]
Are Trump's supporters bigoted? - German Lopez: "It's impossible to say what's in people's hearts and minds, but we do have a lot of evidence from a number of nonpartisan polling firms — such as Gallup, the Pew Research Center, Reuters, and YouGov — that have asked Trump and Clinton supporters about their views on race, religion, and ethnicity. The findings suggest a great majority of Trump supporters hold unfavorable views of Muslims and support a policy that bans Muslims from entering the US. Most of them support proposals that stifle immigration from Mexico, and they agree with Trump's comments that Mexican immigrants are criminals. And many — but not a majority — say that black people are less intelligent and more violent than their white peers….There is really no other way to say this: Polls suggests that, if anything, Clinton's claim that 'half' of Trump supporters are Islamophobic is an underestimate…. polls have found that Trump supporters are more likely to hold racist views — although in this case, Clinton's estimate of half would be too high….Clinton's comments do pose a substantive problem, though: While it is easy, given the nature of Trump's rhetoric, to characterize his supporters as racist or bigoted, the fact is that a great many of them are people who don't hold any explicitly prejudiced views but feel like they don't have a choice but to support Trump in November." [Vox ]
VOTERS ARE GETTING MORE DISSATISFIED WITH CANDIDATES AS RACE CONTINUES - Hannah Fingerhut: "Voter satisfaction with the choice of presidential candidates, already at a two-decade low, has declined even further. A new survey finds that just a third of registered voters say they are very or fairly satisfied with the choices, while 63% say they are not too or not at all satisfied. That represents a 7-percentage-point drop since June in the share of voters expressing satisfaction with their candidate choices. This marks the first time in six presidential contests since 1992 that positive views of the choice of candidates have shown a significant decline over the course of the campaign (no comparative data are available for the 2000 campaign).... In prior campaigns, voter satisfaction with the selection of candidates either increased or held steady as Election Day drew closer. At this point in the campaign four years ago, 54% of registered voters said they were very or fairly satisfied with the choice of candidates, which was little changed from June of that year (56%)." [Pew] 
HUFFPOLLSTER VIA EMAIL! - You can receive this daily update every weekday morning via email! Just click here, enter your email address, and click "sign up." That's all there is to it (and you can unsubscribe anytime).
TUESDAY'S 'OUTLIERS' - Links to the best of news at the intersection of polling, politics and political data:
-Steven Yaccino and Sasha Issenberg explore what it would take for Donald Trump to win in Rust Belt states. [Bloomberg]
-Larry Bartels explains how extremist candidates can get elected. [NYTimes]
-Alicia Parlapiano and Adam Pearce chart the differences between voters and non-voters. [NYT]
-Lydia Saad argues that a sunny public mood isn't a good predictor of whether the incumbent party call hold onto an open seat in the White House. [Gallup]
-Seth Masket argues that the media is harder on Hillary Clinton because they expect her to win. [Pacific Standard]
-According to one poll, "don't know" is winning the California Senate race. [LATimes]
-Leonid Ragozin looks at the challenges faced by Russian pollsters. [Bloomberg]
REAL LIFE. REAL NEWS. REAL VOICES.
Help us tell more of the stories that matter from voices that too often remain unheard.