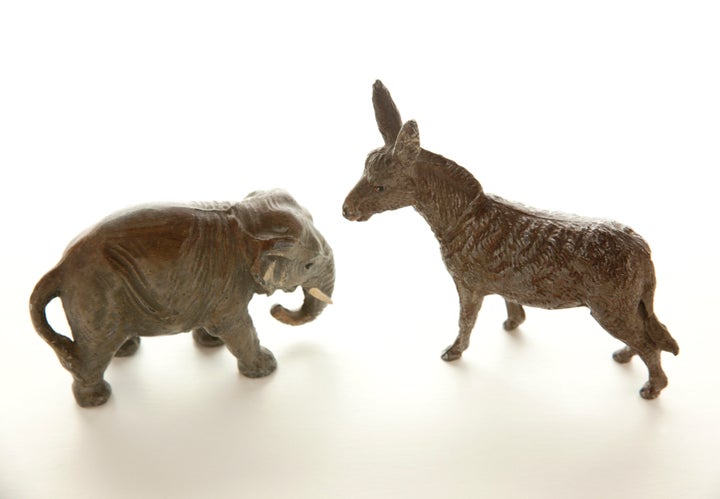 Animosity between the two major parties in the U.S. is higher than it's been in more than two decades, a new report finds.
Polarization in American politics has been increasing for years. Now, for the first time, majorities in both parties view their rivals not only unfavorably, but very unfavorably, according to Pew Research surveys conducted this spring and released Wednesday afternoon. Fifty-eight percent of Republicans have a very unfavorable view of the Democratic Party, while 55 percent of Democrats return the favor.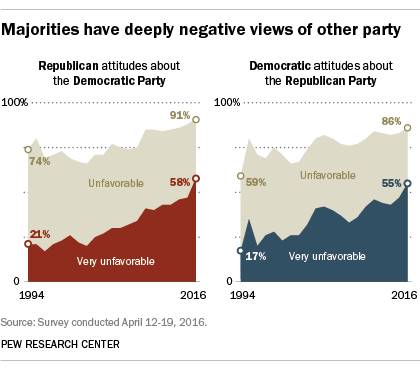 Americans' loathing of the other side may be even more entrenched than their loyalty to their own party. Partisans are more likely to say they "almost never" agree with their opponents' positions than they are to say they "almost always" agree with the party they belong to. Sixty-eight percent of Republicans, and 62 percent of Democrats, say they're members of their own party in large part because they believe the opposing party's policies are bad for the country.
And while relatively few Republicans and Democrats are enthusiastic about or proud of their own party, 49 percent of Republicans say they're outright afraid of the Democratic Party, with 55 percent of Democrats saying they fear the GOP.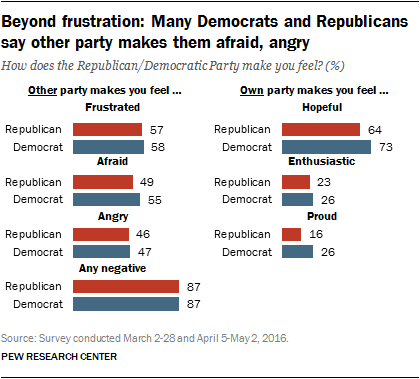 Not all partisans hold such deep antipathy for the other side -- but those who do are far more likely to get involved in the political process. From the report:
[W]hile just 5% of Republicans who do not associate any negative traits with Democrats have contributed money to a candidate or group working to elect a candidate in the past year, that rises to 14% among those who hold one or two negative stereotypes of the opposing party, and to 22% among those who ascribe three or more of the five negative traits to Democrats.

Similar patterns are evident for other types of political activity, such as contacting elected officials and publicly expressing support for candidates, and are seen among both Democrats and Republicans.
The results help to explain why, even with two unprecedentedly unpopular presidential candidates, this year's election seems likely to divide mainly along established party lines.
On a zero-to-100 scale, Republicans rate Hillary Clinton on average a 12, while Democrats rate Donald Trump an 11. A full 59 percent of Republicans and 68 percent of Democrat give the opposing party's presumptive nominee a rating of zero.
Even those whose preferred candidate lost in the primaries are likely to consider supporting the other party a greater evil. Fifty-six percent of Republicans who supported someone besides Trump say that the Democratic Party makes them feel frustrated, with 53 percent saying it makes them afraid and 44 percent saying it makes them angry. Democratic supporters of Sen. Bernie Sanders (I-Vt.) are even less positive toward the Republican Party, with 68 percent saying that it makes them afraid, 64 percent that it makes them frustrated and 57 percent that it makes them angry.
The Pew Research report includes data from two surveys, conducted March 2 through March 28 and April 5 through May 2, respectively, using the online American Trends Panel to survey 4,385 respondents. It also includes a telephone survey conducted April 12 through April 19 that surveyed 2,008 people, using live interviewers to reach both landlines and cellphones.
Calling all HuffPost superfans!
Sign up for membership to become a founding member and help shape HuffPost's next chapter