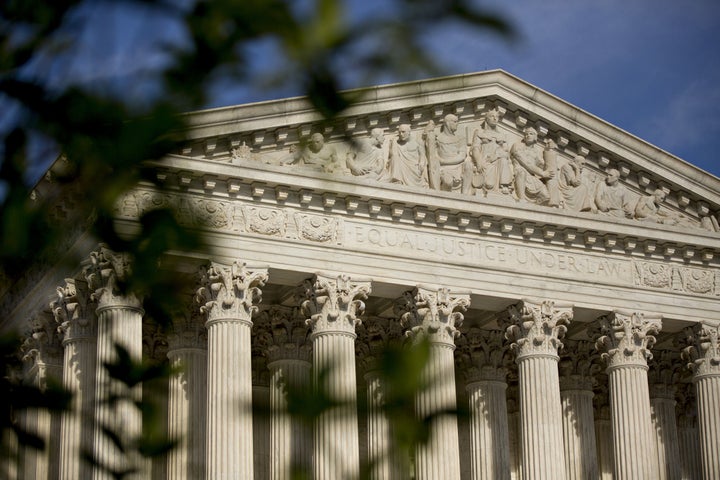 Democrats' opinion of the Supreme Court has cratered in the past three years, even as Republicans' respect for the institution has risen, a new HuffPost/YouGov survey finds.
Overall, 41 percent of Americans approve of the Supreme Court's job performance, while 36 percent disapprove. The share of the public that approves is identical to poll results in June 2015, just after the court upheld President Barack Obama's Affordable Care Act.
But underneath that steady topline number is a significant partisan shift. Just 24 percent of Democrats now approve of the court, down from 64 percent in 2015. At the same time, Republican support has jumped to 73 percent, up from 23 percent three years ago.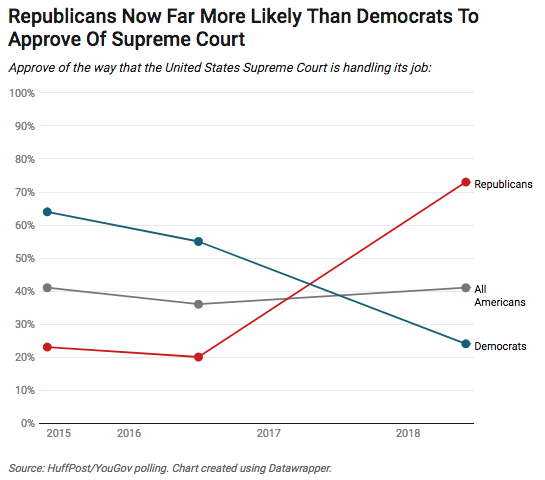 Fifty-two percent of Democrats now say they view the Supreme Court as too conservative. Among Republicans, 42 percent say it's about right, although 36 percent say it's too liberal.
Americans in both parties hold an overall positive view of retiring Justice Anthony Kennedy ― to the extent that they have an opinion. Among the full public, 38 percent view him favorably and 20 percent view him unfavorably, although the plurality say they don't have any opinion.
Americans are about evenly split on their preferred timing to seat Kennedy's replacement, with 35 percent saying the Senate should hold confirmation hearings this fall and 34 percent saying the Senate should wait until after the midterm elections. The remaining 31 percent say they don't know. (Another poll, released Monday by Quinnipiac, found a similar divide, with voters split 46 to 48 percent on whether or not the Senate should consider a nomination pre-election.)
Reminded that Republicans blocked Judge Merrick Garland from receiving a hearing in 2016, Americans are also split on whether Democrats would be justified in employing the same tactic ― 33 percent say they would be, 35 percent don't think it would be justified, and 31 percent aren't sure. In February 2017, Americans said by a slim 5-point margin that Garland's experience wasn't enough to justify Democrats in blocking a hearing for then-Judge Neil Gorsuch.
About three-quarters of Donald Trump voters say both that confirmation hearings should be held prior to the midterms and that Democrats would not be justified in blocking Kennedy's replacement. By contrast, 68 percent of Hillary Clinton voters say that confirmation hearings should wait until after the midterms, and 76 percent say that Democrats would be justified in blocking a hearing for Trump's nominee.
Among both Trump and Clinton voters, nearly 3 out of 4 now say the Supreme Court will be at least somewhat important to their midterm vote. But Clinton voters are 11 points more likely than Trump voters to call the court a very important issue in their voting.
Sixty-three percent of Clinton voters also say they believe Kennedy's retirement will have a lot of impact on American politics, compared to just 39 percent of Trump voters (and 18 percent of non-voters and third-party voters).
All that could indicate a shift in who's most likely to prioritize the issue in the upcoming elections. In exit polling after the 2016 presidential election, voters who called Supreme Court appointments the most important factor in their vote went by a 15-point margin for Trump. It also could mark a change from the intensity gap of the last Supreme Court fight, which saw Gorsuch's nomination overwhelmingly supported by conservatives but no comparable level of progressive resistance.
But whether the fight over the Supreme Court does more to motivate Trump's supporters or his opponents in the midterms ― and the extent to which it even matters once the elections roll around ― depends on factors largely still to be determined, including the timing of the confirmation process and Democratic leaders' response to the eventual nominee.
The HuffPost/YouGov poll consisted of 1,000 completed interviews conducted June 27-28 among U.S. adults using a sample selected from YouGov's opt-in online panel to match the demographics and other characteristics of the adult U.S. population.
HuffPost has teamed up with YouGov to conduct daily opinion polls. You can learn more about this project and take part in YouGov's nationally representative opinion polling. More details on the polls' methodology are available here.
Most surveys report a margin of error that represents some, but not all, potential survey errors. YouGov's reports include a model-based margin of error, which rests on a specific set of statistical assumptions about the selected sample rather than the standard methodology for random probability sampling. If these assumptions are wrong, the model-based margin of error may also be inaccurate. Click here for a more detailed explanation of the model-based margin of error.
Popular in the Community