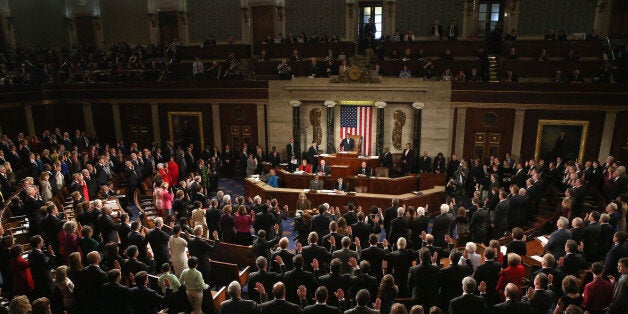 For a five-month period that ends this week, every single elected Republican in Congress was a white Christian.
Let me repeat that: every elected GOP Member of the House and Senate was a white Christian.
Eric Cantor is Jewish. He left office on August 1 last year. Since then, the entire elected GOP caucus, in both the House and the Senate, has comprised only white Christians.
13 percent of America is African-American. 9 percent is of mixed race. 5 percent is Asian. 24 percent does not identify itself as Christian. Zero percent of those groups served as elected Congressional Republicans during the past five months.
GOP motto: "We're monochromatic!" The GOP: Is it a political party, or is it a tribe?
Tim Scott was sworn into the Senate Tuesday, and Mia Love and Will Hurd were sworn into the House. That makes three elected African-American House Republicans, up from zero. They join 43 African-American Democrats.
Lee Zeldin was also sworn into the House Tuesday. That makes one elected Jewish House Republican, up from zero. He joins 27 Jewish Democrats, two Muslim Democrats, two Buddhist Democrats and one Hindu Democrat.
I'm not talking about 13 years ago, when GOP Leadership Rep. Steve Scalise addressed a racist "European-American" group. I'm talking about the last five months.
The conclusion is obvious: Judging by whom it elects to Congress, the GOP is now the White Christian Party.
And that appears to dictate the GOP position on a wide variety of important public policies: Immigration reform. Affirmative action. Voter suppression. Abortion. Even marriage equality.
Which is a shame. Because pluralism and diversity are uniquely and fundamentally American values. Those are values that should be shared by both parties, and by every party, not just by one party.
Variety is the spice of life. I strive for an America where you can be all that you can be, regardless of where you're from, what you look like, what language you speak, and whom you love.
Reach into your pocket. Take out a coin, any coin. On it, you will find the Latin words "E Pluribus Unum." Which means, "Out of many, one."
That's my America. That's America.
Courage,Rep. Alan Grayson
Popular in the Community