WASHINGTON ― Some Republican lawmakers are beginning to ask whether their leaders plan to be ambitious enough with what could be the final months of united GOP control of the government.
House Majority Leader Kevin McCarthy (R-Calif.) presented a slide at a GOP conference meeting Tuesday that showed an admittedly incomplete but still rather sparse agenda for the coming months, according to members at the gathering.
Although that agenda included an omnibus appropriations bill to keep the government funded until October, as well as a Federal Aviation Administration reauthorization and some banking legislation, other items were pure messaging votes ― like a balanced budget amendment and implausible Internal Revenue Service reforms tied to April 15.
Also on the slide was the so-called Stop School Violence Act, the most ambitious feature of which is the name. The bill would simply provide $50 million annually for training and equipment to prevent and respond to school violence. Plus, there was mention of legislation to streamline permits for energy infrastructure projects and the farm bill, which may come down to a one-year extension rather than a full five-year reauthorization.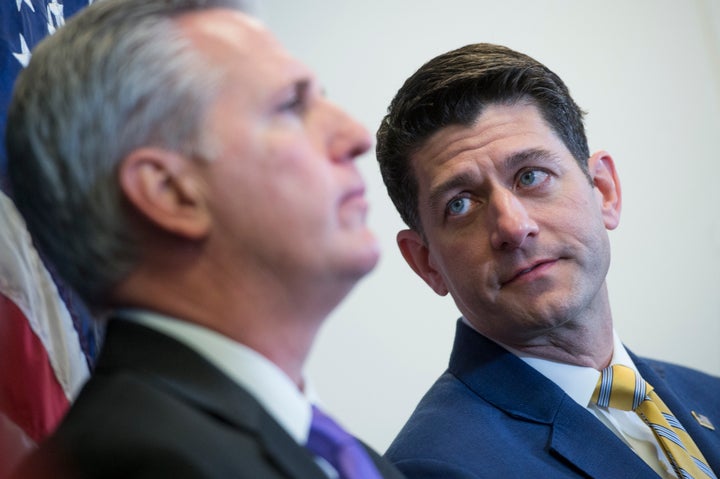 What was more notable about the Republican House agenda was what wasn't included. There was no major infrastructure legislation. No bill addressing the Deferred Action on Childhood Arrivals immigration program. No budget. No real legislation on guns. Even the individual appropriations bills weren't on the list.
When McCarthy received pushback during the conference meeting on Tuesday, he noted it wasn't an exhaustive list. Republicans will surely pass other bills in addition to what was mentioned. For example, Congress has to pass some sort of spending bill to keep the government open beyond September (after passing the omnibus to keep the government open past the end of March).
McCarthy spokesman Matt Sparks told HuffPost on Wednesday that "House Republicans continue to advance our agenda, building on the positive momentum from 2017 to strengthen our communities, military, and economy."
Voting And Chewing Gum At The Same Time
It's unclear, however, what else Republicans actually intend to get signed into law before the midterm elections, which could hand Democrats control of one or both chambers of Congress. There is a banking bill currently in the Senate that could eventually get to the president's desk, there are some financial regulations that Republicans have their eyes on, and there are plenty of seemingly small changes to law that could have dramatic consequences for people in the future.
The Senate, for instance, could devote much of its time to confirming judges and reshape the federal judiciary for decades to come. And the Trump administration could singlehandedly dismantle a number of regulations that Democrats favor.
But that doesn't seem to be enough for many House conservatives.
"The American people expect more than an omnibus and a few bills that do not really address key concerns," Freedom Caucus Chairman Mark Meadows (R-N.C.) told HuffPost on Tuesday, specifically mentioning infrastructure as an area of needed action.
Rep. Justin Amash (R-Mich.) also criticized his party's leadership for a less-than-aggressive agenda, although he noted that he didn't think it was any different from how Republicans have run Congress for the entirety of his seven-plus years here.
"That's the way they run the place," Amash said. "It's a shame. I don't know what to tell you. I wouldn't run it this way."
Asked what he intended to do about it, Amash didn't really have an answer. "Unless someone wants to organize a coup, I'm not sure there's much you can do," he said, adding that he had no plans to try to oust Speaker Paul Ryan (R-Wis.) "in the immediate future."
"You never can rule it out though," Amash added.
Other Republicans were also happy to say the GOP needed to do more with the time left before the November elections. Rep. Ted Yoho (R-Fla.) said he wanted Republicans to tackle mandatory spending issues. Rep. Daniel Webster (R-Fla.) said it'd be a shame not to approve a budget so that Republicans could use that as a reconciliation vehicle to pass legislation ― perhaps on "welfare reform" ― with a simple majority in the Senate. And yet another Florida Republican, freshman Rep. Matt Gaetz, said he had thus far been disappointed by Congress' inability to "walk and chew gum at the same time."
Playing The Long Game, Fingers Crossed
But some Republicans are already nervous about their re-election bids, and GOP leaders seem content so far to let their members run on last year's tax law, while not muddling the message by overreaching on something like welfare reform.
GOP leaders are so resistant to pushing aggressive welfare changes that more conservative House members are advocating for a tactical retreat on the farm bill, which would be a natural vehicle for enacting those changes, because they don't believe they can get the policies they want now. Conservatives would like to extend the farm bill for just one year, saving the fight and the vehicle for a later day.
That sentiment among Republican lawmakers ― that they can't get what they want now, so they might as well delay on the chance that they can get what they want later ― could dominate the rest of the year.
Even basic responsibilities could be pushed off, like passing individual appropriations bills or a budget. Last year, Republicans in the House just bundled together the spending measures and restricted which amendments could get a vote, while the Senate didn't do any individual appropriations bills. Lawmakers could follow a similar script this year, leaving plenty of time for campaigning, more messaging legislation and additional bills renaming post offices ― a category that has already inflated the number of bills passed and signed into law under President Donald Trump.
Still, there were Republicans who insisted that Congress was as busy as ever.
Rep. Buddy Carter (R-Ga.) told HuffPost that Republicans were taking the agenda for the rest of the year "very seriously, and we intend to address some very serious issues."
Rep. Ken Buck (R-Colo.) argued that the problem wasn't with House Republicans.
"It seems like the House is doing a hell of a lot," Buck said. "Why don't you talk to the Senate?"
He said that hundreds of bills had passed the House and were waiting for action in the Senate. And when HuffPost noted that many of those just renamed things, Buck defended the virtue of smaller bills.
"Some are more important than that," he said. "I just had one that passed by voice vote that fixes a problem in the civil service system."
REAL LIFE. REAL NEWS. REAL VOICES.
Help us tell more of the stories that matter from voices that too often remain unheard.