The vote will come within days, if not hours. Under conditions laid down by the House Rules Committee late Monday, the GOP will be able to easily pass the legislation as part of an 11-point deregulation plan without Democratic support, while ignoring any Democratic amendments. President Barack Obama has threatened to veto the bill.
The Volcker Rule bans banks from speculating in financial markets with government-backed funds. When federal regulators approved the rule in late 2013, they banned banks from owning complex securities known as collateralized debt obligations -- risky pools of corporate debt that are sliced into smaller packages for sale to banks. The GOP bill slated for a vote on Tuesday would let banks hold onto CLOs until July 2019 -- a provision that many banking experts view as part of a piecemeal effort to repeal the 2010 Dodd-Frank financial reform law in its entirety.
At the Rules Committee hearing on Monday, Rep. Maxine Waters (D-Calif.), the top-ranking Democrat on the House Financial Services Committee, blasted Republicans for pushing through a provision that would "directly benefit some of the wealthiest banks and corporations in America," without holding hearings or allowing amendments.
Rep. Scott Garrett (R-N.J.) characterized the package as a set of "basically minor changes" approved by broad bipartisan majorities in the past. He warned there may be a damaging "fire sale" on CLOs if banks aren't allowed to delay offloading their holdings until July 2019 -- 4 1/2 years from now. Fires do not usually last 4 1/2 years.
Rep. Brad Sherman (D-Calif.) accused Garrett of misleading the committee, noting that the House had never actually voted on the Volcker Rule provision. Indeed, while the House had voted in April 2014 to delay the CLO measure until July 2017, it had not voted to prolong the deadline until 2019.
"We voted on a bill to extend the line to 2017," Sherman said. "Now we're being told that's the same as extending it to 2019."
Sherman also noted that banks would be given the new right to buy and sell these CLOs under the Republican plan. Prior delays had only allowed banks to hold onto their existing portfolios -- they had not allowed them to actively trade them.
Garrett was wrong on the letter of the legislation, but he had a point in spirit. Dozens of Democrats have lined up to support a host of bills chipping away at Dodd-Frank over the past two years. After the 2014 elections, however, the Democratic leadership appears to have significantly strengthened its support for bank reform, and has not only attacked efforts to repeal Dodd-Frank, but has pushed for more aggressive tactics to rein in Wall Street. Republicans, meanwhile, have charged ahead with efforts to defang the 2010 financial reform law.
On Tuesday, House Minority Leader Nancy Pelosi (D-Calif.) made clear that a strong showing against the bill was a Democratic priority.
"This bill is Republicans' New Year's present to Wall Street – announcing open season on the essential reforms that protect taxpayers from the recklessness of big banks," Pelosi said in a statement provided to HuffPost. "Democrats will continue to fight these brazen special interest giveaways, and demand Congress act on the priorities of working people."
The CLO market is valued between $84 billion and $105 billion, according to federal regulators. Big banks dominate the sector, with JPMorgan Chase alone holding about $30 billion in CLOs, according to the company's latest quarterly Securities and Exchange Commission filing. The Office of the Comptroller of the Currency, a major bank regulator, has warned that the corporate debt market is overheating -- an important alert for companies holding complex securities tied to corporate debt. Similar securities tied to mortgages sparked major bank losses when the housing market faltered in 2008.
Democrats submitted 14 amendments to the legislation, all of which were denied under the procedures that Republicans, lead by Rules Committee Chairman Jeff Sessions (R-Ala.), placed on the bill.
Before You Go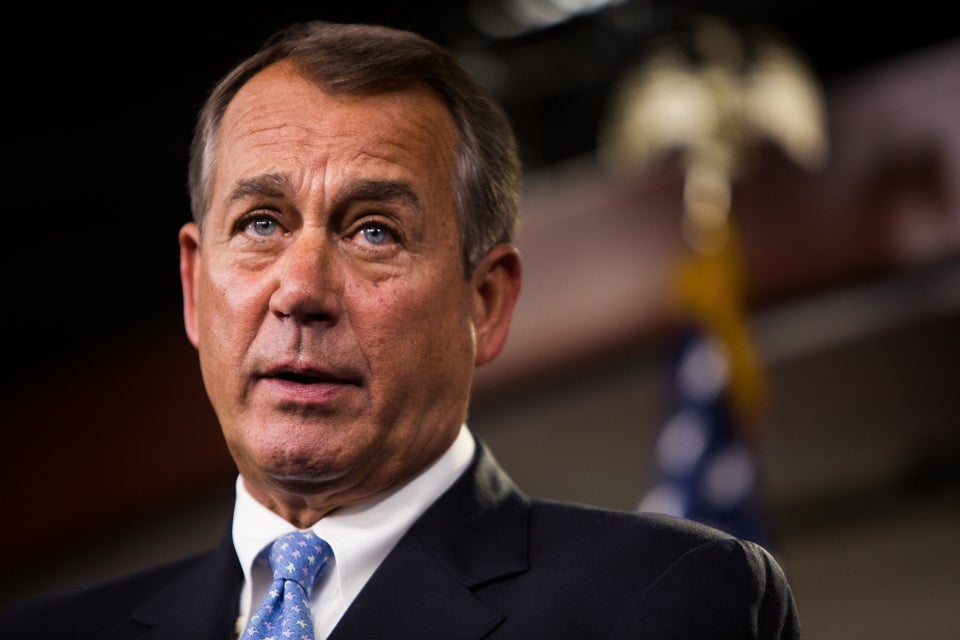 Speakers Of The House (1920-Present)
Popular in the Community