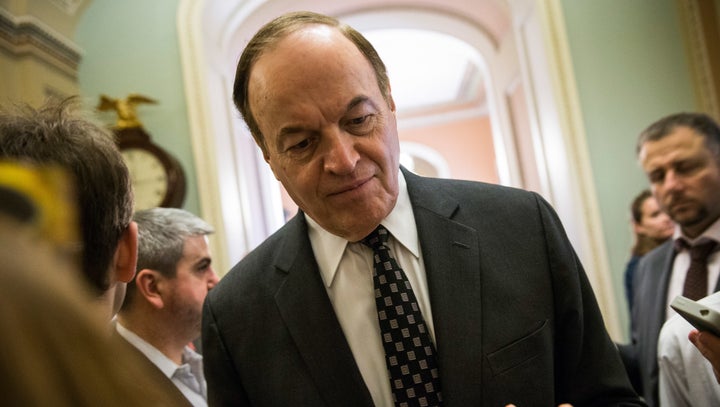 WASHINGTON -- The Senate Appropriations Committee voted Thursday to pass a $20.6 billion spending bill that would decimate President Barack Obama's signature Wall Street reform law.
The committee met to vote out the 2016 financial services appropriations bill. But in an unusual move, Sen. Richard Shelby (R-Ala.) offered an entire bill as an amendment: the Financial Regulatory Improvement Act, a bill he authored and already passed out of the Senate Banking Committee, which he chairs. His legislation takes direct aim at the 2010 Dodd-Frank financial reform law. It would dramatically restrict the government's ability to regulate big banks by easing regulations for dozens of mid-size lenders and beefing up oversight of the Federal Reserve. It also rolls back key consumer protections.
Democrats seemed stunned by the move, not just because they oppose GOP efforts to chip away at the law, which came in direct response to the lack of regulations on banks that caused the 2008 recession. They were also amazed by the decision to attach Shelby's entire bill -- all 236 pages of it -- to an annual spending bill that was 184 pages long.
"Why are you doing this?" Sen. Dick Durbin (D-Ill.) asked in exasperation. "You are the chairman of the authorizing committee… You can bring it to the calendar on the floor. Why did you eat this bill? With an amendment larger than the sum total of the bill?"
Sen. Dianne Feinstein (D-Calif.), who said she'd never seen someone attach an entire bill to an appropriations bill in her 22 years on the committee, said doing so sets "a terrible precedent" for getting appropriations bills passed.
"I understand your frustration," Feinstein told Shelby, referring to his bill not moving as quickly as he wants it to. "But I just don't think this is the way it should be handled."
Shelby said he is pushing his bill because the "one-size-fits-all regulatory framework" of Dodd-Frank is hurting banks that didn't cause the 2008 financial crisis. It's been five years since Wall Street reforms took effect, he said, and in that time regulators and even people from the Federal Reserve have testified before the banking committee that it's worth revisiting pieces of it.
"Are we going to revisit all of them? Maybe not on this. But we'll have two trains running," said the Alabama Republican whose bill now has a shot at moving as a standalone measure or as part of appropriations legislation. "This will show that we're serious about this."
Sen. Chris Coons (D-Del.) offered an amendment to strip all policy riders from the appropriations bill, including Shelby's proposal. It was defeated 14-16.
The bill ultimately passed 16-14 with Shelby's amendment in it. It was a party-line vote. 
A White House spokeswoman declined comment. She pointed to remarks earlier this week by Treasury Secretary Jack Lew on GOP efforts to undermine Dodd-Frank.
"This tactic of using riders on must-pass legislation to chip away at crucial financial reforms is unacceptable. And let me be clear: this administration will strongly oppose these efforts," Lew said Tuesday at a finance industry event. "Faced with bills that threaten to turn the clock back to 2008 and leave the American people vulnerable to another crippling crisis, I will recommend the President veto them."
Calling all HuffPost superfans!
Sign up for membership to become a founding member and help shape HuffPost's next chapter