WASHINGTON ― After President Donald Trump appeared to set up Republicans for another deal with Democrats, this time on the GOP's most scorching hot-button issue ― immigration ― congressional Republicans were once again putting their faith in Trump on Thursday.
Save the initial Twitter bluster from some conservative commentators and Republicans with the strongest views against immigrants, GOP lawmakers were mostly downplaying the tentative deal and standing behind Trump, with the president and his allies casting doubt there was any deal at all.
"There's no agreement," Speaker Paul Ryan (R-Wis.) told reporters Thursday, adding that he had spoken with Trump and the White House chief of staff just hours before.
"It was a discussion, not an agreement," Ryan said, and Trump seemed to back that up, tweeting on Thursday morning that "no deal was made."
That didn't appear to be the takeaway for Democrats, however, with House Minority Leader Nancy Pelosi (D-Calif.) reporting that while the president and Democratic leaders didn't have a firm agreement on a bill, they did have "an agreement to move forward," even asserting that Trump may have agreed to an eventual pathway to citizenship for undocumented immigrants who were brought to the United States as children.
"We all agreed on a framework: Pass DACA protections and additional security measures, excluding the wall," Senate Minority Leader Chuck Schumer (D-N.Y.) said on the Senate floor Thursday. "We agreed that the president would support enshrining the DACA protections into law."
Following Wednesday's dinner, Democratic leaders announced that the president had agreed in principle to legislation that would shield the country's 800,000 so-called Dreamers ― young undocumented immigrants ― from deportation. In exchange, they said, Democrats would agree to beef up border security, but they did not agree to fund a new wall along the U.S.-Mexico border.
By Thursday morning, Trump was downplaying any suggestion that an arrangement had been made with Democrats. But, at the same time, he appeared to confirm Schumer and Pelosi's account of the meeting ― and contradict his spokeswoman Sarah Huckabee Sanders.
"The wall will come later," Trump said before boarding Air Force One.
"Mitch [McConnell] is on board, Paul Ryan's on board," Trump added. "We all feel, look, 92 percent of the people agree on DACA, but what we want is very, very powerful border security, OK?"
I certainly support the president. I think that he's going to negotiate with whomever he can to get a majority of votes to pass legislation.

Rep. James Comer (R-Ky.)
Upon landing in Naples, Florida, Trump again reversed course, attempting to soothe supporters by stating that he is "not talking about amnesty. We are talking about taking care of people."
But whichever way this game of "deal or no deal" shakes out, it appears Trump will maintain the support of rank-and-file Republicans in Congress.
"I certainly support the president. I think that he's going to negotiate with whomever he can to get a majority of votes to pass legislation," Rep. James Comer (R-Ky.) told HuffPost Thursday, adding that Trump is "very popular in my district."
Rep. Joe Wilson (R-S.C.), normally a staunch opponent of legislation that would let undocumented immigrants stay in the United States, said it is perfectly fine for the president to be negotiating with Democrats on DACA.
"He can negotiate. I think it's very appropriate," Wilson said. "But I think he's going to find out that the people he's dealing with aren't dealing in good faith."
Still, Wilson said he trusts Trump and his dealmaking abilities. "He knows how to negotiate," he said. "That's why he's president."
Trump's overtures to Democrats on immigration ― as well as the flurry of contradictory statements from the president and White House officials throughout the day ―  confounded lawmakers on Capitol Hill. Still, the president's top allies, such as Rep. Chris Collins (R-N.Y.), applauded him for advancing his agenda in a bipartisan fashion.
"I call this 'Phase two' of Trump's presidency. He is taking control. Phase two is getting things done," said Collins, who was the first member of Congress to endorse Trump's presidential campaign.
Immigration hardliners, such as Rep. Steve King (R-Iowa), did warn that Trump supporters would be "disillusioned beyond repair" if he struck a deal with Democrats to protect Dreamers from deportation. "Trump leads with DACA Amnesty 2017," he tweeted.
But King, perhaps the most aggressive opponent of immigration in Congress, was the exception Thursday, not the rule.
Rep. Phil Roe (Tenn.) and other rank-and-file Republicans are reserving judgment until a final deal is reached, but they are also suggesting that an immigration agreement addressing the Deferred Action for Childhood Arrivals program is, in Roe's words, "going to have to be a bipartisan deal."
Trump announced earlier this month he would be rescinding DACA, the 5-year-old Obama-era executive action that allowed undocumented immigrants who came to the U.S. as children to remain in the country. It is up to Congress, he said, to find a legislative solution that purports with the Constitution within the next six months, after which DACA recipients will begin to lose protections in larger numbers.
Democrats are pushing for the Dream Act, a bill that would allow certain undocumented immigrants who came to the United States before they turned 18 to gain legal status. It has bipartisan support in both chambers, but only in small numbers: Four Republicans are backing it in the Senate and four in the House.
"The Dream Act has major hurdles to overcome to be enacted both in the House and in the Senate," Rep. Mark Meadows (R-N.C.), who chairs the conservative House Freedom Caucus, said Thursday.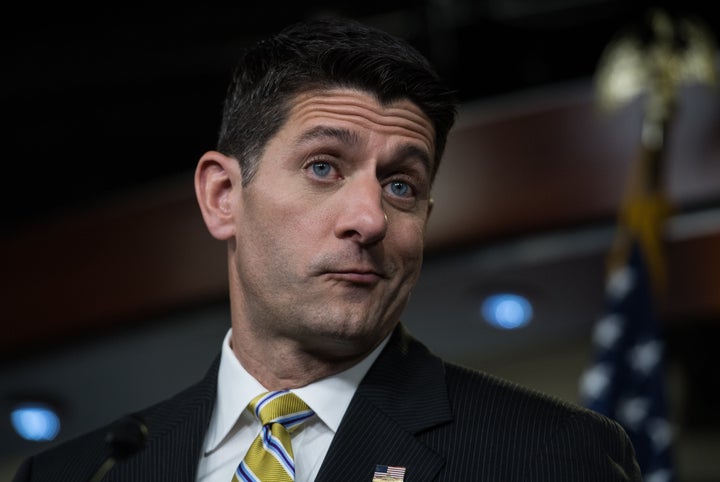 In the Senate, reaction has been a bit more mixed, with some Republicans claiming Trump is undermining the GOP position in negotiations, some offering praise for the president, and others wondering why Trump is pushing deals at all.
Sen. Lindsey Graham (R-S.C.), who supports giving Dreamers legal status, urged Trump to focus on repealing and replacing Obamacare first because of a looming deadline this month.
"We've got six months to deal with the Dream Act kids," Graham said during an interview on Fox News. "You've got 17 days to repeal and replace Obamacare."
Sen. Chuck Grassley (R-Iowa), who leads the committee that handles immigration matters, tweeted at Trump that he "undercut" bipartisan efforts to come to an agreement on a legislative solution on DACA.
And Arizona Sen. Jeff Flake (R), normally an outspoken Trump critic, offered the president some rare approval by tweeting "kudos."
But the reluctance of Republicans to criticize Trump and their willingness to find new ways to somehow defend his empty promises and contrary actions was best on display with Sen. Ron Johnson (R-Wis.). Johnson told HuffPost Thursday that he always viewed "the wall" as a "metaphor" for border security.
"When you're in campaign mode, you're using rhetoric, you're using shorthand," Johnson explained.
Outside Congress, immigration hardliners did accuse Trump of betraying his voters. Right-wing news outlet Breitbart News lashed out at the president with a banner headline that read "Amnesty Don," and Fox News host Sean Hannity warned Trump it would be "over" for the president if he abandoned his immigration promises, though he also bizarrely found ways to blame McConnell.
In general, the responses from Republicans seemed to follow this general rule: The more anti-immigrant you are, the harsher your reaction ― even if that meant you were once one of Trump's biggest fans. For right-wing author Mickey Kaus, the apparent deal led him to encourage one-time Trump supporters to burn their Make America Great Again hats. And conservative provocateur Ann Coulter ― the 2016 author of a book titled In Trump We Trust ― seemed to be rethinking her once-ironclad support. "Who DOESN'T want Trump impeached?" Coulter wondered.
The answer still seems to be the Republican Congress.
Elise Foley contributed reporting.
REAL LIFE. REAL NEWS. REAL VOICES.
Help us tell more of the stories that matter from voices that too often remain unheard.