Republicans in Congress have taken a lot of heat over the past few years for repeatedly blocking Democrats' equal pay legislation, so this year GOP women senators are proposing a bill of their own to combat the gender wage gap. But the GOP's stripped-down version of the Paycheck Fairness Act has so far garnered nothing but eye rolls from across the aisle.
Sen. Deb Fischer (R-Neb.), joined by GOP Sens. Kelly Ayotte (N.H.), Susan Collins (Maine) and Shelley Moore Capito (W.Va.), introduced the Workplace Advancement Act last week, which would make it illegal for employers to retaliate against employees for talking to each other about their salaries. The retaliation provision is one of many in the Democrats' Paycheck Fairness Act, which would also require employers to report wage data broken down by gender to the federal government, set up negotiation skills training programs for women and girls, and help women sue for back pay once they realize they've been earning less than their male colleagues for the same work.
Republicans have blocked the Democrats' bill three times in the Senate, claiming that it would cause job losses. Now that the GOP controls the Senate, Fischer is challenging Democrats to support her bill, since it's the only one with a chance of getting a vote.
"Any legislator -- Republican or Democrat -- who is seriously interested in making progress on this issue for women and moving past electioneering and scoring political points should step up and support the proposal," Fischer said in a statement. "For the first time in over half a century, we have the opportunity to update the Equal Pay Act with a bill that actually provides needed changes and can realistically pass."
Fischer's bill paints Democrats into a corner. If they vote against it, they risk being accused of hypocritically blocking equal pay legislation. But they can't accept Fischer's legislation as a replacement for their own, more comprehensive bill, which they've been fighting to pass for years.
"I think it would be great news if Republicans were finally willing to listen to working families and join Democrats to make sure women get pay equity," said Sen. Patty Murray (D-Wash.). "But Republicans will need to put real solutions on the table -- and so far, they are unfortunately falling short."
According to the latest data from the Department of Labor, women working full time in America currently earn 78 cents for every dollar men make on average. Much of this gap can be attributed to factors other than discrimination, such as women choosing lower-paying fields than men, taking time off to have children or being less inclined to negotiate. But even taking those factors into account, a wage gap still persists between men and women with the same job title and same level of experience that likely points to gender discrimination.
The first bill President Barack Obama signed into law in 2009 was the Lilly Ledbetter Fair Pay Act, inspired by a woman who realized after retiring that she had been earning significantly less than her male colleagues with equal or less seniority for 20 years. The law extends the amount of time women have to sue an employer once they realize they have been illegally paid less than men for the same work. But lawmakers believe there is more that can be done.
Sen. Barbara Mikulski (D-Md.), the longtime leader of the fight for equal pay legislation in the Senate, echoed Murray's sentiment about Fischer's bill and said she will not be supporting it. She plans to continue to fight for her own legislation, the Paycheck Fairness Act, until she retires after this term.
"Middle-class families need a raise and more money in the family checkbook," she said. "Five years ago we made a down payment toward equal pay passing the Lilly Ledbetter Fair Pay Act to keep the courthouse doors open. I'm fighting to finish the job and stop wage discrimination from happening in the first place."
Fischer's office pointed out that two Democrats and one independent, Sens. Angus King (I-Maine), Joe Donnelly (D-Ind.) and Joe Manchin (D-W.Va.), supported her equal pay amendment to the GOP's fiscal 2016 budget, saying that means they'd be likely to support her bill.
This post has been updated with a statement from Fischer's office about support for the senator's equal pay amendment.
Before You Go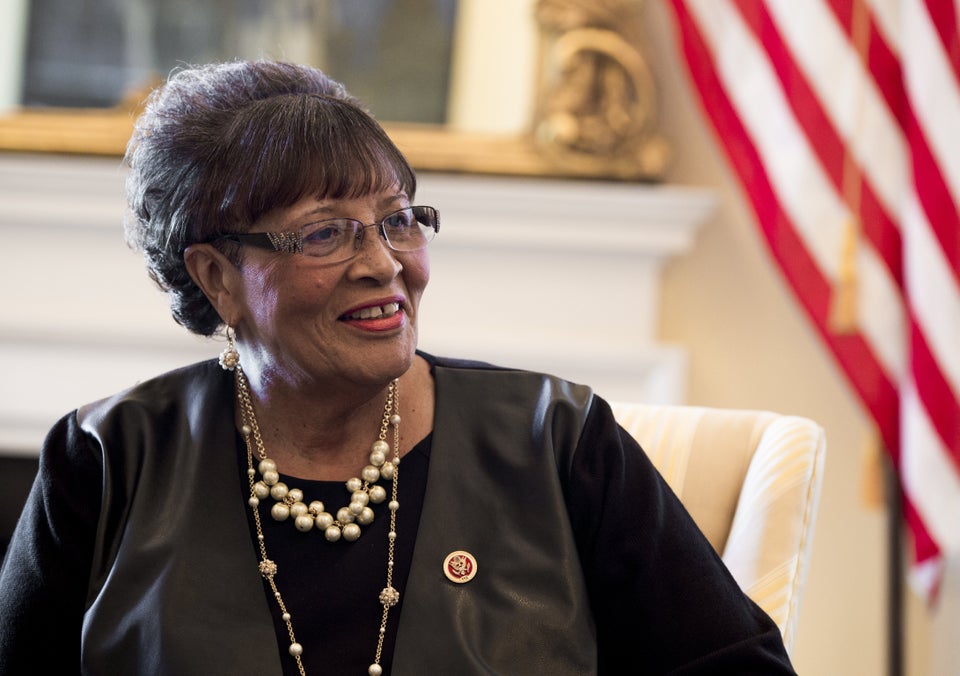 Women In Congress
Popular in the Community