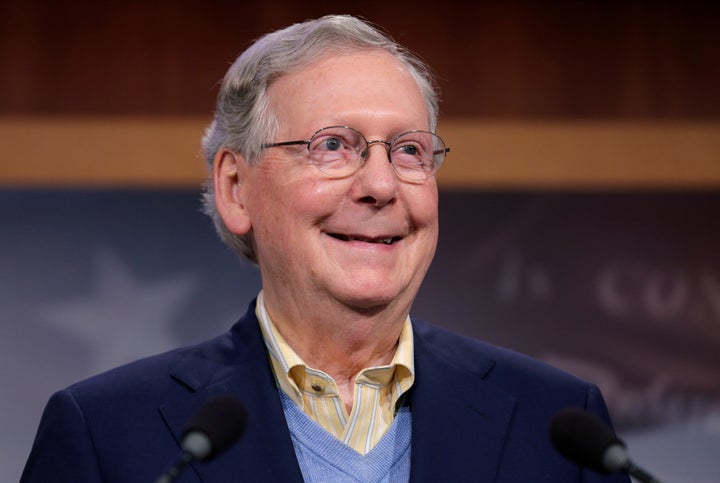 WASHINGTON — Employers who cheat their workers or endanger their lives now have one less thing to worry about, courtesy of the GOP Congress.
Senate Republicans voted Monday to kill an executive order issued by former President Barack Obama known as the Fair Pay and Safe Workplaces rule. The 49-48 vote, with all Democrats opposed, eliminates a regulation issued late in Obama's presidency that would have made it harder for companies to secure federal contracts if they have a documented history of wage theft or workplace hazards.
Following in the footsteps of House Republicans, GOP senators used what's known as a "resolution of disapproval" under the Congressional Review Act. The obscure procedural maneuver requires only a simply majority, meaning Senate Democrats had no hope of stopping it through a filibuster. In passing the resolution, Republicans not only killed the rule, but also made sure the Labor Department never puts forward a similar rule again, unless Congress tells it to.
President Donald Trump is expected to sign off on the resolution, peeling back yet another regulation on employers.
"It's insane," said Debbie Berkowitz, a workplace safety expert at the National Employment Law Project, a nonprofit that advocates for low-wage workers. "This is really a vote against working families. There's been a big misinformation campaign by big business."
Obama's rule would have required companies seeking federal contracts to disclose violations of labor law — including minimum wage, overtime, and health and safety statutes— over the previous three years. Federal agencies would have been able to consider those violations when doling out contracts.
Backers of the rule, which included Democrats and worker groups, said it would have helped assure that the nation's most unscrupulous employers aren't rewarded with taxpayer dollars. Republicans and business groups claimed it would have unfairly punished companies without giving them due process. They dubbed it the "blacklisting" rule.
But even a record of violations wouldn't have precluded a company from receiving contracts. Under the rule, firms bidding for contracts would have had the opportunity to explain mitigating circumstances and steps they took to address the problem. The Obama White House said the goal of the rule was to get companies in compliance with the law.
"It's insane. This is really a vote against working families."
The Labor Department estimated that the rule would have applied to roughly 14,000 contractors each year. "Only a small share of these companies is expected to have reportable violations, and even fewer are expected to have serious, repeated, willful, or pervasive violations to report," the department noted.
Sen. Elizabeth Warren (D-Mass.) released a report ahead of Monday's vote that found 66 of the government's 100 largest contractors have broken labor laws.
As Republicans and the Trump White House race to kill regulations, the Labor Department has become a top target. Last week, House Republicans used the Congressional Review Act in an effort to undo a different labor rule, one that would require employers to keep better record of workplace injuries. The Senate has not yet voted on that measure.
Passed in 1996, the Congressional Review Act enables Congress to dismantle a regulation within 60 days of it being finalized, while also forbidding agencies from rolling out a similar regulation in the future. In general, it could only be used successfully when one party holds both chambers of Congress and takes control of the White House.
Any regulations that Obama did not finalize early enough before he left office could now be wiped out through the Congressional Review Act. Republicans have successfully used the act to repeal more than a dozen regulations in the first few weeks of Trump's tenure. Until this year, the act had only been used successfully once, in 2001, when Republicans blocked a workplace safety rule put forth at the end of the Clinton administration.
"The most interesting and troubling thing about this is that it may very well be the ultimate block on modernizing workplace standards," Celine McNicholas, labor counsel for the Economic Policy Institute, recently told The Huffington Post.
Support HuffPost
The Stakes Have Never Been Higher
Popular in the Community