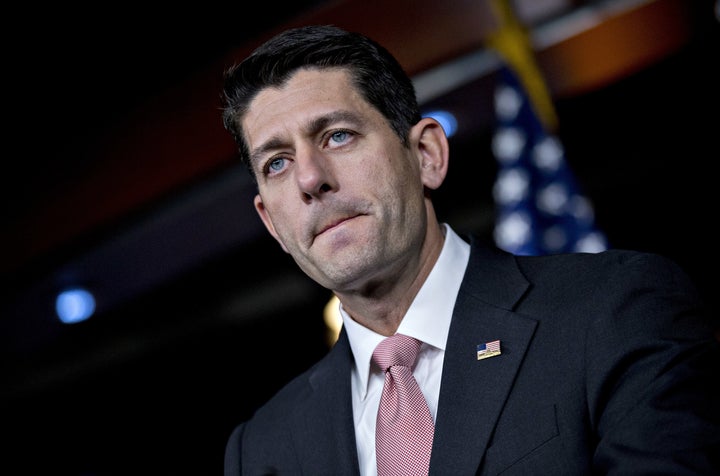 WASHINGTON -- Republicans are outraged the FBI isn't recommending criminal charges against Hillary Clinton after its yearlong investigation into her use of a private email server during her time as secretary of state.
So, they're calling for their own investigation. Into the investigation. Wait, what?
House Speaker Paul Ryan (R-Wis.) said Tuesday night that Rep. Jason Chaffetz (R-Utah), who chairs the Oversight and Government Reform Committee, plans to call up FBI director James Comey to Capitol Hill to testify about Clinton's emails.
"We're going to have hearings," Ryan said in an interview with Megyn Kelly on Fox News. "There are a lot of unanswered questions here."
The House Judiciary Committee is also pushing back on Comey's decision. The chairman, Rep. Bob Goodlatte (R-Va.), wrote to the FBI director Tuesday demanding answers to a list of questions about the agency's probe of Clinton's emails.
Ryan couldn't say if he thought Comey's decision not to prosecute Clinton was influenced by politics (though it's worth noting Comey is a Republican and served as deputy attorney general under former President George W. Bush). Regardless, he said Clinton shouldn't have access to classified information once she becomes the Democratic presidential nominee at the party's convention this summer.
"I think the DNI, the director of national intelligence, should block her access to classified information given how recklessly she handled this during the presidential campaign," Ryan said.
Earlier Tuesday, a handful of Republicans were already calling for a fresh investigation into the investigation into Clinton. Rep. Mike Turner (R-Ohio) accused the FBI of being "steeped in political bias" and said there should be an "independent and impartial decision" made about the legality of Clinton's use of email, per a Washington Post report. Rep. Matt Salmon (R-Ariz.) said he will push for "a special prosecutor" to re-examine the charges against Clinton.
Toward the end of his interview, Ryan reiterated that he is still supporting Donald Trump for president.
"Donald Trump is far better to be commander in chief than Hillary Clinton in my mind," Ryan said. But, he added, "When he says things I don't agree with, I'm going to speak my mind."
UPDATE: July 6 ― Chaffetz announced Wednesday that he would drag Comey before the Oversight Committee on Thursday.
"The FBI's recommendation is surprising and confusing. The fact pattern presented by Director Comey makes clear Secretary Clinton violated the law," Chaffetz said in a statement. "Individuals who intentionally skirt the law must be held accountable. Congress and the American people have a right to understand the depth and breadth of the FBI's investigation."
Democrats scoffed at the new push, however, with Rep. Elijah Cummings (Md.), the ranking member of the committee, slamming the "emergency" hearing as yet another partisan excursion.
"Republican after Republican praised Director Comey's impeccable record of independence ― right up until the moment he issued his conclusion," Cummings said. "Since Republicans disagree with his recommendation, they are doing what they always do ― using taxpayer funds to continue 'investigating' their baseless claims in an effort to bring down Secretary Clinton's poll numbers. The only emergency here is that yet another Republican conspiracy theory is slipping away."
Goodlatte, meanwhile, announced that he's calling in Attorney General Loretta Lynch next week to testify about, among other things, the "serious concerns" raised by the FBI's conclusion on Clinton's emails.
Republicans are especially focused on Comey's conclusion that although Clinton said she never sent classified information, the FBI found 110 classified emails on her system, including eight marked top secret.
In his letter to Comey, Goodlatte wanted to know why several other Americans had been prosecuted for keeping classified data outside of official systems, while Clinton was cleared. He pointed to nine other cases, including those of Bryan Nishimura, a Navy reservist who put classified data on his own systems, and former Chief Petty Officer Lyle White, a Bronze Star recipient who took three documents to his home in Virginia.
Comey, in recommending no charges, said while Clinton was "extremely careless" with classified material and that there is "evidence of potential violations," no reasonable prosecutor would pursue the case.
Senate Republicans added yet another demand for Comey, calling on him Wednesday to make public the entire investigation into the emails.
"The most important thing the Department of Justice could do, the most important thing the FBI could do, and the most important thing [Clinton] could do would be to make sure that all of the investigation by the Department of Justice and the FBI be made public," said Sen. John Cornyn (R-Texas). "I would also add the three-and-a-half hour interview she gave the FBI, because while we know it's not a crime to lie to the American people, it is a crime to lie to the FBI."
Michael McAuliff contributed reporting.
Clarification: This article has been updated to clarify that Comey was appointed deputy attorney general by Bush. He was appointed to the FBI by President Barack Obama.
Before You Go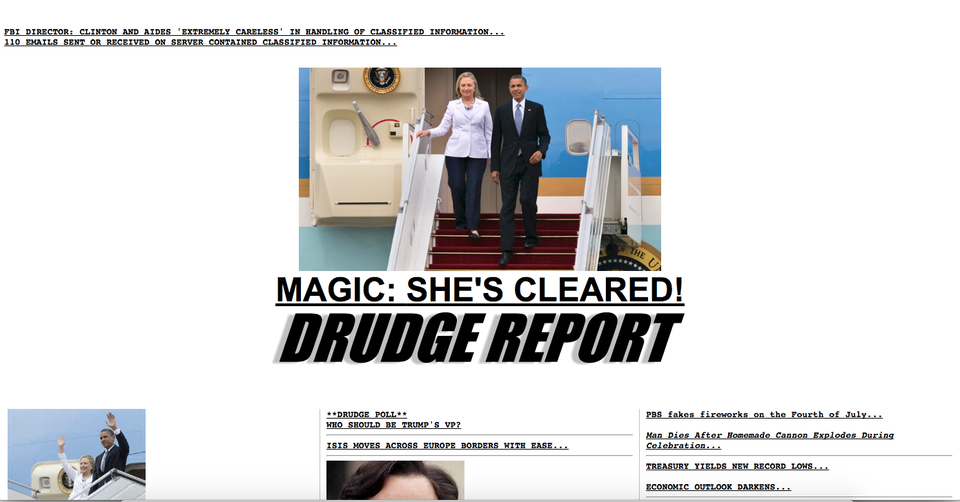 Media Roundup: FBI Recommends No Charges For Clinton
Popular in the Community