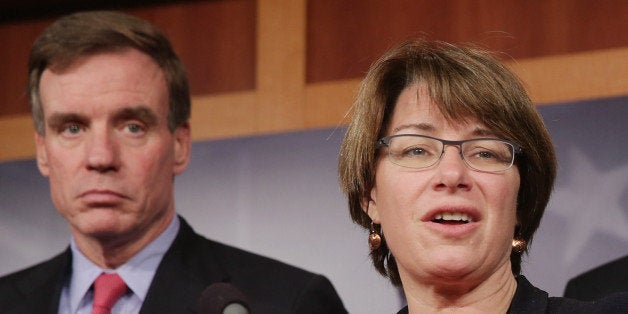 WASHINGTON -- Four Senate Democrats are working with Republicans to help the U.S. Chamber of Commerce and other GOP-affiliated lobbying groups undermine financial and environmental regulations.
A new bill would significantly change the way government agencies write rules, weighing regulators down with new costs and opening the door to a swarm of legal challenges from corporate interests. Although the legislation would apply to all independent federal regulatory agencies, bank watchdogs have found it particularly alarming in light of Wall Street's ongoing success in overruling new financial standards in court.
"This would create dozens of new requirements that are nearly impossible to carry out," said Marcus Stanley, policy director at Americans for Financial Reform, an advocacy organization.
The attack on regulatory work is tucked into a new bill introduced by Sens. Jerry Moran (R-Kan.), Roy Blunt (R-Mo.), Mark Warner (D-Va.), Amy Klobuchar (D-Minn.), Tim Kaine (D-Va.) and Chris Coons (D-Del.). Described as a way to assist startup companies, the legislation would require regulators to engage in new and elaborate cost-benefit analysis work on top of the other economic-impact assessments they already perform. Critics argue that in addition to tying up regulators with new red tape, the process would be heavily slanted against new rules. The long-term benefits of regulations are often difficult to quantify, while the costs are relatively simple.
"They don't really want the regulators to consider the benefits," said former International Monetary Fund chief economist Simon Johnson. "On financial reform, the entire motivation for Dodd-Frank is to avoid having another god-awful crisis, which is the worst possible scenario for startups and any other businesses. If you're gonna do cost-benefit, fine, but ... calibrate that to the last crisis. You're gonna get a big number."
The problem is even more acute with regard to issues of public health and safety, where the value of human lives must be weighed financially against immediate corporate costs. Not only would the Moran-Warner bill force regulators to assess the costs and benefits of their proposed rules, it would also require them to identify and measure the costs and benefits of all "potentially effective and reasonably feasible alternatives to the proposed rule."
"They've stuffed a few adjectives in there to keep it from being literally infinite, but that is a potentially vast number," said Stanley.
The cost-benefit analysis attack is largely the brainchild of conservative power lawyer Eugene Scalia, the son of Supreme Court Justice Antonin Scalia. In multiple lawsuits, Scalia has argued that the Securities and Exchange Commission and the Commodity Futures Trading Commission haven't appropriately considered the potential costs and benefits of new Dodd-Frank rules. He's had a great deal of success, particularly with the conservative judges on the U.S. Court of Appeals for the D.C. Circuit, who have thrown out rules meant to curb excessive oil speculation and make it easier for shareholders to fire corporate directors. The Business Roundtable -- a lobbying group representing corporate executives -- and the U.S. Chamber of Commerce have celebrated the cost-benefit tactic.
Scalia's success has helped inspire congressional Republicans to push new legislation expanding the nature of the economic analysis work that agencies must perform -- giving corporate lawyers new data and new details to attack in court.
Advocates for a more rigorous cost-benefit assessment process insist that they are only looking to make government more efficient. But such claims are at odds with recent Republican history. When Cass Sunstein, the top Obama official at the Office of Information and Regulatory Affairs, embarked on a project to streamline government rules in 2011, he was denounced by congressional Republicans as a job-killing "regulatory czar." That position was amplified by conservative media, with Glenn Beck calling Sunstein "the most dangerous man in America." (Ironically, many progressives had initially criticized Sunstein's nomination on the grounds that his cost-benefit views gave Republicans an opportunity to block important rules.)
All six supporters of the Senate legislation declined to comment for this article, save Warner.
"The Startup Act is an important bipartisan bill that tackles a range of obstacles faced by startups," said Warner spokesman Kevin Hall. "Senator Warner has focused on regulatory reform in multiple committees, and has worked to improve the Sec. 9 reg reform language since the Startup Act's original introduction."
And indeed, the Moran-Warner bill is comparatively modest, next to a House cost-benefit bill that passed last week in spite of a veto threat from President Barack Obama. The current Senate language, for instance, explicitly bars the new analyses from "judicial review" -- an attempt to prevent an endless string of opportunities for companies to challenge new rules.
But financial watchdogs say that in practice, that provision would be essentially meaningless. Since the bill doesn't provide agencies with any new funding to carry out their analyses, it's very likely that the SEC and other regulators would simply engage in a single, more detailed round of calculations. While that study could not be challenged in court under the new law, it could still be attacked under existing statutes. In effect, the law would arm corporate lawyers with a host of new details to critique in court.

Before You Go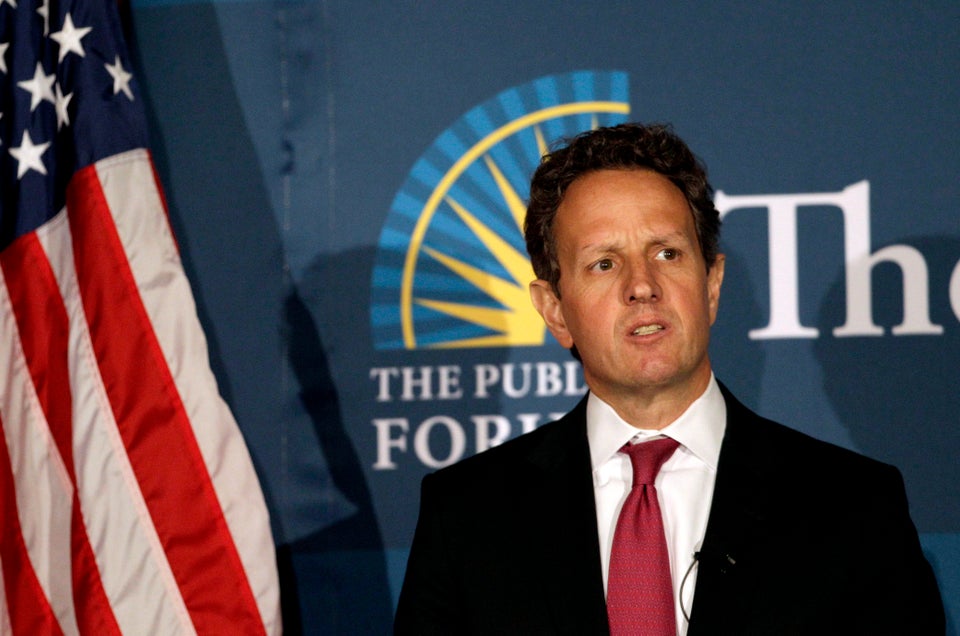 Political Figures Who Moved On To Wall Street
Popular in the Community