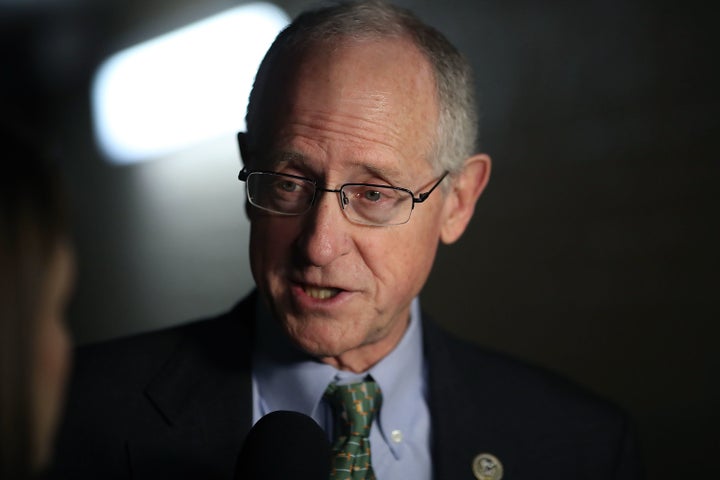 WASHINGTON ― The Republican food stamp bill would cut benefit spending by billions of dollars by shrinking enrollment, but the bill's author says nobody would actually be kicked off the program.
Instead, he says, anyone who stops receiving benefits after new "work requirements" take effect ― either because they couldn't document 20 hours of work per week, or because they didn't enroll in a training program ― will have simply chosen not to receive benefits anymore.
"If food stamps are not worth whatever the deal we put up ― the array of opportunities we have for them ― if it's not worth that, then fine," House Agriculture Committee Chairman Mike Conaway (R-Texas) told HuffPost on Wednesday. "We're American. I'm not going to force food stamps on anybody."
Conaway's bill would impose work requirements that the Congressional Budget Office has said would reduce spending on Supplemental Nutrition Assistance Program benefits by $9 billion over 10 years, which amounts to a spending cut of about 1 or 2 percent. Democrats say roughly 1 million fewer Americans would receive benefits.
The bill would plow an additional $7 billion into a new training program that Conaway says would allow anyone to fulfill the work requirement if they can't find a job. The proposal would mark a significant shift from current law, which imposes work requirements on a subset of SNAP recipients but doesn't require states to provide slots in employment or training programs that fulfill the requirements.
Democrats aren't buying it.
"Let me be clear: This bill, as currently written, kicks people off the SNAP program," Rep. Collin Peterson (D-Minn.), the top Democrat on the Agriculture Committee, said Wednesday. "The Chairman may call them 'self-selections,' but let's call this exercise what it is ― reducing SNAP rolls."
The committee approved Conaway's work requirements Wednesday as part of a broader "farm bill" that includes changes to an array of agribusiness welfare programs. With Democrats and conservative House Republicans opposed, the legislation seems unlikely to become law in its current form.
More than 40 million Americans receive SNAP benefits, making it one of the biggest safety net programs in the U.S., and since it's relatively easy to qualify, it's probably the most responsive to changes in economic need. Though it's known as a "farm bill," food stamp spending represents about 80 percent of the total cost of the legislation.
The work requirements would apply to SNAP recipients between 18 and 59 years old so long as they don't have a disability or children younger than 6, whereas the strictest requirements under current law don't apply to people in their 50s or any parents with minor children. The measure would require beneficiaries to document at least 20 weekly hours of work or qualifying activity every month. 
"Many workers would likely lose benefits if they couldn't provide the needed paperwork to show they were working, if their employer cut their hours below 20 hours per week, or if they were temporarily out of work — all realistic scenarios given the reality of low-wage work," Brynne Keith-Jennings, a senior research analyst with the liberal Center on Budget and Policy Priorities, said in a blog post Tuesday.
If the policy had been in place in 2016, more than 9 million SNAP recipients would have been affected, according to the CBPP. Only 3.8 million adults met the criteria for the strictest work requirements under the law that was in place that year, according to data from the U.S. Department of Agriculture. 
Conaway spokeswoman Rachel Millard said the proposal would not necessarily require people to visit state offices in person. "They work with their case manager/vendor to explore a reporting avenue that works for them, and in most cases that is not in-person," Millard said in an email.
Peterson said the $7 billion workforce provision would create "giant, untested bureaucracies at the state level." Potentially millions of SNAP recipients would need to enroll in training. Current workforce programs serve fewer than 1 million.
The entire debate over work requirements for able-bodied adults is a racist dog whistle, Rep. David Scott (D-Ga.) said.
"The image of able-bodied men not working are African-American men in the minds ― not of everybody's mind ― but there are unfortunately people out there who have this mental disposition," Scott said at Wednesday's hearing.
This story has been updated to reflect that the House Agriculture Committee passed the farm bill on Wednesday.
Clarification: Language in this story has been amended to more consistently describe the work requirements in the farm bill.
REAL LIFE. REAL NEWS. REAL VOICES.
Help us tell more of the stories that matter from voices that too often remain unheard.