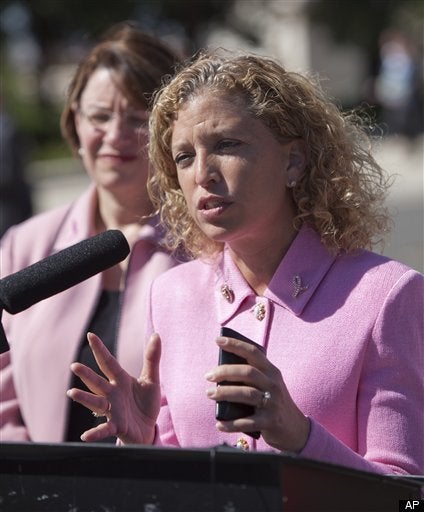 The Republicans who shouted down and continuously interrupted female members of the House testifying in favor of the health care bill on Saturday were giving women what amounted to the "back of the hand treatment," Rep. Debbie Wasserman-Schultz (D-Fla.) said Monday.
The abortion-rights champion and senior Democrat criticized House Republicans in a conference call with reporters and called the behavior the most disrespectful she has seen during her 17 years in elected office.
"We already had a clear sense that Republicans were opposed to our efforts to advance women's health," Wasserman-Schultz said. "Now we know they're opposed to letting women voice their opinions on health care as well."
As members of the Democratic Women's Caucus tried to list from the House floor how the health care reform bill would offer women important protections they currently lack, Republicans -- led by Georgia Rep. Tom Price -- constantly interrupted them.
"I object!" the Republicans shouted over and over while Reps. Lois Capps (D-Calif.) and Mary Jo Kilroy (D-Ohio) spoke. Acting speaker Rep. John Dingell (D-Mich.) couldn't get the Republicans to stop.
"Republicans are so desperate to block reform, to protect the status quo, that they tried to silence women -- not just women members - but the millions of women who would benefit from the new protections," Wasserman-Schultz said.
Those protections include prohibiting insurance companies from charging women more for coverage or treating pregnancy as a pre-existing condition. Women are often charged as much as 48 percent more than men for health insurance, according to Dr. Judy Feder of the Center for American Progress.
The version of the bill that ultimately passed by a narrow 220-215 margin included a provision by Rep. Bart Stupak (D-Mich.) that dramatically limited elective abortions by prohibiting public and private insurers from covering them.
Wasserman-Schultz said she intended to oppose the Stupak amendment and that it was unlikely to survive in the Senate. She would not say how she would vote should the Stupak amendment make it in the final version of the bill.
Calling all HuffPost superfans!
Sign up for membership to become a founding member and help shape HuffPost's next chapter