WASHINGTON -- You probably have no idea who Jim Rubens is. Nor should you, really. Even the most politically savvy observer would struggle to name every obscure candidate running in a primary for a U.S. Senate seat. And that, certainly, is what Rubens is as he embarks on his long-shot campaign -- obscure.

But Rubens, who is running against former Sen. Scott Brown in the GOP primary in New Hampshire, does hold a remarkable distinction that could -- perhaps, should -- make him a more familiar name. Of the 107 Republicans currently running for Senate as of this week, he is the only one whose website declares that global warming exists and is caused by human activity.
"Trust me," he says of his position, "it is the most difficult part of my campaign."
The Huffington Post reviewed the campaign websites of every Republican candidate running for Senate in the 31 states where elections are being held. Of those:
83 either ignored the issue entirely, or listed the reasons they oppose environmental regulations more broadly;
17 had no website to speak of or had sites under construction;
Two directly questioned whether global warming is actually happening;
One candidate made a YouTube video that features him sitting at a desk in front of a taxidermied buffalo head and a bear pelt, declaring, "I am environmentally responsible. But that being said, I do not believe we have to sacrifice our economy at the altar of environmentalism, and that is exactly what's going on here";
One candidate posted an ode to his state's "flora, fauna, mountains and rivers" but didn't take a policy position;
One candidate, Brian Goldberg of New Jersey, said that the science behind "man made" global warming was not yet "settled" but that it was prudent to address the issue; and,
One candidate, Sen. Susan Collins (R-Maine), promoted her support for environmental regulations on her Senate website but not on her campaign website.
And then there is Rubens, who not only has a section on global warming on his website, but who actively talks about the issue on the trail.
"It is honestly a tough sell, a very tough sell," he said of his efforts to woo Republican voters with a touch of environmental alarmism. "I talked to a tea party group last night and was questioned aggressively. It is not unusual that I get those questions, not unusual at all. But my policy proposals were reasonably well accepted by a group of people who don't buy it."
(Click here to see how the major Senate Democratic candidates address global warming on their campaign websites.)
Rubens is used to being non-conventional. He says he was ousted from his role as platform committee chairman for the national Independence Party in a Ross Perot-organized coup in 1992. He started his own political party the next year -- an offshoot of the Independence Party of New York -- and ran for New Hampshire governor in 1998.
But he's hardly a wacko. He graduated from Dartmouth College with a degree in chemistry and made his living investing in high-tech startups, which fed his belief in the importance of scientific research. He served in the New Hampshire Senate for two terms and supported Rudy Giuliani for president in 2008. His party, he argues, left him on environmental policy, not the other way around.
"There is, among active Republicans, the base Republicans, very little confidence in climate science," he said. "There has been a multi-year campaign to discredit climate science. And it has been effective."
Fifteen minutes after his interview with HuffPost ended, he called back with another culprit: "Talk radio," he said. "Listen to daytime talk radio and I think you will see. There have been many, many years of negative commentary about climate science."
The next day, he spread the blame further. Environmental groups, he said, had hurt their own cause by failing to engage their skeptics.
"Those organizations and individuals advocating policy responses have made climate change a hardened partisan wedge issue by failing to engage with conservative voters and candidates," he said.
And yet, for all the reasons he highlighted as to why Senate Republican candidates weren't more receptive to the notion of global warming, Rubens seemed depressed by his unique status as an avowed supporter of the scientific consensus on climate change.
While there might not be much enthusiasm for climate action among this year's candidates, Senate Republicans have historically been more open to discussing climate change as an issue that Congress should address. Sen. John McCain (R-Ariz.) co-sponsored legislation that would enact a cap-and-trade plan to cut carbon emissions in 2003 and 2005. Sen. Mark Kirk (R-Ill.) voted for the cap-and-trade bill that passed the House in 2009, before he moved to the upper chamber. And Sen. Lisa Murkowski (R-Alaska) has said that climate change is "real" and "we need to fight it" -- though she has been less enthusiastic about supporting legislation on the issue and has sponsored a measure that would block the Environmental Protection Agency from imposing greenhouse gas regulations under the Clean Air Act.
And Collins has also supported climate legislation in the past, cosponsoring a "cap and dividend" bill in 2010 with Sen. Maria Cantwell (D-Wash.). Her Senate website touts the fact that she has voted against legislation that would take away the EPA's ability to regulate carbon emissions.
As evidenced by the absence of this material from Collins' campaign website, however, candidates don't have the appetite to talk about the topic on the trail -- or perhaps they have calculated that there is little upside in doing so. Campaign issue pages for Republican Senate candidates rarely even include a section on the environment. And when searching for information about their stances, you're likely to get an error message, such as the one below, found on Virginia Senate candidate Ed Gillespie's page.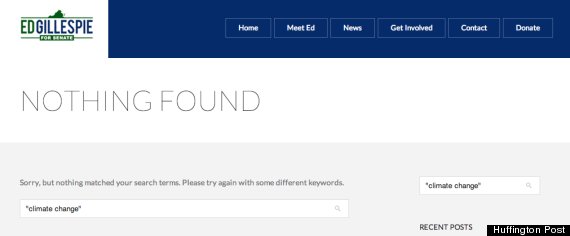 The one candidate, in addition to Rubens and Collins, whose website expresses openness to the idea of addressing global warming is Brian Goldberg, a New Jersey businessman who is running in the Republican primary to face off against Sen. Cory Booker (D-N.J.). But he was unwilling to state that the phenomenon was caused by human activity.
"Brian also feels that prudent management of domestic U.S. energy supplies is consistent with environmental concerns including the issue of 'man made' global warming," his site reads. "While the science is certainly not 'settled,' as some claim, there is certainly room for continued discussion among intelligent and civil parties on both sides of the issue."
The post goes on to say that Goldberg opposes a cap-and-trade program to lower greenhouse gases and federal grants for green technologies. Rubens agrees, and calls instead for the government to end subsidies to all energy sectors -- coal, oil, solar, wind, nuclear and the like.
He used to support cap and trade, but he's moved on because he believes that the declining cost of cleaner technologies has made such a regime unnecessary. He also sees no political path forward for the proposal within the modern Republican Party.
"I look for the common ground," Rubens said. "It is a problem some people think is real and others don't. We have been debating this issue for two decades now and we have gained essentially no ground on it. I'm looking for policy proposals that more of us can agree upon."
Before You Go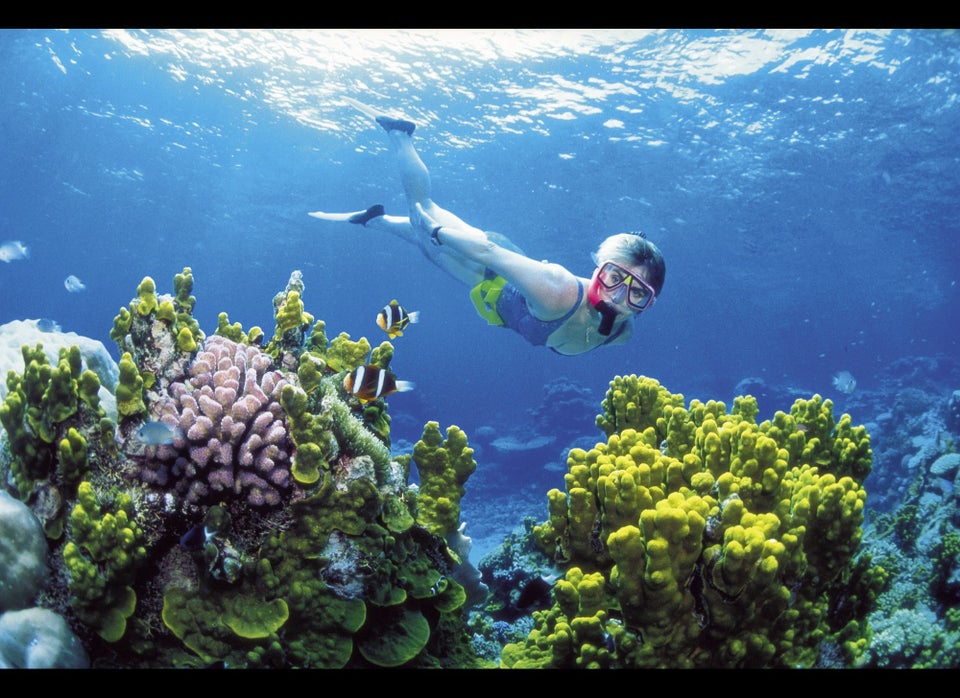 What Climate Change Just Might Ruin
Popular in the Community