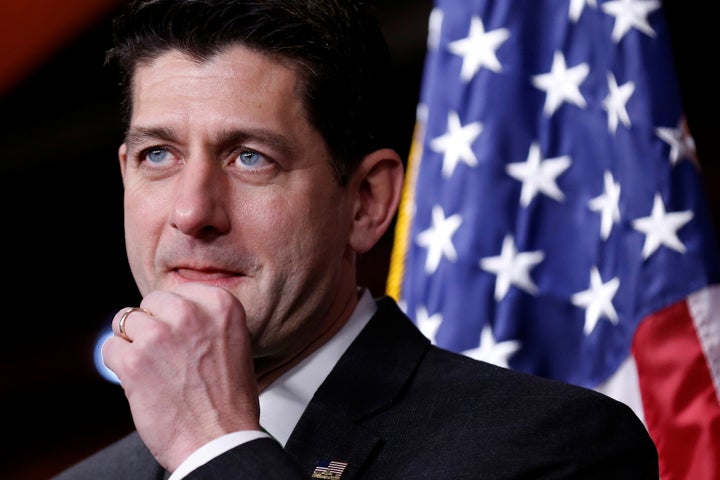 WASHINGTON ― Moderate Republicans appeared satisfied to hold off ― for now ― on forcing immigration votes after House Republicans met for roughly two hours on Thursday to discuss potential legislation addressing contentious immigration issues that have dogged them for years.
Supporters of the immigration discharge petition, which needs 218 signatures to trigger votes on a number of immigration proposals, told reporters on Thursday that they were willing to wait a little longer before moving ahead with the legislative sidestep.
But they're not willing to wait forever. And Thursday's meeting didn't resolve central questions that have sunk past immigration efforts, including whether undocumented immigrants ― in this case, young people who came to the U.S. as children ― should get a pathway to citizenship.
"We have to start putting things on paper and figure out if we're able to move forward," Rep. Mario Díaz-Balart (R-Fla.), one of the leaders of the discharge petition effort, told HuffPost on Thursday. "And if we're not, then the discharge petition is there."
One of the Republicans who has not signed the petition but is considering it, Rep. Dan Newhouse of Washington, told HuffPost that his new deadline to see action was next Tuesday, which would be the last day the discharge petition could get enough signatures and still force a vote by June 25.
House GOP leaders like Speaker Paul Ryan (R-Wis.), Majority Leader Kevin McCarthy (R-Calif.) and Majority Whip Steve Scalise (R-La.) all oppose the discharge petition, which would force a vote with mostly Democratic support. But some Republican moderates, many in competitive districts where fighting for an immigration reform bill is a political winner, are pushing it anyway.
They argue now is the time to finally pass permanent protections for young undocumented immigrants often called Dreamers, who are currently at risk of losing Deferred Action for Childhood Arrivals relief as the Trump administration fights in court to end the program. The discharge petition is currently only a few signatures short of the 218 needed to trigger votes on four immigration bills.
We have to start putting things on paper and figure out if we're able to move forward.

Rep. Mario Díaz-Balart (R-Fla.)
The discharge petition's backers said their goal is to pass something that could ultimately be signed by President Donald Trump after making it through the Senate, which already failed in its own immigration efforts earlier this year. Díaz-Balart said that as long as Republicans were still talking and making progress, it made more sense to hold off on the final signatures of the discharge petition.
He insisted the discharge petition was "not a threat," but said it was the only reason Republicans were discussing the issue at all.
As Newhouse expressed, Rep. Jeff Denham (R-Calif.), another leader of the discharge petition effort, told CNN that Republican immigration supporters now felt like they had until next Tuesday to get an agreement on paper. Otherwise, they could move forward with their earlier plans.
It was clear Thursday, however, that Republicans are still far off from reaching a deal, even if they agree on the broad strokes of one. Trump called for a package that covers the so-called "four pillars" of his demands on immigration: border security, including a wall; restrictions on family-based immigration; ending the visa lottery program; and providing protections for Dreamers.
At the meeting, leaders barely moved beyond those four pillars. There's broad agreement on them, Ryan told reporters Thursday. It's just that what those different pillars mean is tricky, and conservatives don't want to agree to some sort of pathway to legal status before they have commitments on a robust border security package.
For one, there's little consensus about providing some immigrants with a special pathway to citizenship or permanent legal status. For another, Republicans haven't agreed about the scope of who'd be eligible for these protections. The definition of "Dreamers" varies greatly within the GOP conference.
Republicans coming out of the closed-door meeting on Thursday said they were encouraged by the tone of the discussion, calling the debate cordial and productive. "Among the most civilized discussions in which I have participated, having been here nine and a half years," Rep. Leonard Lance (R-N.J.) said.
Part of the reason the meeting may have seemed so cordial, in fact, is because Republicans weren't delving into specifics.
Ryan downplayed the disagreements in a news conference after the meeting, saying he still felt like Republicans could produce a bill. But he had no timeline for such legislation ― "Our deadline is to not have a deadline" ― and when he was asked what progress they had made, his answer was that members were talking, which they've been doing all along.
Calling all HuffPost superfans!
Sign up for membership to become a founding member and help shape HuffPost's next chapter
BEFORE YOU GO
PHOTO GALLERY
How Donald Trump Talks About Undocumented Immigrants