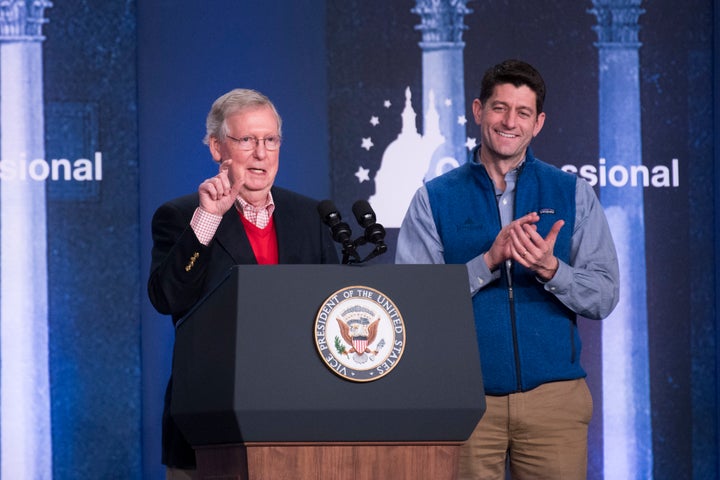 White Sulphur Springs, W.Va. — Congressional Republicans came to The Greenbrier resort for their annual retreat to rally around an election-year agenda and convince themselves that their electoral problems aren't really that daunting. But amid the happy talk of a long-term strategy, Republicans ignored the challenges right in front of their faces.
"Next week could be very problematic," Freedom Caucus Chairman Mark Meadows (R-N.C.) told HuffPost Thursday night.
Government funding runs out at midnight on Feb. 8, and Republicans do not, at the moment, have the votes to muscle through yet another continuing resolution (CR) to keep the government open. While Republicans have convinced themselves that Senate Democrats took the brunt of the blame for a government shutdown two weeks ago, it'll be hard to blame Democrats if Republicans can't get a bill out of the House.
And even though members told HuffPost that GOP leaders had essentially shored up their support with defense hawks by coming to an agreement — "in principle but not on paper," as one member put it — on overall spending caps numbers for the rest of the fiscal year, conservatives aren't happy.
"I'm tired of a fifth time running a play that gets blocked at the line of scrimmage," Meadows said.
That fifth play is really the fifth CR Congress will have to pass to avoid a shutdown. The fiscal year started in October, yet lawmakers are still running the government with stopgap after stopgap because they don't have agreements on a deal for the Deferred Action for Childhood Arrivals (DACA) immigration program, which in turn is holding up a spending agreement for defense and non-defense programs.
Without those agreements, lawmakers can't write the bills they were supposed to have written a year ago. And because Republicans and Democrats are still haggling over last year's appropriations bills, there's little point in writing new measures for next year ― or in approving a new budget.
But instead of talking about those issues or trying to figure out the outstanding problems in order make Congress and the appropriations process actually work, Republicans spent the retreat applauding themselves for passing tax cuts.
As one GOP member put it: "To not address the must-do things at a retreat is a real tragedy."
Retiring Rep. Charlie Dent (R-Pa.) told reporters here that the Republican refusal to address their actual issues is like a dysfunctional family. "Dad's drunk again but we don't talk about it," Dent said.
"How much time and energy have we wasted on the Republican-only DACA-border security bill, which has a less than zero chance of passing the Senate, and a near-zero chance of passing the House?" Dent said Thursday. "And that whole exercise is simply designed to give members cover, who will vote against the inevitable compromise on DACA, so they can say they voted for it before they voted against it."
Dent argued that by proceeding with that hardline immigration bill, Republicans were actually making a compromise measure more difficult. He said he would prefer a legislative rule where lawmakers put up all the legislative proposals for votes, and the one with the most support wins.
"A lot of people around here talk ad nauseam about an open process, and they want a pre-determined outcome on the bill. Well you can't have it both ways," Dent said.
The immigration issue is also complicated by President Donald Trump's on-again, off-again relationship with negotiating. At one moment, he's cutting deals with Senate Minority Leader Chuck Schumer (D-N.Y.), the next he's telling lawmakers to work it out among themselves. Now, Trump is insisting that the Senate vote on a bill that Dent says has a "less than zero" chance of passing that chamber.
Trump doesn't seem to have much of a sense for what an actual compromise would have to look like to win over Democrats and the requisite number of Republicans. He seems to think there's a deal that wins over almost every Republican and a small number of Democrats, and the people around Trump ― in Congress and in the White House ― aren't telling him that such a bill doesn't exist.
In fact, immigration has become such a touchy subject that Trump is one of the few Republicans still talking about it. At the retreat, immigration wasn't its own break-out session, even though solving DACA is the linchpin to solving an omnibus bill and getting Congress back toward some semblance of a normal appropriations process.
Instead of those discussions, Republicans spent time hearing from Trump, Vice President Mike Pence, Defense Secretary James Mattis, Secretary of State Rex Tillerson, White House senior adviser Kellyanne Conway ― and having discussions about how they can enact work requirements for welfare programs and how they can win in November.
National Republican Congressional Committee Chairman Steve Stivers (R-Ohio) told reporters here that Republicans planned to run by touting the strong economy and invoking House Minority Leader Nancy Pelosi (D-Calif.), who remains a potent boogeyman for Republicans eight years since she's held the speaker's gavel.
But even as measurements like the generic ballot have improved for Republicans, and the once-unpopular tax bill has moved to an about equal approval rating, some members don't buy that Republicans will effectively limit their losses.
"The reality is a midterm election ― when one party is in power ― the midterm will be a referendum on the party in power and specifically the president of the United States and his conduct in office," Dent said.
Although Republicans were touting small upticks in Trump's approval rating ― a rare thing in a president's second year ― much of that movement is due to the historic lows of Trump's approval rating in the first year.
The other issue that dominated the GOP retreat was the memo ― declassified by Trump and released by Republicans on Friday ― alleging FBI and Justice Department bias against the Trump administration in the early stages of the Russia investigation. Seven of the nine questions asked of Speaker Paul Ryan and Senate Majority Leader Mitch McConnell (R-Ky.) were about the memo, leading to Ryan answering one question about calls for him to remove Intelligence Chairman Devin Nunes (R-Calif.) by quickly pivoting to tax reform.
"Look: the tax cuts are working," Ryan said.
That was a point all Republicans seemed to agree on during the retreat, particularly Trump.
In an extended victory lap, the president hailed the latest economic numbers as his own victory, and he asserted that Republicans were more unified than ever, saying that Ryan had called him days earlier and said as much.
"He has never, ever seen the Republican Party so united, so much in like with each other, but literally 'united' was the word he used," Trump said, recounting Ryan's words.
While members may see that their unity is largely superficial, even the members most critical of Trump admit the Republican Party belongs to Trump now.
"It's the president's party now, more or less," Dent said.
He chuckled to himself, almost in disbelief. "It is," he said. "It is."
Calling all HuffPost superfans!
Sign up for membership to become a founding member and help shape HuffPost's next chapter