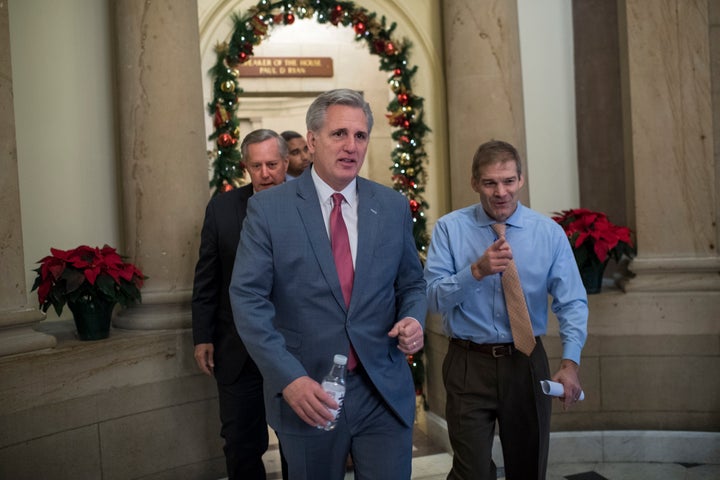 WASHINGTON ― House Freedom Caucus leaders are easing off their demands that any bill to keep the government funded past this week go until after Christmas ― lest members take a bad deal just so they can go home and spend the holidays with their families ― but they now have a new hard line: spending.
Meeting conservatives' fiscal demands isn't exactly looking likely at the moment, with Democrats and Republicans not far off in recent negotiations. But any theoretical agreement would be fragile ― particularly with Donald Trump as president ― and GOP and Democratic leaders are walking softly.
Republican leaders especially have a tricky path to navigate, with House conservatives potentially throwing obstacles in the way of Speaker Paul Ryan (R-Wis.) and Majority Leader Kevin McCarthy (R-Calif.) on spending bills that many House Freedom Caucus members have no real intention of voting for.
Still, Republicans are making progress. Delicately.
After House Freedom Caucus Chairman Mark Meadows (R-N.C.) and former chairman Jim Jordan (R-Ohio) met with Ryan and McCarthy on Wednesday, the conservative ringleaders suggested they wouldn't hold up a so-called Continuing Resolution, or CR, if it only went until Dec. 22. Earlier this week, the Freedom Caucus withheld votes on a procedural motion for going to conference on the tax bill until GOP leaders agreed to discuss a later date, like Dec. 30, for the expiration of the CR.
That battle appears to be over, as lawmakers now look apt to approve a mostly clean CR until Dec. 22 so Democrats and Republicans can come to a larger agreement on spending numbers, at which point Congress would have to pass yet another CR to prevent a Christmas shutdown and give appropriators time to write a bill funding the government for the rest of the fiscal year.
While Meadows wasn't quite ready to say that the deadline of the CR was decided, he appeared open to the original Dec. 22 date. "I don't know that the December 30th deadline is as much the issue now as it is about breaking this defense and nondefense" dollar-for-dollar increases, he said.
Meadows also suggested that the Freedom Caucus had effectively pushed leaders to speed up a final conference report on the tax bill so that the CR and the tax legislation wouldn't be coupled together. Conservatives are concerned some moderate Republicans will be bought off in the tax bill with CR side-deals, so they hope to vote on the tax conference report as early as next week.
That may present a challenge for some senators who wanted goodies in the CR, but all of this shutdown drama could have been prevented if Congress had just passed regular appropriations bills ― or if lawmakers hadn't set spending caps that they refuse to live by.
Congress passed a law in 2011 that set spending levels for defense and nondefense for the next 10 years. But lawmakers on both sides of the aisle are unwilling to abide by those caps. In fact, they've technically never lived by the limits they set in 2011. Instead, Congress typically agrees to new spending levels, with Republicans and Democrats taking dollar-for-dollar increases for defense and nondefense (though that 1:1 parity has been broken in recent years).
GOP and Democratic leaders are currently going back and forth over the spending levels for this year and the next. Democrats turned down the initial Republican offer to fund defense at $54 billion above the sequester-mandated levels for each year, and fund nondefense at $34 billion above the sequester levels for each year. (In this scenario, defense would get $603 billion in fiscal year 2018 and $613 billion in fiscal year 2019, while the nondefense budget would be $547 billion and $566, respectively, for those years.)
Republicans also figure to add a healthy amount of defense money in a fund supposedly used for war operations, though how much remains undetermined.
Democrats countered the initial GOP proposal with $54 billion increases for both defense and nondefense for each of the next two fiscal years, but that offer was quickly rejected by Republicans.
GOP sources indicate that Republicans next plan to offer $63 billion increases for the next two years for defense, and $52 billion increases for the next two years for nondefense. Democratic sources said they have not yet seen that offer, and Republican aides warn that the proposal is still subject to change.
If all these numbers make your head spin, you're not alone. Most lawmakers care little about the line-by-line details of the spending agreement ― they just want to make sure their biggest priorities are funded.
It's the Freedom Caucus ― a group of about three dozen far-right House Republicans who stand little chance of voting for the final legislative products ― who are taking the firm positions on restricting spending.
Meadows and Jordan said Wednesday that conservatives were aiming to "hold the line" on the defense number while not dramatically increasing the nondefense numbers. The House this year passed its own spending agreement, with $621.5 billion for defense and $511 for nondefense.
But those were Republican-only, make-believe numbers. Senate Democrats have a say over how much Republicans spend on defense and nondefense, and because GOP war hawks insist the military can't live by the $549 billion defense cap for fiscal year 2018, Democrats have leverage on the overall agreement. (If lawmakers can't reach a new deal by Jan. 21, the Pentagon is directed to live by that $549 billion number and, even if Congress reaches a deal soon after, it would affect acquisition and other military planning.)
Those realities have scared Republicans into believing they can't afford a shutdown, and they've given Democrats the ability to demand a number of deals that GOP lawmakers have thus far been unwilling to approve separately. The prospect of bad spending deals, as well as deals on other Democratic priorities, makes it unlikely that conservatives will support these eventual bills, which just drives Republican leaders to need more Democratic votes, which in turn gives Democrats even more leverage.
But it's conservatives who are looking for the leverage, even if they don't plan to vote for the eventual deals. That quest for leverage drove the Freedom Caucus to withhold support on the tax conference legislation earlier this week, and it's what's driving conservatives to posture now that they could support a future CR if GOP leaders cut a good deal (even though there's little chance that would happen).
When HuffPost asked Jordan why Senate Democrats would go along with the GOP plan of passing a full-year defense bill coupled with a CR for nondefense programs later this month, he suggested Republicans could add some of those sweeteners Democrats want, like funding for the Children's Health Insurance Program and disaster relief.
But when we asked if he'd support that bill if it included a deal for Cost Sharing Reductions for Obamacare, which is expected, Jordan gave us a look like we were crazy.
Popular in the Community