WASHINGTON ― GOP moderates and conservatives are nearing a deal on health care that in theory could get the Republican alternative to the Affordable Care Act out of the House and over to the Senate. The changes also might move Republicans even further away from passage ― no one really knows.
The deal, brokered between House Freedom Caucus chairman Mark Meadows (R-N.C.) and Tuesday Group co-chairman Tom MacArthur (R-N.J.), would allow states to get waivers eliminating the so-called community rating provision ― the rule that prohibits insurers from charging higher premiums to people with pre-existing conditions. In order to obtain the waiver, states would have to participate in a federal high-risk pool or establish their own, and satisfy some other conditions.
In exchange for that conservative concession, the amendment would reinstate the Essential Health Benefits that were already taken out of the bill ― though, again, states could waive those provisions as well if they were able to show that doing so would lower premiums, increase the number of people insured, or "advance another benefit to the public interest in the state."
That's according to a white paper describing the amendment, which is the result of weeks of negotiation between Meadows and MacArthur. While they have both agreed to the amendment, supposedly representing a number of conservatives and moderates respectively, the amendment is still being reviewed by the Senate and House GOP leadership.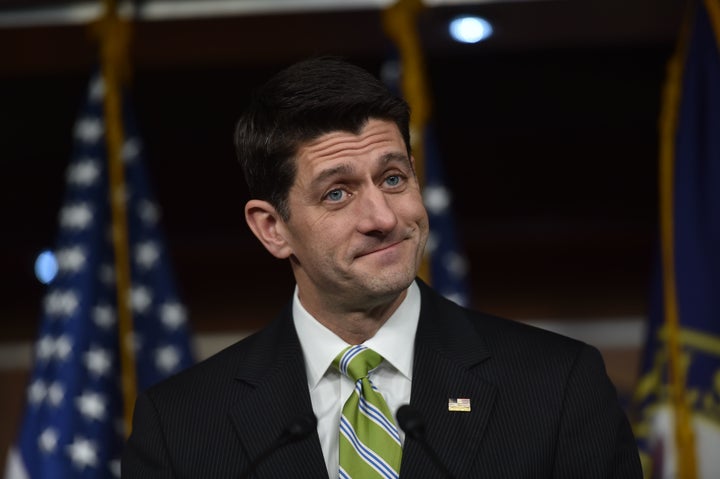 Additionally, with Republicans effectively going back on their repeated promises to guarantee coverage for people with pre-existing conditions, the amendment could lose a number of Republicans who already supported the legislation. In short, even though the Tuesday Group and the Freedom Caucus think they have a deal, Republicans writ large might have nothing.
Leadership is expected to discuss the amendment on a conference call this Saturday with GOP members, but public opinion might also affect the landscape. Republicans are trying to say their amendment will cover people with pre-existing conditions ― because, first, the legislation still claims those people can't be denied coverage, and second, because there will be high-risk pools for those people if insurance costs dramatically go up for them.
The reality, however, is that insurers would be able to effectively deny coverage by pricing sick people out of the market.
"This effectively allows states to eliminate the ACA's guarantee of access to insurance at a reasonable price for people with pre-existing conditions, in the interest of lowering premiums for people who are healthy," Larry Levitt, senior vice president at the Henry J. Kaiser Family Foundation, said upon seeing a description of the proposal. "It seems to tilt heavily towards what the Freedom Caucus has been looking for."
Republicans argue that the high-risk pools would then cover those people, taking them out of the regular insurance pool and lowering prices for everyone else, but high-risk pools have traditionally been underfunded by states and the federal government, resulting in poor coverage and high costs for those who need insurance the most.
Those concerns may be significant enough that, even with MacArthur's blessing, the deal does not win over moderates. The concessions also might not be enough for some conservatives, who have expressed issue with Republicans establishing an advance refundable tax credit to help pay for insurance.
Republicans need 216 votes to pass their health care bill, and based on statements from GOP members, even with the support of the entire Freedom Caucus for the amendment, there may be enough moderate hold-outs to prevent passage anyway. (MacArthur doesn't count as a convert; he supported the last bill, albeit reluctantly.)
The amendment wouldn't seem to address the big concerns moderates have expressed ― like raising the cap on how much insurers can charge seniors or cutting $880 billion from Medicaid. These changes are among the reasons that the Congressional Budget Office predicted the House health care legislation would increase the number of people without insurance by 24 million within a decade.
Many Republicans ― particularly in the Senate ― have said such deep cuts are not acceptable. Just this week, Sen. Tom Cotton (R-Ark.) said he couldn't support a proposal that jeopardized coverage for the approximately 300,000 people in his state dependent on the Affordable Care Act's Medicaid expansion.
Public opinion has also shifted since the repeal effort began in earnest ― and it has shifted decisively against Republicans and their cause. The Affordable Care Act is more popular than ever, and in a recent Pew Research Center poll, 54 percent of Americans said they trusted Democrats more than Republicans on health care, while just 35 percent said they trusted Republicans more. That's the biggest advantage for Democrats on health care since 2009.
In short, some leaders in the GOP conference might think they have a deal, but they also might have just found a way to make the bill even more unpalatable for Republicans, thus bringing Congress no closer at all.
Still, Speaker Paul Ryan (R-Wis.) suggested that Republicans were getting close to a deal. "We're in the midst of negotiating sort of finishing touches," Ryan said Wednesday during a trip to London.
Sign up for the HuffPost Must Reads newsletter. Each Sunday, we will bring you the best original reporting, long form writing and breaking news from The Huffington Post and around the web, plus behind-the-scenes looks at how it's all made. Click here to sign up!
Support HuffPost
The Stakes Have Never Been Higher
Popular in the Community