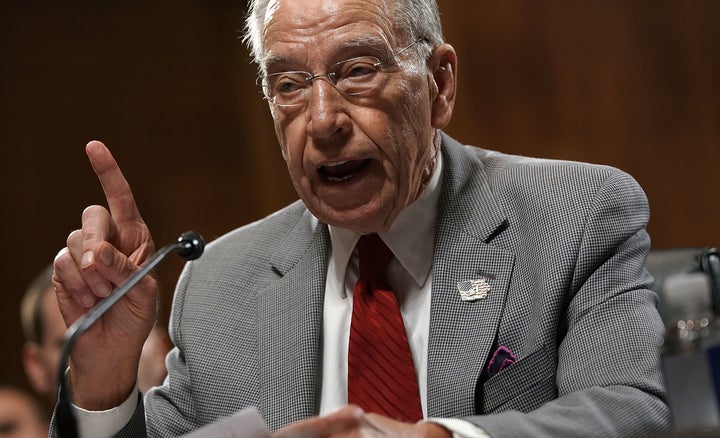 Republicans on the Senate Judiciary Committee said Tuesday they will not be questioning Christine Blasey Ford about her sexual assault allegations against Brett Kavanaugh later this week. Instead, they are hiring a woman as outside counsel to do it for them.
There's a simple reason Republicans are doing this: Every GOP senator on the committee is male, and they don't want to be seen as bullying a woman who is speaking out about being sexually assaulted as a teenager.
"There's no particular expertise that a questioner is going to have in this situation," said Sen. Richard Blumenthal (D-Conn.). "Why are my colleagues hiding from their role as members of the Judiciary Committee?"
The woman they've hired as counsel is a prosecutor with expertise in sex crimes. Sen. Chuck Grassley (R-Iowa), the chairman of the committee, said he is not releasing the woman's name because he is concerned for her safety. He said the public probably won't know the person's identity prior to the hearing.
"We have done it because we want to depoliticize the whole process like the Democrats politicized the Anita Hill thing," Grassley said.
Blasey's legal team does not even know the woman's name, according to two people familiar with the conversations.
The decision by Republicans to have a woman who is not in the Senate stand in for them may spare them from some embarrassing fumbles. But it will also, unavoidably, serve as a reminder that 27 years after Anita Hill faced an all-male Senate Judiciary Committee, Republicans don't have a woman in their ranks on the panel.
Democratic members of the committee ― a group that includes multiple women and people of color ― are slated to do their own questioning of Kavanaugh and Blasey on Thursday. The woman hired by Republicans is expected to question Kavanaugh as well.
"Democratic senators feel capable of asking their own questions," a Democratic staffer said. "[Republicans] apparently feel they need to hire an outside woman."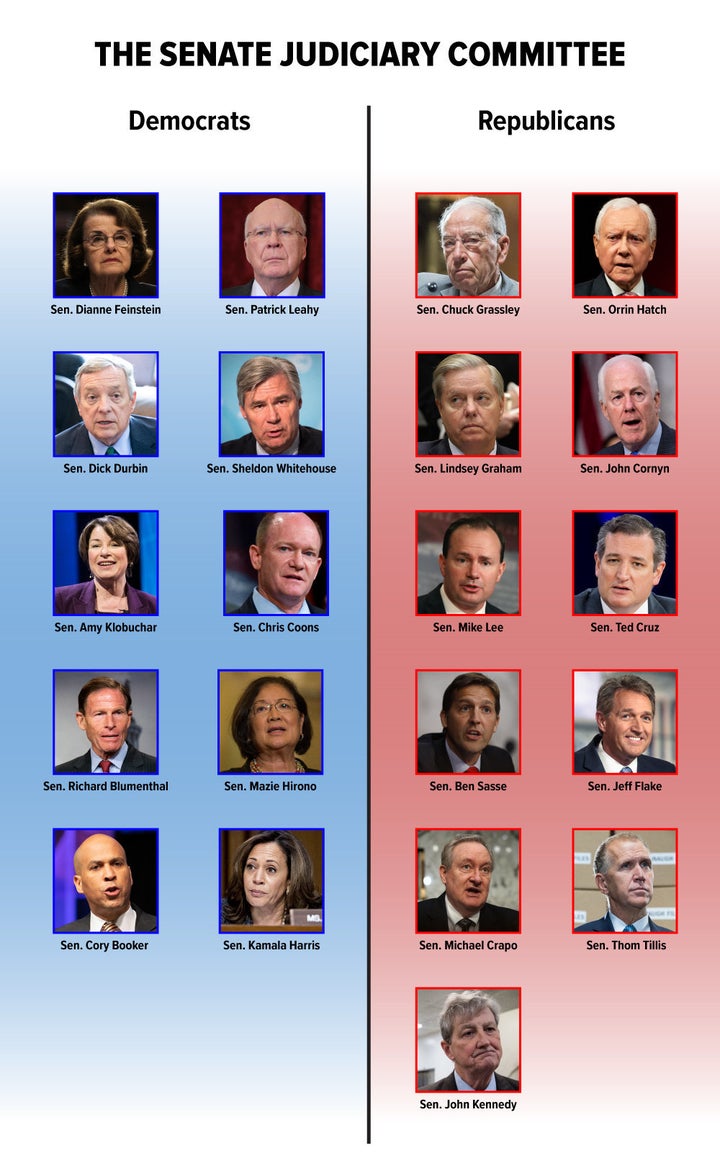 Ever since it became clear that there would be a hearing with testimony from Blasey, Republicans have been looking for a way to overcome their representation problem. As HuffPost first reported, another option under consideration was having their female staff attorneys do the questioning.
Sen. Bob Corker (R-Tenn.) on Tuesday said it was "smart" for GOP senators to bring in outside counsel, because, he told reporters, "Somebody will do something that you guys will run 24/7 and inadvertently somebody will do something that's insensitive."
Sen. Lindsey Graham (R-S.C.) added that he is personally fine with letting a female attorney do the questioning he would normally do.
"I'm happy to have a professional do it," he told reporters. "If there's something I want to know about, I'll ask."
A Democratic staffer noted that there are rules on bringing in outside counsel. A person at a law firm would have to quit his or her job to do the questioning ― the individual could not take a leave of absence and could not do it pro bono.
This is a developing story. Check back for updates.
Jen Bendery, Igor Bobic and Ryan Reilly contributed reporting.
Popular in the Community