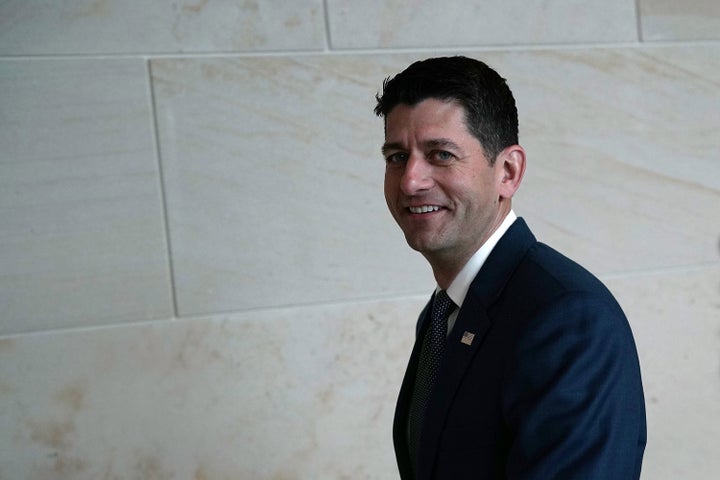 WASHINGTON ― With no deal in sight and President Donald Trump's support in question, House Republicans are preparing to have their second failure on an immigration bill in as many weeks Wednesday, leaving Republicans with an unclear path forward on an increasingly divisive issue.
In an attempt to win over more Republicans, GOP leaders had floated an amendment to drag the bill further to the right. But once it was clear that an amendment requiring businesses to verify the employment status of workers would jeopardize the support of some moderates and potentially not move many conservatives, leadership decided to scrap the amendment and give moderates a vote on the original "compromise" legislation that was supposed to hit the floor last week.
When HuffPost asked a senior GOP aide for a prediction on how many Republicans would vote for the "compromise" legislation, the aide simply replied with a GIF of a dumpster fire.
Usually, the question in the House is whether a bill has 218 votes ― a majority of the chamber, though the magic number is frequently a little less, depending on how many vacancies there are on any given day. But in the case of the "compromise" immigration bill that is due up for a vote Wednesday, the question is not whether it will pass ― it won't. The question is how far away it will be from 193 votes.
That's how many Republicans supported the more conservative immigration bill written by judiciary committee Chairman Bob Goodlatte (R-Va.) last week, and it's the baseline number of votes needed for moderates to show Republicans that their immigration ideas could pass the House. Maybe. Some day.
For now, the real message moderates are trying to convey is that Republicans don't need to embrace hard-line immigration policies. They want to show that the GOP can actually address the Deferred Action on Childhood Arrivals program without resorting to provisions on so-called sanctuary cities, or E-Verify, or stricter interior enforcement.
The problem for GOP moderates is that their "compromise" bill contains so many hard-line immigration policies that Democrats strongly oppose it. That means it will almost certainly draw less support than the Goodlatte bill, and then conservatives will be able to say that the path forward for the House Republican conference is to take the original Goodlatte bill and work off of that as the base text for any future immigration proposal.
"If the vote total is bad tomorrow," House Freedom Caucus Chairman Mark Meadows (R-N.C.) told HuffPost on Tuesday, "it just means we have [a] more conservative conference than perhaps moderate."
Some moderates suspect conservatives have withheld their support for this "compromise" bill just so that point can be made. Retiring moderate Rep. Ryan Costello (R-Pa.) said it's a "totally legitimate perspective" to think conservatives are holding back votes to send a signal, and Rep. David Valadao (R-Calif.), an immigration advocate, said Meadows "doesn't have a reputation of following through on his promises right now." (Meadows had said he wanted to support the "compromise" bill, but he had a blow-up with House Speaker Paul Ryan on the floor last week after some last-minute changes to both immigration bills and has apparently decided to vote against the bill.)
Meanwhile, some conservatives were willing to admit Tuesday that, politically, it made sense to tank the moderate bill. Rep. Ted Yoho (R-Fla.) agreed with HuffPost's characterization of the messaging dynamics "on face value," and Rep. Warren Davidson (R-Ohio) said it was "good logic" when asked why conservatives would vote for the compromise bill if they want a more conservative immigration bill.
Another Freedom Caucus member also said conservatives would send a message by holding back votes on Wednesday, though he added that he thinks conservatives have negotiated with moderates in good faith.
The "compromise" bill is only a compromise in the sense that it's a compromise with GOP moderates. No Democrat is expected to vote for the bill, after Democrats were shut out of negotiations, and the "compromise" will, again, likely get fewer votes than the more conservative proposal.
Both bills fit the president's demand for border wall funding, restrictions to types of legal immigration, changes to the asylum process and policies to detain immigrant families together for longer, now being framed as a response to children being split from their parents under Trump. But the "compromise" bill lacks many of the interior enforcement measures in the Goodlatte bill. It would also create a way for DACA recipients and some other undocumented young people who came to the U.S. as children to gain legal status that could eventually lead to citizenship. The more conservative measure, meanwhile, would leave them in a temporary status.
GOP leaders promised moderates a vote on a proposal as a way of preventing a discharge petition, which would have forced votes on a number of immigration bills, including one that Democrats would have likely supported and that could have actually drawn majority support in the House.
"Ultimately, it's a win for leadership because the whole goal of this immigration exercise was to prevent the discharge petition," a senior GOP aide told HuffPost on Tuesday.
If it's a win for leadership, it's largely a loss for GOP moderates. Somehow, conservatives were able to demonstrate that their immigration ideas have more traction than leadership expected, while also ensuring that no bill addressing DACA ever passed the House. And a low vote count for the "compromise" bill ― which is still plenty conservative in policy ― would show that more moderate approaches to immigration have less traction among Republicans.
Moderates, of course, don't quite see it that way.
"The path forward is to try to bring Democrats to the table," Rep. Leonard Lance (R-N.J.), a moderate, said Tuesday.
When HuffPost asked him about the message it would send to Republicans if the "compromise" bill gets fewer votes than the conservative bill, Lance suggested the message would be that no Republican-only bill can get a majority in the House, and that Republicans would therefore have to work with Democrats.
"I am a co-sponsor of the Hurd-Aguilar bill," Lance said, referring to a proposal sponsored by Reps. Will Hurd (R-Texas) and Pete Aguilar (D-Calif.). "And I think that could get 218."
But it's unclear how moderates can force a vote on that legislation at this point. The original discharge petition is likely dead, depending on some parliamentary rulings. And there isn't much time for another discharge petition, though moderates have toyed with the idea.
Popular in the Community