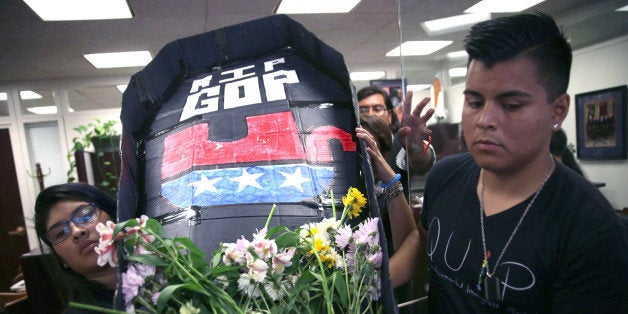 WASHINGTON -- Dressed in black and carrying a mock coffin, a coalition of immigration activists paraded through the halls of the Dirksen and Hart Senate buildings on Monday morning as part of a protest of the Republican Party's stance on immigration.
During the staged funeral procession, demonstrators said that they wouldn't cry for the Republican Party or mourn its death because its politicians are out of touch on immigration and no longer represent their community.
"The Republican Party is essentially dead to our community. They have killed the dreams of thousands of people," said Greisa Martinez, an organizer with United We Dream, the youth-led immigration advocacy network that organized the event. Explaining that her mother is undocumented, Martinez said, "They have killed the dreams of my mother for not moving forward on immigration reform. They have killed the dreams of millions of people across the nation. And we're here to say, 'Enough.'"
The procession started at Sen. Ted Cruz's (R-Texas) office and meandered through the halls, stopping at the offices of Sens. Lamar Alexander (R-Tenn.), John Thune (R-S.D.), Roger Wicker (R-Miss.) and John Cornyn (R-Texas). At each office, the casket was laid outside the office doors while members of the procession, some of whom were undocumented, shared personal stories to suggest that the GOP is out of touch on immigration.
On the verge of tears outside of Thune's office, Excy Guardado spoke about how she came to the United States as a 4-year-old with false documents.
"I came here to reunite with my family," she said. "I can't imagine being forced to go back to my country Honduras, back to poverty, back to a place where I could die any day, back to a place that has no opportunities for me or my family."
The protest comes as Congress debates how to handle a crisis at its southern border, where more than 57,000 unaccompanied children, many of whom are from El Salvador, Guatemala and Honduras, have crossed illegally into the U.S. this fiscal year.
President Barack Obama has requested $3.7 billion to fund efforts to care for the unaccompanied minors and deter others from coming, but Republicans have resisted approving the request without conditions. Among these conditions is Cruz's demand that Obama end a policy called Deferred Action for Childhood Arrivals, which allows young undocumented immigrants to apply to stay in the country.
Activists at the Senate building on Monday decried Cruz's proposal, as well as efforts to change a 2008 law that requires unaccompanied minors from countries other than Mexico and Canada to go through immigration courts before being deported. Another of the group's targets was the Humane Act, a bill proposed by Cornyn and Rep. Henry Cuellar (D-Texas) that would expedite deportations of minors from non-contiguous countries.
Humming "We shall overcome," and chanting "RIP GOP" -- sometimes at a whisper, to accommodate the rules of the Senate buildings -- the demonstrators left teddy bears outside of each office that they visited. Advocates said stuffed animals, rather than deportation, should welcome children fleeing violence.
Many also carried rainbow flags with them, arguing that immigration reform is inextricably tied to LGBT issues.
"If they take away my deferred action, I would be ostracized for the way I identify," said Tony Choi, who is an LGBT DACA applicant. "For other undocumented [members of the LGBT community], they also face mob violence, lynchings and even execution."
Calling all HuffPost superfans!
Sign up for membership to become a founding member and help shape HuffPost's next chapter