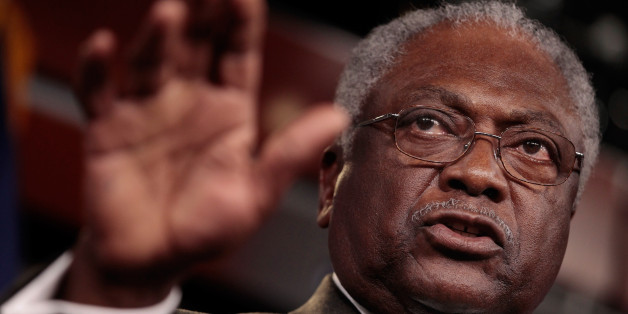 WASHINGTON -- Rep. James Clyburn (D-S.C.), the third highest-ranking Democrat in the House, predicted Monday that Republicans will impeach President Barack Obama if, as expected, they hold onto the House of Representatives after the November elections.
Clyburn, the assistant Democratic leader, made the claim during a Twitter town hall. A questioner wrote in asking why Democrats aren't doing more to support Obama amid Republican attacks, and wondered if they would try to put an end to talk of impeachment. Clyburn responded by saying such talk will become reality if Republicans keep control of the House.
.@LiberalPhenom No way to shut down the talk, nor should there be, it's real and I predict if GOP maintain House, Obama will be impeached.

— James E. Clyburn (@Clyburn) August 11, 2014
Clyburn was also asked if Democrats will let the impeachment process play out if Republicans decide to move forward with it. He noted that voters will decide whether Democrats have the power to stop the GOP.
.@LiberalPhenom There are 234 Republicans and 199 Democrats in the House. The only thing that can stop them are electing 218 Dems on Nov 4.

— James E. Clyburn (@Clyburn) August 11, 2014
Impeachable offenses include charges like abuse of power, perjury or obstruction of justice. The House has the authority to impeach a president by passing a resolution listing off formal charges for crimes committed in office. The Senate has the authority to put the president on trial for those charges and remove him from office.
A number of Republican lawmakers have floated the "I" word, including House Majority Whip Steve Scalise (La.), Rep. Steve King (Iowa) and Sen. James Inhofe (Okla.). Some have argued that Obama should be impeached for abusing his executive authority by allowing certain undocumented immigrants to stay in the country, while others have said he engaged in a White House cover-up after the 2012 attack in Benghazi, Libya.
House Speaker John Boehner (R-Ohio), meanwhile, has called talk of impeachment "a scam" orchestrated by the White House as a way to gin up Democratic votes and help Democrats raise money.
Boehner spokesman Michael Steel reiterated Monday that the speaker has no plans to impeach the president.
"The Speaker has said that we aren't going down that path," Steel told The Huffington Post. "Such speculation is a cynical ploy to fuel Washington Democrats' political fundraising."
REAL LIFE. REAL NEWS. REAL VOICES.
Help us tell more of the stories that matter from voices that too often remain unheard.
BEFORE YOU GO
PHOTO GALLERY
Obama Pointing Fingers