WASHINGTON ― After a growing number of Republicans in Congress questioned whether Attorney General Jeff Sessions was fit to oversee an investigation into Russia's role in the election, their former colleague announced he would recuse himself on Thursday.
Others soon followed. Sen. Rob Portman (R-Ohio) called Sessions a "friend," but said it would be best if he recused himself. Sen. Susan Collins (R-Maine), who introduced Sessions at the Senate confirmation hearing where he denied talking to Russians, said he should stay out of the Justice Department's investigation to "ensure public confidence."
"He should also clarify his statements to the Judiciary Committee with respect to his communications with the Russian ambassador," Collins said.
The Washington Post reported late Wednesday night that Sessions spoke twice last year with Russian Ambassador Sergey Kislyak, and didn't tell lawmakers during his January confirmation hearing in either verbal or written answers.
Sessions met with Kislyak in his capacity as a member of the Senate Armed Services Committee, according to Justice Department officials. U.S. investigators have also looked into Sessions' communications as part of the larger investigation into possible links between Donald Trump's campaign and the Russian government, according to a Wall Street Journal report.
Trump told reporters that he had "total" confidence in Sessions, but more than a dozen Republicans on Thursday had urged Sessions to recuse himself.
Democratic leaders on both sides of Capitol Hill called on Sessions to resign entirely. Senate Minority Leader Chuck Schumer (D-N.Y.) said "it would be better for the country." House Minority Leader Nancy Pelosi (D-Calif.) said Sessions "lied under oath."
The bombshell revelations had left many Republicans scrambling to come up with answers, with many saying they needed more information about what Sessions said to the Judiciary Committee and what he discussed with the ambassador.
Some, such as Sen. Lindsey Graham (R-S.C.), were clearly irked to keep learning of Trump administration contacts with Russians through the media, and left open the chance that they would also call for recusal.
Graham said he would meet with FBI Director James Comey on Thursday to discuss the ongoing Russia investigation, and demand to know whether Sessions is a subject of the probe.
"Somebody is leaking this crap and it's putting people like me in a terrible spot," Graham told reporters. "So I'm going to meet with the FBI director today, and I'm going to look him in the eye, and he's going to tell me there's an investigation or there's not, and if he doesn't tell me he's going to have a hard time."
Graham added that if enough evidence surfaces to suggest members of Trump's campaign should be criminally prosecuted, "then somebody other than Sen. Sessions and not-yet-Attorney General Sessions, should make that decision because of his contacts with the campaign."
Sessions did have defenders on the Hill.
Sen. Richard Burr (R-N.C.), who is leading the Senate investigation of Russia's election meddling as chairman of the Intelligence Committee, said Sessions was the one who knows whether Sessions should recuse himself.
"Jeff Sessions has to decide whether in his role as attorney general whether he can participate in anything to deal with Russian involvement in our elections," Burr told reporters. "I trust Jeff Sessions to make that decision."
Similarly, House Speaker Paul Ryan (R-Wis.) said he saw no reason for Sessions to step aside unless the FBI targets him.
"Should he recuse himself? I think he answered that question this morning, which is if he himself is the subject of an investigation, of course he would," Ryan said.
Sen. Ted Cruz (R-Texas) did not close the door on calling for a recusal, but he suggested Sessions' contacts with the ambassador were entirely appropriate.
"What we're witnessing right now is the political theater of Democrats feigning outrage at a perfectly ordinary meeting between a sitting United States senator and a foreign ambassador. It is part of the job of being a senator to meet with ambassadors and foreign leaders," Cruz said.
As far as Democratic charges that Sessions lied to his colleagues during his confirmation hearings, Cruz said Sessions may have expressed it poorly, but it was obvious to him that Sessions was specifically saying he did not talk about campaign matters with Russians.
"His answer at the hearing could have been more clear," Cruz said. He was in the room when Sessions said, "I did not have communications with the Russians."
"The context of the questions concerned communications between the Trump campaign and the Russians, and what Sen. Sessions said is he understood the question as that, and had not spoken to the Russians on behalf of the campaign," Cruz said.
This article has been updated with more details, including comment from Amash, Labrador, Burr, Graham, Ryan, Cruz and Trump.
Before You Go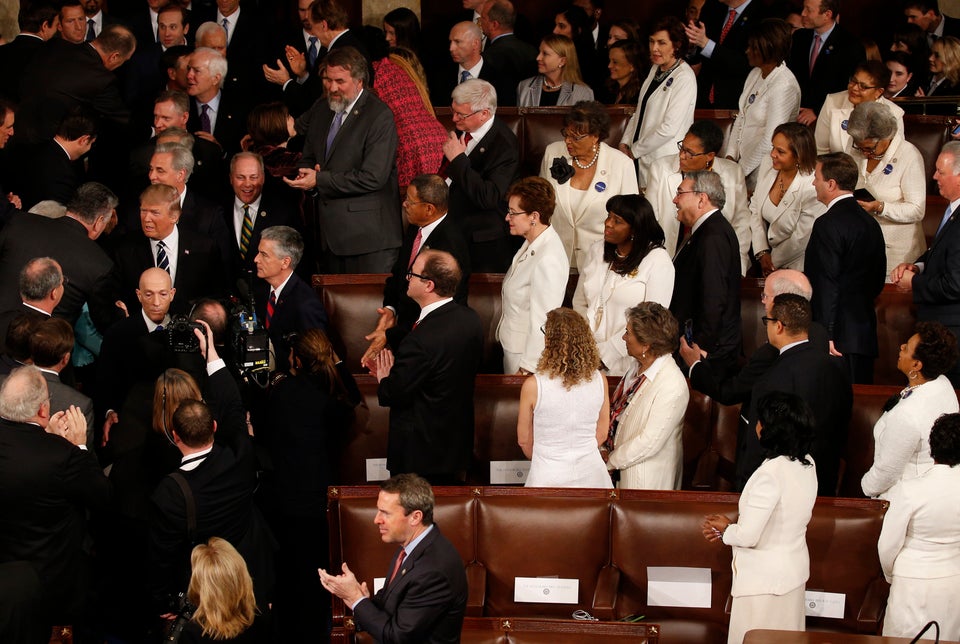 Trump's First Speech To Congress
Popular in the Community