President Donald Trump and other Republicans were quick to tout Friday's job report showing the U.S. economy added 235,000 jobs in February, but it's worth looking at how they responded to similar good economic news under President Barack Obama.
Friday's jobs report, which showed unemployment at 4.7 percent, signals that the U.S. economy is moving in the right direction. But there have now been 77 consecutive months of job growth. When good job numbers came out under the Obama administration, Trump and other Republicans would undermine them by highlighting certain slow areas or suggesting that the numbers did not reflect an accurate picture of the American economy.
Trump has long claimed that the unemployment rate released in the monthly jobs report is artificially low, saying, inaccurately, in 2015 that it could be as high as 42 percent. Trump has argued that the unemployment number is misleading because it doesn't consider the number of people who have stopped looking for work, but even if you do include that figure, the numbers are nowhere close to what Trump claims.
Despite Trump's uncertainty about the unemployment rate, White House advisers and Republicans were quick to tout it Friday.
In August 2012, Sean Spicer, now the White House press secretary, was critical of the Obama administration after a jobs report showed that the unemployment rate had ticked up. But that same report noted that the economy had added 163,000 jobs, surpassing the expectations of economists.
Rep. Kevin Brady (R-Texas), chairman of the House Ways and Means Committee put out a statement on Friday touting the jobs numbers.
"This is a great report. The fact that hundreds of thousands more people found new jobs last month is a good sign that our economy is moving in the right direction," he said in a statement. "While we still have much more work to do, I'm optimistic that the actions that President Trump and House Republicans are taking will add to this momentum—creating more jobs, growing families' paychecks, and improving the lives of all Americans."
Brady also released a statement after the February jobs report came out last year, saying it was "disappointing to see so little growth in full time work and wages." That jobs report showed that the U.S. economy had added 242,000 jobs, more than the number of jobs added in February of this year.
Asked about the statements, Brady spokeswoman Emily Schillinger, pointed to a HuffPost story highlighting how the February 2016 jobs report showed just 2.2 percent wage growth over the previous year, which wasn't enough for people to feel a difference in their lives. Friday's jobs report noted that hourly wages have increased 2.8 percent over the last year.
But in December, the jobs report showed 2.9 percent growth in hourly wages over the last year and Brady had a largely negative take on that report as well.
In June 2014, the U.S. economy added 304,000 jobs, but Reince Priebus, then chairman of the Republican National Committee and now Trump's chief of staff, still painted a grim picture of the economy.
"We're glad to see some Americans found work last month, but we can't rest until jobs are easy to find," Priebus said in a statement at the time. "That's why Republicans have passed dozens of jobs bills in the House of Representatives. Sadly, Democrats in Washington, DC, have other priorities. The most recent GDP numbers not only revealed that the economy slowed down in the first quarter; they also showed that Democrat policies are wrong for the economy."
That report showed that the unemployment rate had declined 0.2 percentage points to 6.1 percent. On Friday, the Bureau of Labor and Statistics noted that the unemployment rate had changed little over the month of February.
In 2012, as the economy steadily added jobs, Rep. Kevin McCarthy (R-Calif.) criticized the Obama administration for not lowering the unemployment rate more quickly.
In November 2014, after the economy added 227,000 jobs and unemployment fell to the lowest level since 2008, McCarthy only gave tepid praise.
As Republicans played up Friday's jobs report, Elise Gould, an economist at the left-leaning Economic Policy Institute, noted that it was important to keep growth in context.
"Friday's jobs report, which showed the economy adding 235,000 jobs in February, is notable for being the first BLS report of the Trump administration," she said in a statement. "It may be tempting for today's policymakers to claim credit for this solid employment growth, but credit is only truly deserved when the economy grows faster than expected. It's important to remember that President Trump inherited an economy that was already making steady progress towards full employment."
Spicer said Friday that he believes the job report numbers were accurate.
"They may have been phony in the past, but it's very real now," he said during a White House press briefing.
How will Trump's first 100 days impact you? Sign up for our weekly newsletter and get breaking updates on Trump's presidency by messaging us here.
This article has been updated with comment Sean Spicer made during the press briefing.
Before You Go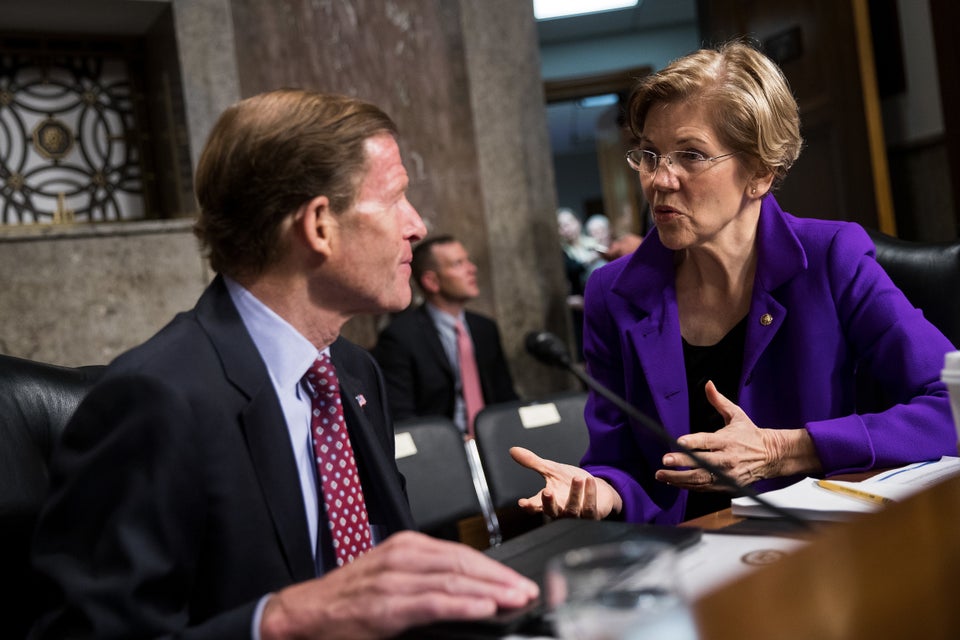 2017 Scenes From Congress & Capitol Hill
Popular in the Community